Gold SWOT: The Merger of St Barbara and Genesis Minerals Will Create a Major Australian Gold Miner
Strengths
The best performing precious metal for the week was gold, but still off 0.45%. GoGold Resources finished the week up over 20% with new holes released from the El Favor East deposit within the Los Ricos North Property. Hole LRGF-22-140 intersected 0.7 meters of 2,529 grams per ton silver equivalent with a 13.9-meter section grading 294 grams per ton.


South African gold exports in October recovered 9% month-over-month, but were only 8% lower year-over-year, due to base effects. With Sibanye Stillwater recently highlighting that it only achieved normalized production levels in October 2022, the improving trend could continue.


Gold has enjoyed an 11% recovery from its early November lows, benefitting from the broad-based relief rally that has followed expectations of an accelerated Chinese reopening and increasing signs of a peak in developed market inflation. Specifically, the knock-on impact from a weaker U.S. dollar and the move lower in U.S. Treasury yields, with the 10-year now back below 3.45%, have also helped as well.
Weaknesses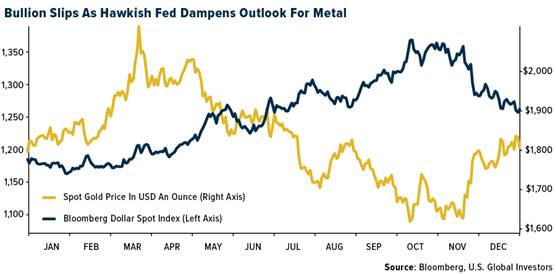 The worst performing precious metal for the week was palladium, down 12.99%. At the start of the week, 1.61% of the total known ETF palladium holdings were liquidated, which is 4.5 standard deviations from normal trading days. Gold fell this week after Federal Reserve Chair Jerome Powell said the authority isn't close to ending its campaign of rate hikes, with higher-than-expected borrowing costs signaled for next year. As reported by Bloomberg, Powell pushed back strongly against bets of rate cuts next year, even as data show inflation abating, and the dollar is weakening.
Anglo American Platinum has released a statement ahead of its 2022 investor day providing updated medium-term production guidance, plus 2023 cost guidance. Medium-term production guidance (concentrate and refined production) has been downgraded, driven by the following: lower grade at Mogalakwena, lower volumes from Amandelbult (following infrastructure closures and challenging geological ground conditions), and anticipated lower purchase of concentrate volumes.


Gold Fields has announced the resignation of CEO Chris Griffith, and has appointed an interim CEO (Martin Preece, EVP of Gold Fields South Africa), who has six years' worth of experience at Gold Fields and 37 years of overall industry experience. Gold Fields has not provided details on the timeline to appoint a permanent CEO.
Opportunities
Ascot Resources has entered a non-binding letter of intent for a total of C$200 million in project financing for construction of the Premier Gold Project, located on Nisga'a Nation Treaty Lands in the prolific Golden Triangle of northwestern British Columbia. The proposed finance package will consist of a $110 million, 8.76% gold and 100% silver streaming agreement with Sprott Resource Streaming and Royalty and its affiliates and a strategic equity investment by Ccori Apu S.A.C of C$45 million for 19.9% of the company.


Gold miner St. Barbara has agreed to acquire rival Genesis Minerals for A$541.3 million, reports Mining-Technology.com, which will result in the consolidation of its gold assets in Leonora, Western Australia. The deal will result in the creation of a mid-tier gold producer named "Hoover House" that will exclusively focus on the Leonora District in Western Australia. Other assets, such as Atlantic and Simberi will be spun out to shareholders as a new company named Phoenician Metals to be listed on the Australian Stock Exchange. The Atlantic Gold acquisition by St Barbara, on the advisement of Deutsche Bank investment advisors, was a value-destroying transaction. Interesting that as opposed to one company taking over another, we have management refocusing core operations and reshuffling non-core assets into a new entity.


Aya Gold & Silver closed its deal with the National Office of Hydrocarbons (ONHYM) and Mines to acquire 15% in the Zgounder project and fire adjacent permits to the Zgounder Silver Mine for approximately $6.5 million. ONHYM will maintain its 3% royalty on the Zgounder property and on the newly granted permits. Benoit La Salle, President and CEO of Aya Gold & Silver, noted they look forward to their continued partnership with ONHYM to generate value for all stakeholders on mining opportunities in the Kingdom of Morocco.
Threats
In 2022, South African gold miners have faced similar challenges to those in Europe — supply disruptions, downward production revisions and cost inflation. There may be 5% refined gold production growth in 2023/2024 driven by a ramp-up at several miners and some recovery in Anglo Platinum's refined production from a low 2022 base. However, upgrades of downstream processing facilities are ongoing and power outages are likely to continue in 2023, limiting refined supply growth.


Many companies could suffer from high-cost inflation through 2023 as most continue to work through high-cost inventories and as labor rates are sticky. In addition, continued Russia-Ukraine conflict and/or increased travel associated with an eventual China reopening could maintain elevated fuel prices (and other consumables associated with oil or energy) through the new year.


The Fed pressured the market hard; it is nowhere near raising interest rates simply because we had a few economic reports of tamer inflation. The S&P 500 and the Nasdaq both lost more than 2.5% on the jawboning, yet gold only pulled back slightly. Total known physical gold ETF holdings look to have climbed this week after falling in the prior two weeks. Investors have largely pulled money out of the gold ETF since the peak this year back in April.
********