Gold SWOT: Palladium Dropped Below $1,000 An Ounce For The First Time In Five Years
Strengths
The best performing precious metal for the week was gold, but still off 2.98%. China topped its gold holdings for a twelfth straight month in October, adding to a wave of purchases by global central banks that has lent support to bullion prices. Stockpiles of gold reported by the People's Bank of China (PBOC) rose by about 740,000 troy ounces in October, according to official data released Tuesday. That is equivalent to about 23 tons and takes total holdings to 2,215 tons.
Fortuna Silver Mines reported third quarter adjusted earnings per share (EPS) of $0.10, ahead of the consensus estimate of $0.07, on pre-released production of 128.7k ounces gold. The beat was largely due to higher sales and lower taxes with a minor boost from lower costs in the third quarter. AISC was $1,312 per ounce compared to the $1,354 per ounce consensus.
Sibanye-Stillwater concluded the agreement with the Association of Mineworkers and Construction Union and the National Union of Mineworkers for employees at its Kroondal PGM operations, according to an emailed statement. The agreement is inflation-linked, with category 4-8 employees receiving a minimum of 6% in each of the five years of the agreement.
Weaknesses
The worst performing precious metal for the week was palladium, down 14.12%. Last year palladium prices spiked to an all-time high with the Russian invasion of Ukraine. However, Russia, which supplies about 40% of the world's demand, found new trade routes through Asia to sell its metal. Gold declined after the precious metal briefly rallied above $2,000 an ounce on Friday following U.S. data that pointed to a cooling labor market. Nonfarm payrolls showed that hiring slowed more than anticipated in October, while the unemployment rate rose to the highest in almost two years. That suggested the central bank's policies are bringing inflation under control and interest rates are nearing their peak. However, the yield curve surged mid-weak for the 1-year note through to the 10-year bond, erasing the steady fall in yields over the past month in a single day.
Pan American Silver reported third quarter adjusted EPS of $0.01, below consensus of $0.07, on production of 5.69 million ounces silver and 244,200 ounces gold. In the gold segment, cash cost was $1,187 per ounce, while the silver segment mines reported cash cost of $13.13 per ounce.
B2Gold reported third quarter adjusted EPS of $0.05, which was a miss versus Bloomberg consensus at $0.07. Versus consensus, the miss was driven by lower-than-expected gold production (and sales) and modestly higher costs.
Opportunities
Newmont Corp., the world's top gold producer, will forge ahead on a plan to find $2 billion in cash (including through mine sales and project divestments) after closing the largest takeover in the mining industry this year. Denver-based Newmont closed its roughly $15 billion acquisition of Newcrest Mining Ltd. on Monday, ending a nearly year-long effort to buy the Australian gold miner. Now, with all regulatory hurdles out of the way, Newmont CEO Tom Palmer says the combined company can start a process to sell mines and decide which exploration projects to prioritize over the next two years. 
Newmont has not decided whether to sell the Cripple Creek & Victor gold mine following its $15 billion takeover of Australia's Newcrest Mining, the largest transaction in gold-mining history. However, Chief Executive Tom Palmer said the mine was smaller than many of the operations that Newmont now owns, and the company wants to raise some $2 billion from selling mines and rescheduling developments. 
Barrick Gold Corp. announced that it has agreed to subscribe for 21,265,370 units of Hercules Silver Corp. in a non-brokered private placement at a price of $1.10 per unit, for total consideration of $23,391,907. Each unit is comprised of one common share and 0.32 of a common share purchase warrant, where each whole warrant will entitle the holder for a period of two years to acquire one Hercules common share at a price of $1.32 per common share.
Threats
Palladium dropped below $1,000 an ounce for the first time in five years as demand falters amid a slowdown in car sales, the rise of electric vehicles, and as users switch to cheaper platinum. The metal, which is almost entirely used in catalytic converters that curb emissions, has slumped this year as slowing economic growth hurts global auto sales.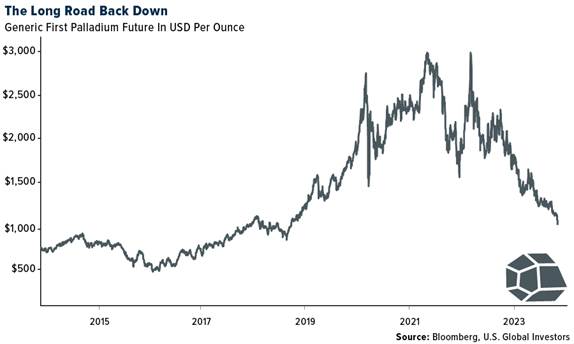 According to Bank of America, for diamonds, the bank believes that higher rates and weaker growth could put the consumer under pressure which translates to less diamond demand and downward pressure on prices. The group now models slower price recovery. Eventually, a consolidated supply side and producer discipline puts a floor under prices.
De Beers CEO stated: "Macro-economic challenges continue to affect the diamond sector. The retail recovery in China remains slow. And the voluntary import moratorium on rough diamonds into India will see extended Diwali holidays and factory closures in the world's largest diamond cutting center."
********