Gold SWOT: Silver's Best Quarter Since 2010
Strengths
The best performing precious metal for the week was platinum, up 3.76 percent. Bank of America Research noted that platinum should benefit from the expansion of the fuel cell economy which uses the metal as a catalyst. Gold climbed back above $1,900 an ounce on Thursday as the dollar weakened, and investors weighed hopes for a new stimulus package from the U.S. government. The Bloomberg Dollar Spot Index fell as much as 0.5 percent – and gold typically moves in the opposite direction of the dollar.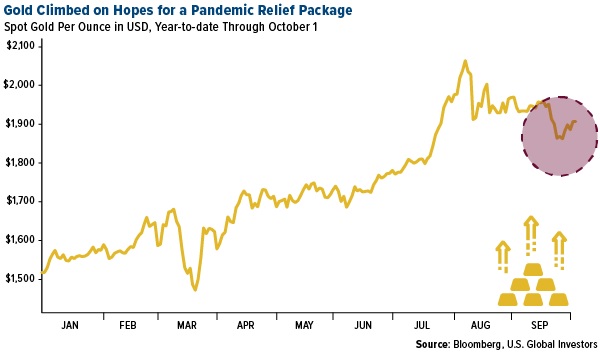 Silver had its best quarter since 2010, up a massive 27.62 percent for the three months ended September 30. Gold also had a strong quarter, up 5.89 percent despite a weak September. Holdings in gold-backed ETFs saw an eighth straight quarter of expansion. So far in 2020 they have added around 860 tons.
Titan Co., India's largest gold jeweler, rose 27 percent in the third quarter as investors bet on a demand recovery ahead of the key festive season. Gold prices in India had a second consecutive monthly loss but are still near record highs. The world's second biggest consumer of gold often sees demand pick up ahead of its festival season where gold jewelry is a prominent part of gift-giving.
The Perth Mint said gold coin and minted bar sales totaled 62,637 ounces in September, down from 67,462 in August. However, September sales were up 33 percent from the same period a year earlier.Ghana's anti-graft agency is delaying the IPO of its gold royalty fund to complete a corruption risk assessment, reports Joy FM. The Ministry of Finance is being asked to provide documents and additional information on the fund that has been criticized for lacking transparency.
Opportunities
Ramelius Resources reported first quarter gold production of 71,344 ounces, exceeding guidance of 65,000 to 70,000 ounces. The miner also shared it has a positive net cash position of A$205.7 million. Shandong Gold Mining, a state-backed Chinese miner, agreed to buy rival Hengxing Gold Holding for $393 million. Bloomberg notes that China has been encouraging bigger companies to take over smaller, privately-owned firms.
Citigroup forecasts that central bank gold-buying will pick back up in 2021 after a slowdown this year. The bank sees demand rising to 450 tons after a drop to 375 tons in 2020 – the lowest figure in a decade. HSBC Securities predicts an increase to 400 tons after an estimated 3090 tons this year. Bloomberg notes that central bank purchases are an important driver of gold's price action.
Bloomberg's Jake Lloyd-Smith share his four reasons why gold could make a comeback in October: 1) the dollar appears to have run its course, 2) global holdings in gold-backed ETFs were up 50 tons in September, 3) the Fed remains accommodative amid the pandemic and 4) the presidential election could stir up volatility.
Threats
Disney is cutting 28,000 workers and Shell is cutting 9,000 jobs – sounding an economic alarm. Bloomberg reports that tens of thousands of layoffs were announced by blue-chip companies on Wednesday. This is a grim sign that the economic recovery could take much longer than expected.
U.S. stocks fell on Friday after President Donald Trump announced he and the first lady had tested positive for the coronavirus. This creates uncertainty and could increase volatility in the markets. The Labor Department said American employers added 661,000 jobs in September, lower than forecasts for 857,500 new jobs, also contributing to the rocky market performance.
Speculation is growing of a possible Barrick Gold and Freeport-McMoRan merger. Combining the companies would create the world's largest gold and copper miner. However, many gold fund managers think this would not be a smart deal and could eliminate Barrick's gold premium.
********