Gold: Texbook Pullback In Play
Gold's recent rally from the $1268 area lows has stalled, and the reasons for that are both fundamental and technical.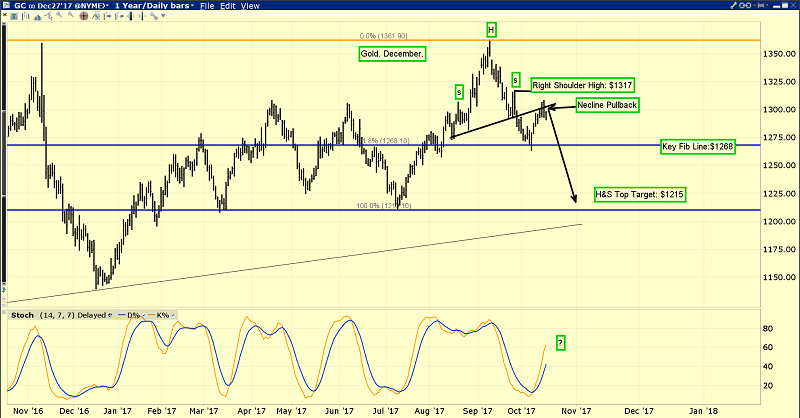 This is the daily gold chart. Gold fell about $100 from the $1362 area highs as seasonally soft Chinese buying was accompanied by a collapse in Indian demand.
That collapse was caused by the "Know Your Client" rule imposed by the government on gold jewellery purchases.
The price decline was exacerbated by the "Golden Week" holiday in China. Also, the Chinese government chopped commercial bank reserve requirements. That created a huge "risk-on" mentality in global stock markets during what is normally a weak period.
As the Golden Week holiday ended, the US jobs report was released, and the Indian government killed the "Know Your Client" rule.
Gold surged about $40 higher from the $1268 area Fibonacci line to the neckline of the head and shoulders top pattern.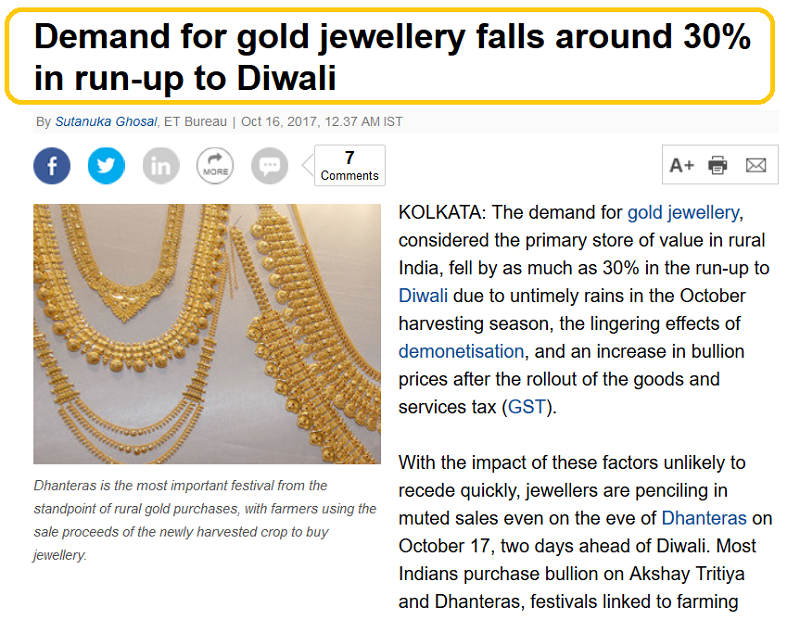 Unfortunately, there isn't enough demand to sustain the rally, and the short term target of $1215 is still a probable one.
Put options are a nervous gold bug's best friend, as I've repeatedly noted since gold traded above $1330.
This is the long term gold chart. In the big technical picture, the short-term weakness is healthy.
There are several huge bullish price patterns in play on the weekly gold price charts, including the bull wedge pattern I show here. A pullback to the trend line is normal after a major breakout.
That pullback is in play now, and it is targeted to end at about $1215, which is also the target of the head and shoulders top pattern.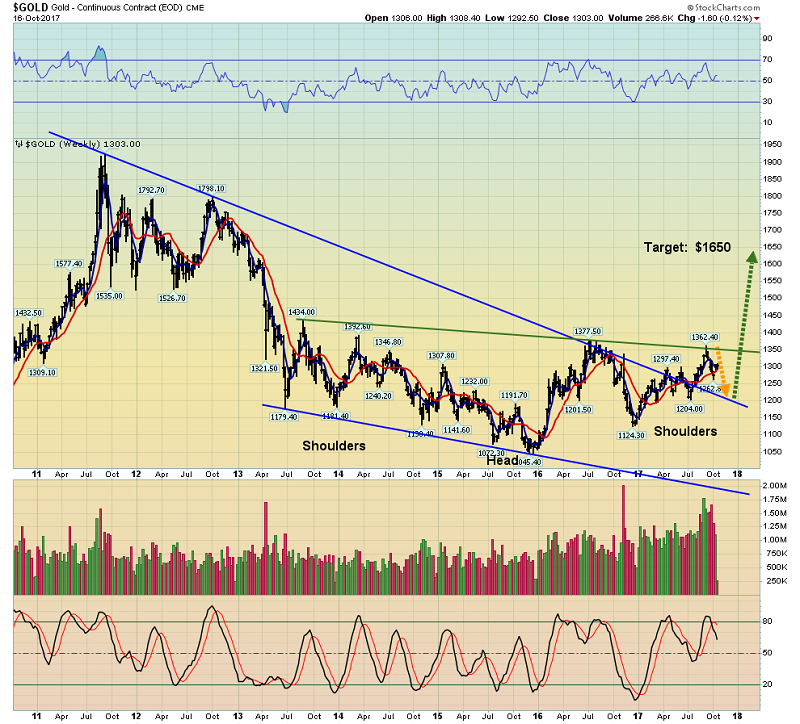 That's another look at the weekly chart.
In addition to the huge bull wedge, there's an enormous inverse head and shoulders bottom pattern in play.
The target of that pattern is at least $1650.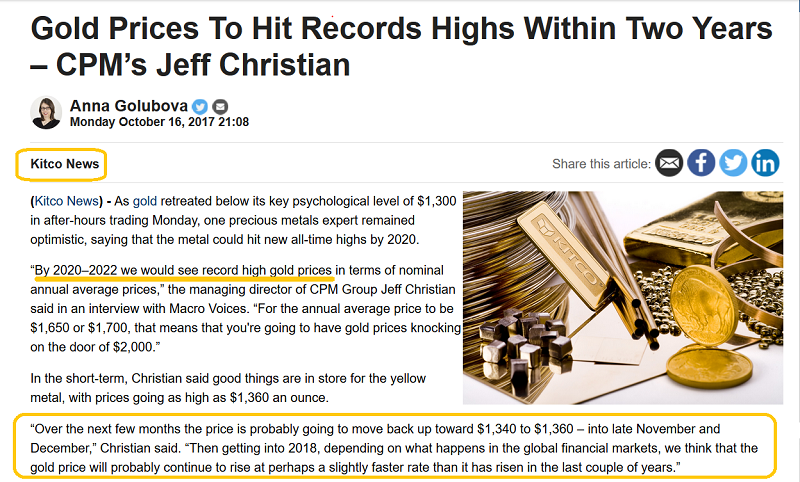 I consider Jeff Christian to be the Western world's top gold market fundamentalist.
He sees the growing institutional investor loss of respect for the Fed as a theme that will continue. That's good news for gold. Jeff and I differ in our short term outlook (I see $1215 as probable and he sees $1340+), but we both are focused on a decent acceleration in upside price action to occur over the next 12 – 18 months.
That acceleration should begin as gold moves above $1392. January – February 2018 (Chinese New Year gold buy season) is the most likely time-frame for that move above $1392 to happen.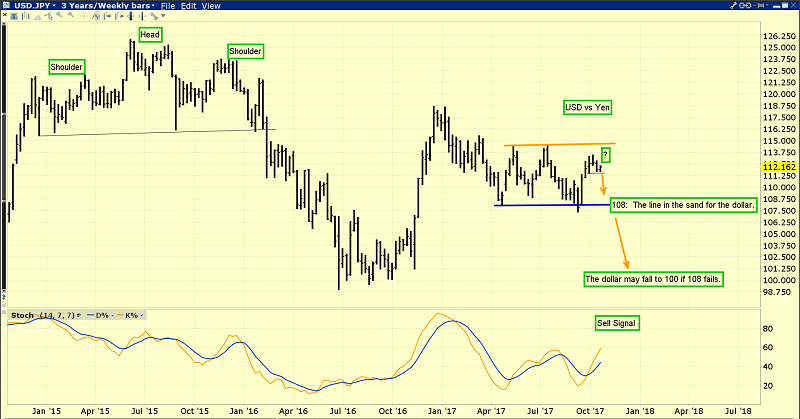 This is the dollar versus yen chart.
The dollar looks like a train wreck in slow motion. Clearly, the Fed's rate hikes have been dollar-negative. To make America "great" again, a modern version of the homestead program would be required.
Going forwards, America would need at least a billion new immigrants with an incredible work ethic to stop China and India from economically leaving it in the dust. That's not happening now, and it's not going to happen. The dollar will continue to decline, albeit very slowly.
More rate hikes will only cause problems for a debt-soaked government that can barely finance itself now. That's dollar-negative and gold-positive.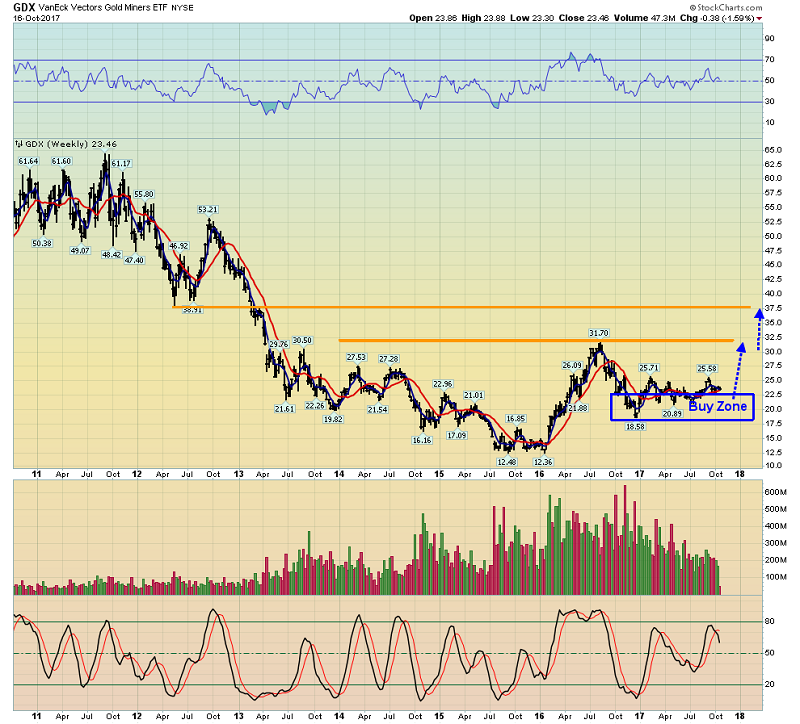 This is the GDX weekly chart. I've suggested that nervous investors can use put options to manage that nervousness.
Those who are flush with cash or new to the gold stocks asset class should have an aggressive buy program in the $23 - $18 price area, in preparation for a sustained uptrend to my $31 and $37 target zones. Keep an eye on Chinese New Year as the time-frame to nail the first target at $31!
********
Special Offer For Gold-Eagle Readers: Please send me an Email to [email protected] and I'll send you my free "Juice My GDXJ Ride!" report. In this interesting report, I show investors how to use the top ten GDXJ stocks to make a better version of GDXJ, with potentially less drawdowns and bigger reward!
Note: We are privacy oriented. We accept cheques, credit card, and if needed, PayPal.
https://www.gracelandupdates.com
Email:
Rate Sheet (us funds):
Lifetime: $999
2yr: $299 (over 500 issues)
1yr: $199 (over 250 issues)
6 mths: $129 (over 125 issues)
To pay by credit card/paypal, please click this link:
https://gracelandupdates.com/subscribe-pp/
To pay by cheque, make cheque payable to "Stewart Thomson"
Mail to:
Stewart Thomson / 1276 Lakeview Drive / Oakville, Ontario L6H 2M8 Canada
Stewart Thomson is a retired Merrill Lynch broker. Stewart writes the Graceland Updates daily between 4am-7am. They are sent out around 8am-9am. The newsletter is attractively priced and the format is a unique numbered point form. Giving clarity of each point and saving valuable reading time.
Risks, Disclaimers, Legal
Stewart Thomson is no longer an investment advisor. The information provided by Stewart and Graceland Updates is for general information purposes only. Before taking any action on any investment, it is imperative that you consult with multiple properly licensed, experienced and qualified investment advisors and get numerous opinions before taking any action. Your minimum risk on any investment in the world is: 100% loss of all your money. You may be taking or preparing to take leveraged positions in investments and not know it, exposing yourself to unlimited risks. This is highly concerning if you are an investor in any derivatives products. There is an approx $700 trillion OTC Derivatives Iceberg with a tiny portion written off officially. The bottom line:
Are You Prepared?