If Ever A Picture Told Us The Bottom Is in This Is It…
This chart is perfection personified of a bottom.
This information cannot be found on a daily, weekly, or even a monthly chart. Old man Fibonacci with the aid of the French Curve has told us that he will teach us how to count waves. He will tell us when they top and when they bottom. A long time ago he whispered in my ear, "Don't mess with all those  x – y – w's and A- B- C's. Pick your head up and look around. You will see something really beautiful."     This one is interesting and attractive.
GOLD QUARTERLY
It appears that the yearly chart of silver is showing us something fascinating. Loud and clear, it is telling us that there are 4 years between bottoms and tops. The next top might even reach $207.00 an ounce.
SILVER YEARLY LOGARITHMIC
It's a funny thing but if you have been around a long time you tend to remember certain happenings that many young folks don't remember. In the last great bull market in commodities silver and crude oil both peaked in the same price range. That was roughly in the $40.00 range. I wonder if they could do that trick once again.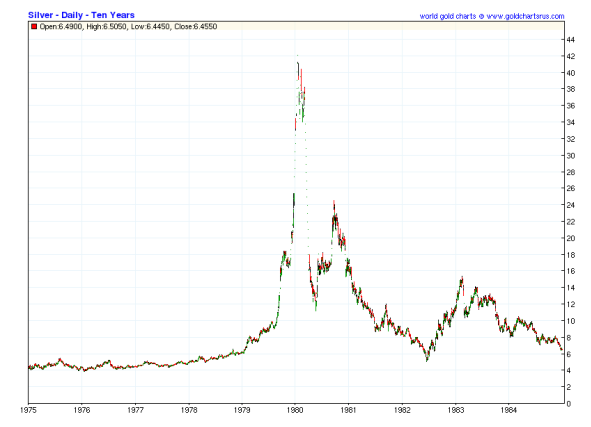 We know that if silver reaches the upper trend line in 4 years it will be about $207.00 an ounce. What about crude oil? Well … if crude oil does the normal technical thing for a chart like it has, the answer is just a bit of simple mathematics. We take the difference between the top and the bottom and add that number to the price at the apex and voila, we have roughly $207.00 for a barrel of crude oil.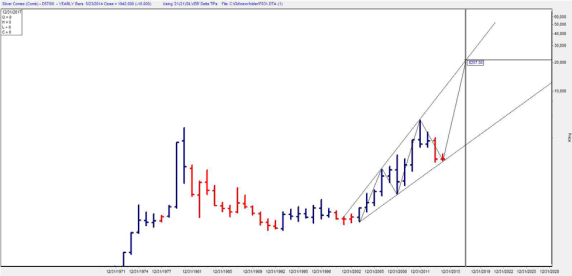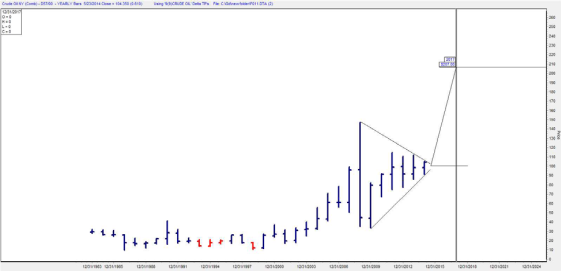 Frankly the bears on the stock market are not bearish enough.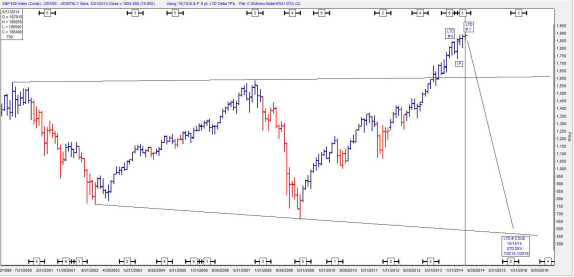 The year 1995 was a good year. However, I doubt that many stock portfolios will look very good at the end of a backward journey like this.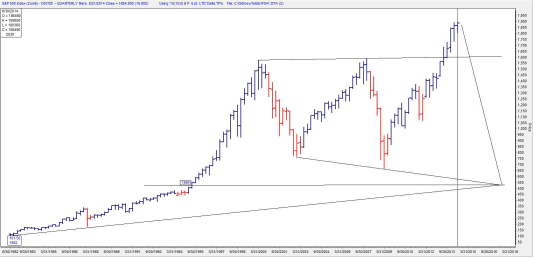 Ever since the bull market in the HUI began every time the momentum indicator black line moved above the declining red trend line a huge move up began. The trend is definitely our friend when it gets busted on the way up. If anyone wants to join the parade now's the time.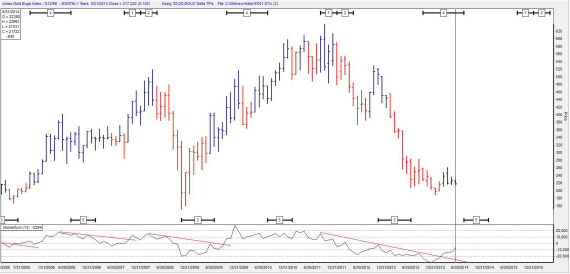 ******** 
If you want to join my Crew it will cost $35.00 a month. You can abandon ship at the end of any month.
https://www.deltasociety.com/content/ron-rosen-precious-metals-timing-letter