Indian Gold Imports Set A New Record, Rising 471%
Strengths
The best performing precious metal for the week was silver, up 1.18% as hedge funds boost net-long silver positions to a three-week high. Gold rose on Thursday as the dollar weakened after dovish rhetoric from the Federal Reserve, which gave no indication of imminent tightening of monetary policy, reports Bloomberg.
India's gold imports in March rose 471% from a year earlier to a record 160 tonnes, reports Reuters. Buyers are drawn by a reduction in import taxes for the metal and a correction in prices from record highs last year. The world's second largest consuming gold country imported a record 321 tonnes in the first quarter, up from 124 tonnes a year ago.
Hungary tripled its gold reserves in March in one of the biggest purchases by a central bank in decades. Bloomberg reports that Hungary's monetary authority raised its bullion holdings to 94.5 tons. The nation's purchase would be the biggest since June 2019, when Poland bought 94.9 tons, according to World Gold Council (WGC) data.
Weaknesses
The worst performing precious metal for the holiday extended week was palladium, down 0.97% on little news. Holdings in the SPDR Gold Shares, the largest ETF backed by gold, have fallen in four of the past five months. Bloomberg data shows holdings are at the lowest in nearly a year, around 33 million troy ounces. This is a sign that many investors are giving up on gold.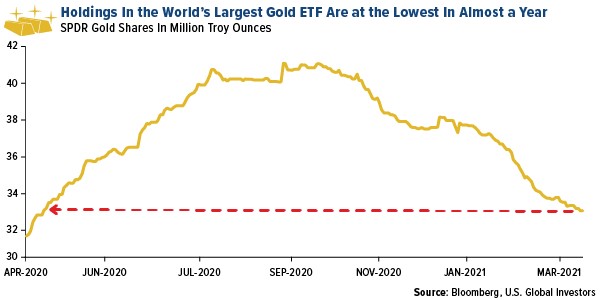 Greenland Minerals announced a trading halt on the Australian Stock Exchange. Reuters reported that Greenland's newly elected government will freeze the company's rare earth mining project, which has over 1 billion tonnes of mineral resources.
Indian firms that lend against gold and cutting tenors are asking for more collateral to protect against falling bullion prices, reports Bloomberg. Gold loans have surged in the last 12 months as small businesses seek help to rebuild after lockdowns and are using family jewelry as collateral. "People are sentimental about their jewelry," said George Muthoot Alexander, managing director at Muthoot Finance. "They will never want to default despite a fall in gold prices as they intend to get back their pledged ornaments." Muthoot Finance saw lending rise over 25% and the company holds 146 tons of gold, higher than the official reserves of Singapore and Sweden.
Opportunities
Giovanni Staunovo, strategist at UBS Group, expects shortages in the platinum and palladium markets this year due to supply disruptions at top producer Nornickel's mines in Russia. UBS cut its platinum mine supply estimate for 2021 by 140,000 ounces, which would lead to a deficit of around 185,000 ounces. This would be the third straight year of undersupply. The bank also cut its forecast for palladium mine supply by 545,000 ounces, translating into a deficit of around 1 million ounces and a 10th straight year of market shortfall.
Demand for physical gold has grown even as ETF holdings decline. The Perth Mint reported gold coin and minted bar sales of 130,000 ounces in March, surpassing the record 124,104 ounces sold in February. American Eagle gold coin sales had the best start to the year since 1999, with nearly 400,000 ounces sold in the first quarter.
Russian tycoon Andrey Komarov is in talks to purchase the Kumroch gold deposit in Russia's Far East from Zoloto Kamchatki, reports Bloomberg. The deposit holds 34.4 tons of gold reserves and is set to begin production in 2025, with expected annual output of as much as 5 tons. He is also interested in investing in the Fedorova Tundra platinum and palladium project.
Threats
Bitcoin and other cryptocurrencies continue to steal the spotlight away from gold. Robinhood said that 9.5 million users traded cryptos on its platform during the first quarter of 2021, compared with 1.7 million in the previous quarter, reports Kitco News. Bitcoin currently accounts for 10% of that anti-fiat market, notes Bloomberg. "As this share doubles or trebles, it arithmetically requires a doubling or trebling of cryptocurrency prices," says Dhaval Joshi, chief strategist for BCA Research's Counterpoint product.
Pure Gold warned that ramp up issues have affected initial ore grades being run through the mill leading to reduced gold output.  In addition, Pure Gold expanded its credit line with Sprott Resource Lending for up to $20 million. The share price has fallen about 30% over the last four weeks.
Strong economic growth as the world recovers from the pandemic remains a threat to precious metal prices. Gold and silver were lower on Friday morning after U.S. producer prices for March boosted the dollar and pushed up Treasury yields. The PPI data was up 1% versus expectations for a rise of just 0.4%, reports Kitco News.
*********