Inflation Watch: Central Banks Just Printed The Equivalent Of Germany's GDP
The world's Central Banks have finally succeeded in unleashing an inflationary storm.
The first pickup has only just begun to be felt. But this time next year, when inflation is well north of 4% globally and the big price moves have already occurred, everyone will be screaming "INFLATION!"
How did this happen?
Globally, Central Banks are now printing over $120 BILLION per month. And this is happening at a time when most major economies are out of harm's way.
Put another way, the economies of the EU, Japan, and the US are all growing rather than contracting… but Central Banks are printing MORE money today than they were during the depths of the last systemic crisis (the EU crisis of 2012-2013).
Moreover, Central Banks have been printing money at this pace (if not higher) for well nearly two years now. So we're talking about nearly $1.5 TRILLION in "hot money" hitting the financial system annually for two years.
Put simply, Central Banks have printed the rough equivalent of Germany's economy and funneled this money into the financial system in the last two years.
And the markets have taken notice. Already inflation expectations are roaring higher having broken out of a long-term downtrend.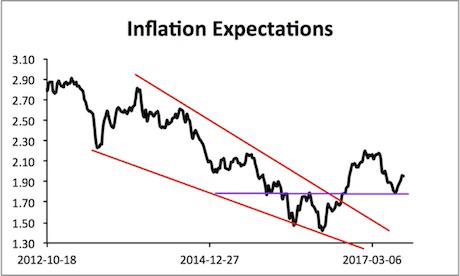 This is THE BIG MONEY trend today. Already the financial system is showing signs of it. And smart investors will use it to generate literal fortunes.
********
We just published a Special Investment Report concerning a FIVE secret strategies you can use to make inflation pay you as it rips through the financial system.
The report is titled Survive the Inflationary Storm
We are making just 100 copies available to the public.
To pick up yours, swing by:
https://www.phoenixcapitalmarketing.com/inflationstorm.html
Graham Summers
Chief Market Strategist
Phoenix Capital Research