Investing In Currency: Gold Or Fiat?
Chinese New Year buying and more deaths in war-torn Yemen have ignited yet another solid rally in gold.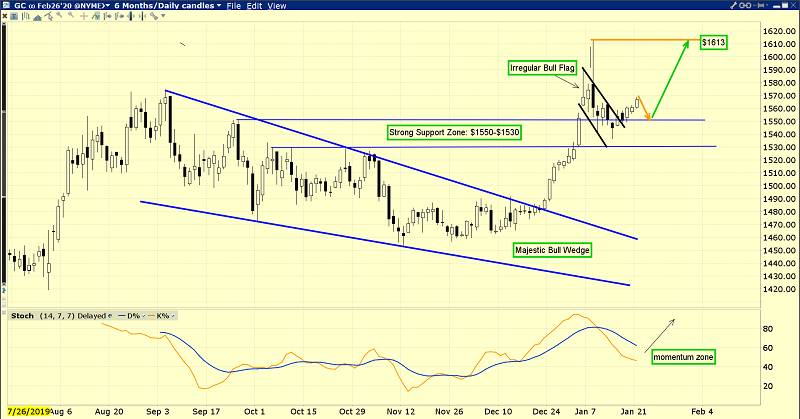 Gold is staging a breakout from an irregular bull flag pattern and doing so from strong support in the $1550-$1530 zone.
I'm projecting a near-immediate pullback to that support zone, and then an erratic rally to the $1613 area highs.
There are reports that the massively indebted US government has tried to kill yet another Iranian military man (Abdul Reza Shahlai).
Iran-backed rebels may be seeking revenge for US meddling. They just staged an attack on Saudi-backed Yemeni soldiers.
As long as the US stock market continues to rise, Western mainstream media won't want to rock the boat with anything more than minimal coverage… of what is obviously the most horrifying humanitarian crisis on Earth.
Clearly, gold investors have a different view of the situation.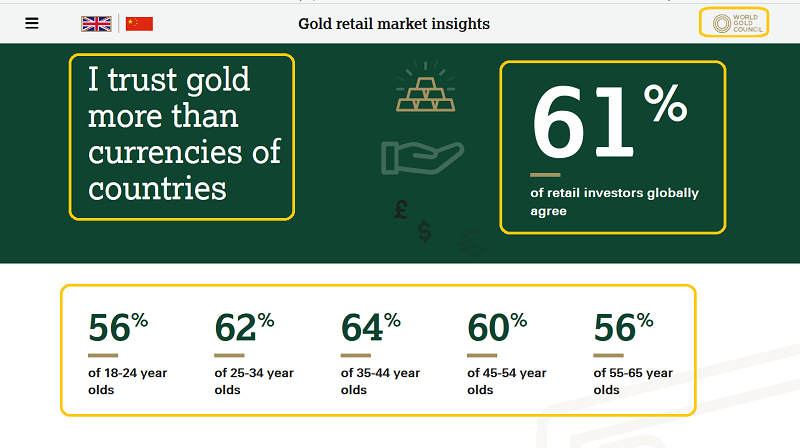 The WGC (World Gold Council) has just published some fabulous statistics about gold.
Regardless of age, citizens of the world trust gold more than fiat, and what's particularly significant… is that this is also true in the Western nations of Germany and America.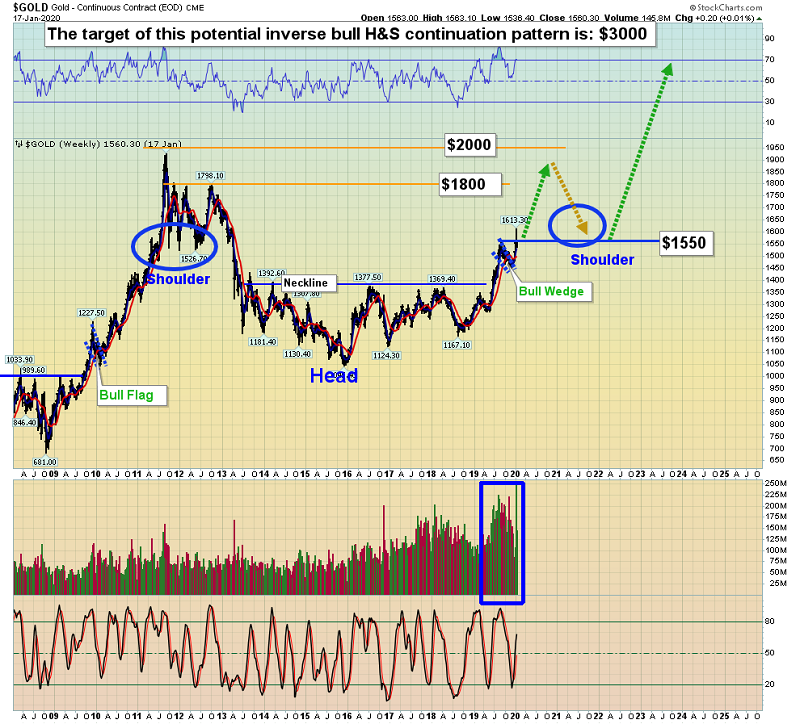 The weekly chart for gold.
Gold investors should feel very comfortable with their holdings. In fact, I will emphatically make the case that gold bullion investors have less to worry about now than at any point in the past 100 years.
Government size, spending, and debt levels are "off the charts" in almost every major nation. Gold investors can sit comfortable because rather than reigning in the irresponsible actions of governments, central banks are promoting even more madness, with QE and rate cuts!
What about the stock market? Well, the money elite at Davos appear concerned. They are looking at private equity. There's a slow transition in the US stock market from strong hands to weak.
The weaker hands are sure they will get out before it turns bad. I'm less confident than they are in their ability to do that. For now, the stock market doesn't appear to be at risk of a crash, but there is limited upside.
I recommend that investors own some positions in the US stock market, but don't get carried away with it.
That's because America is at a point where government size, debt, and demographics make it very difficult to produce GDP growth above 1%... without even more debt and more government spending.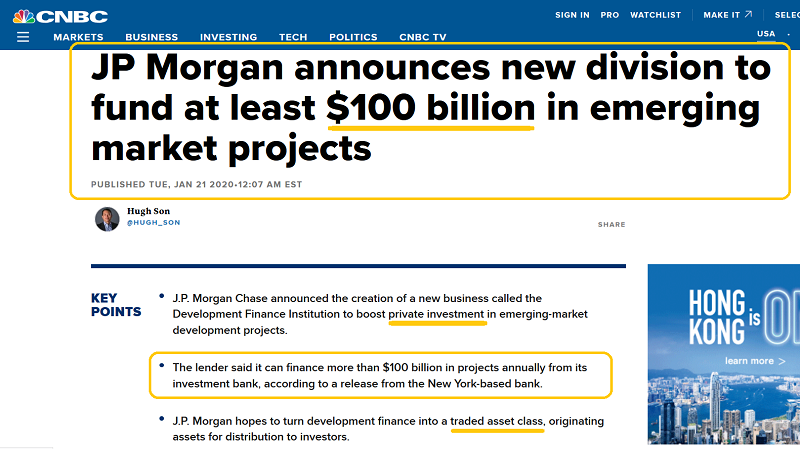 The elite are diversifying into private equity, and a lot of it is going to be Asia-oriented. This could speed up de-dollarization.
When the elite question publicly traded sector stocks and bonds in a high debt environment, "private money" like gold and bitcoin can be superior investments.
The exciting bitcoin chart. A lot of the "alt" coins carry enormous risk, and they can be shorted on some of the exchanges. Bitcoin itself looks good.
There's a bull wedge breakout in play on the weekly chart and a number of institutional investors have become more interested in getting in on the bitcoin action.
The miners? Well, there is more risk with the miners than with bullion, but overall risk there has diminished dramatically as well. The AISC (all-in sustaining costs) of a lot of miners is vastly under $1400/ounce.
Companies are in pretty good shape, and those engaging in excessive dilution are quickly shunned by investors.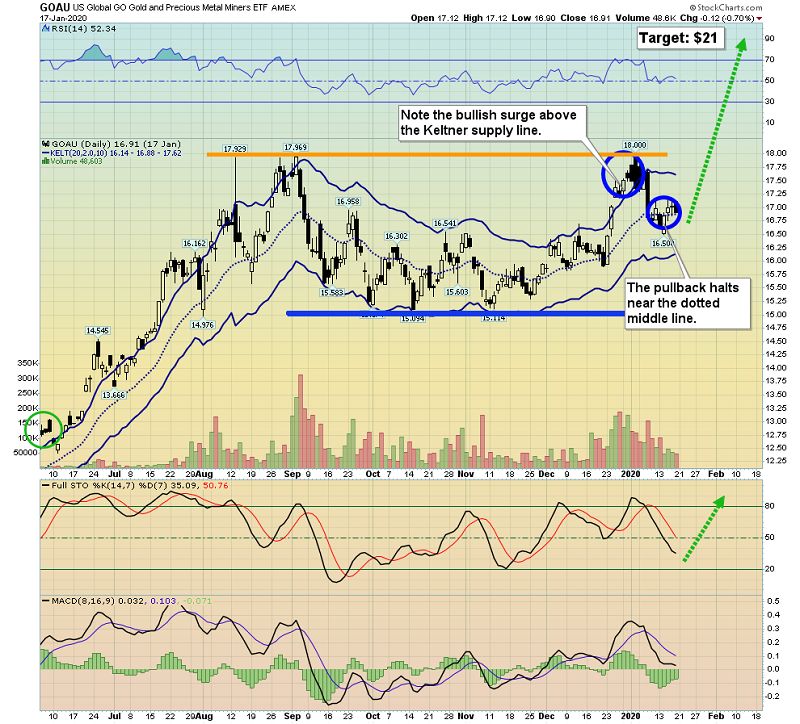 The GOAU chart. As I projected, a pullback began at the $18 area highs, and it's now halted near the dotted middle Keltner line. Once the price moves over $18, I expect GDX, GDXJ, SIL, and most individual miners to join the upside fun.
Mining stock investors will soon feel as comfortable as gold investors feel today… holding bullion rather than fiat!
Special Offer For Gold-Eagle Readers: Please send me an Email to [email protected] and I'll send you my free "Golden Dreams!" report. I highlight ten miners that are sporting low volatility uptrends and high potential reward. I include key zones for investor action on each great stock!
Note: We are privacy oriented. We accept cheques, credit card, and if needed, PayPal.
Written between 4am-7am. 5-6 issues per week. Emailed at aprox 9am daily.
Email:
Rate Sheet (us funds):
Lifetime: $999
2yr: $299 (over 500 issues)
1yr: $199 (over 250 issues)
6 mths: $129 (over 125 issues)
To pay by credit card/paypal, please click this link:
https://gracelandupdates.com/subscribe-pp/
To pay by cheque, make cheque payable to "Stewart Thomson"
Mail to:
Stewart Thomson / 1276 Lakeview Drive / Oakville, Ontario L6H 2M8 Canada
Stewart Thomson is a retired Merrill Lynch broker. Stewart writes the Graceland Updates daily between 4am-7am. They are sent out around 8am-9am. The newsletter is attractively priced and the format is a unique numbered point form. Giving clarity of each point and saving valuable reading time.
Risks, Disclaimers, Legal
Stewart Thomson is no longer an investment advisor. The information provided by Stewart and Graceland Updates is for general information purposes only. Before taking any action on any investment, it is imperative that you consult with multiple properly licensed, experienced and qualified investment advisors and get numerous opinions before taking any action. Your minimum risk on any investment in the world is: 100% loss of all your money. You may be taking or preparing to take leveraged positions in investments and not know it, exposing yourself to unlimited risks. This is highly concerning if you are an investor in any derivatives products. There is an approx $700 trillion OTC Derivatives Iceberg with a tiny portion written off officially. The bottom line:
Are You Prepared?
********