No Major New Gold Discoveries
Strengths
The best performing precious metal was silver, up 7.30 percent. Gold had a strong week and held above $1,700 an ounce. Bullion rose the most in a week on Wednesday after Fed Chairman Jerome Powell said that the U.S. economy is facing unprecedented downside risks that could do lasting damage. Powell pushed legislators to take more action to support the economy. The possibility of negative interest rates and continued near-zero rates is supportive for the yellow metal. By the end of the week bullion was holding near $1,750 an ounce. Goldman Sachs' global head of commodities Jeffrey Currie said in a Bloomberg TV interview this week that gold is his favorite commodity trade right now. "There are a lot of reasons to still hold gold. Foremost is that you are still seeing the debasement effects of all the stimulus measures."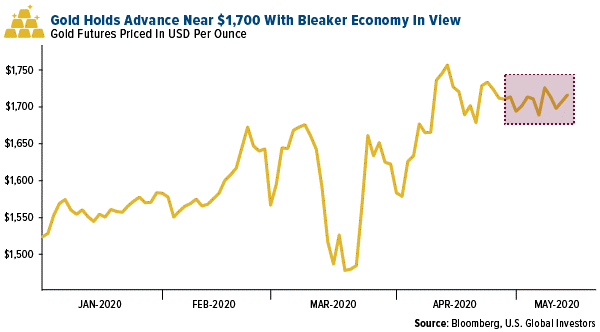 Everyone knows the FANG stocks – Facebook, Amazon, Netflix and Google. But do they also know the BANG stocks – Barrick Gold, Agnico Eagle, Newmont and Goldcorp. Axios notes that these big gold miners have dwarfed the returns of the major tech companies. Since early May 2018, BANG stocks have nearly tripled the gain of FANG stocks, reports Jesse Felder of the Felder Report.
The World Gold Council (WGC) expects the number of central banks buying gold to increase substantially in 2020. Bloomberg reports that based on the recent WGC survey, 20 percent of central banks intend to boost gold reserves over the next 12 months. This is up from just 8 percent of respondents in a 2019 poll. 22 central banks were net buyers of gold in 2019, up from only 8 in 2010.
Weaknesses
The worst performing precious metal was palladium, down 0.54 percent. Norilsk Nickel, the world's biggest palladium producer, said in a report this week that it expects consumption of the metal to fall 16 percent in 2020. Palladium prices have fallen by a third since hitting a record high in late February. The coronavirus crisis prompted automakers to curb output and the metal's rise was in large part due to increased use in autocatalysts.
First Majestic announced that it temporarily postponed the sale of 292,000 ounces of silver and 700 ounces of gold worth $5.3 million at the end of the first quarter, reports Bloomberg. The company will carry over inventory to next quarter in hopes that prices will improve. "We temporarily suspended our silver and gold sales as paper prices dropped significantly below true physical prices," said CEO Keith Neumeyer.
S&P Global Market Intelligence wrote in a report that during the past three years there were no major new gold discoveries and in the past decade there were only 25. Kevin Murphy wrote in the report "while there are still plenty of gold assets to be developed, the lack of new major deposits being discovered means that the project pipeline is increasingly short of large, high-quality assets needed to replace aging major gold mines." Kitco News notes that a major factor in the decline of discoveries is the drastic drop in exploration budgets over the last decade. On the other hand, tighter gold supply could further support higher metal prices and exploration stocks will be bid up in price as they hold the keys to many of our future mines.
Opportunities
Based on the GTI VERA Convergence Divergence Indicator, which detects trend exhaustion, silver just triggered a buy signal. Bloomberg reports that silver had far underperformed gold and was recently trading at its lowest relative to the yellow metal. However, as economies restart there is growing support for silver's industrial demand component, according to George Gero, managing director at RBC Wealth Management.
On Monday, SSR Mining and Alacer Gold Corp announced an at-market merger of equals. The new entity will continue as SSR Mining and will be headquartered in Denver. The new board will be comprised of five directors from each of the current companies' boards. Paul Benson, President and CEO will step down from SSR Mining and Rod Antal, the current President and CEO of Alacer Gold will be the new leader at SSR Mining. Rod is highly respected for his track record at Alacer and kudos to SSR Mining for preparing for the future versus practicing a protect entrenched management strategy. Despite logistical problems the pandemic has created, M&A is still growing in the gold sector, while broader M&A across the globe has slumped.
AngloGold announced that it will continue its dividend payments as higher metal prices have boosted the miner's cash levels. CEO Kelvin Dushinsky said in a conference call that gold prices could rise to higher than $2,000 an ounce. Sibanye Stillwater said it has sufficient cash to weather to coronavirus pandemic after record earnings helped the mine meet its debt target, reports Bloomberg. The South African miner had a strong first quarter due to higher metal prices. CEO Neal Froneman said in a statement that "the group is in a solid financial position."
Threats
Although the surge in unemployment and weak economic data is a positive driver for gold, it is still a negative overall. On Thursday the Labor Department reported that 2.98 million Americans filed for weekly unemployment benefits – the fourth straight week of above expected numbers. 36 million American workers have now lost their jobs in just two months. U.S. retail sales fell 16.4 percent in April, following the March decline of 8.3 percent. In a Reuters poll of economists, U.S. GDP is forecast to shrink 35 percent in the second quarter after contracting by 4.8 percent last quarter.
Billionaire investor Stanley Druckenmiller questions the optimism of a strong "V-shaped" recovery for the global economy. Although equity markets have seen a sharp recovery since bottoming out in March when the world just began to feel the economic impact of the coronavirus, there is doubt it will last, reports Kitco News. Druckenmiller said on a webcast this week that "the risk-reward for equity is maybe as bad as I've seen it in my career."
The U.S.-China tensions ramped back up this week. In a Fox news interview on Thursday, President Trump said that he was disappointed with China's failure to contain the coronavirus and said he does not want to speak with President Xi Jinping right now. President Trump even threatened to cut off the relationship entirely: "We could do things. We could cut off the whole relationship."  Undoubtingly, this is a bargaining ploy to gain leverage over China, but the wildcard is the uncertainty this introduces in the meantime, which may lower investor confidence.
*********