Silver And Gold: Still No Reason To Be Bullish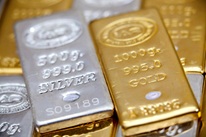 While the metals market has moved through the lowest level resistances I noted last week, it made it clear that it wanted to provide us with a higher retracement for this downside set up.   And, it does not change the bearish pattern being presented before us at this time.  But, as I have been noting, I am continually looking for any bullish set up, and one has not yet made itself clear.  So, for now, I am focusing on this downside set up to take us to lower lows likely this summer
As presented in all our charts for the last several weeks, we had support levels and break-down confirmation levels which were not broken, which would have signaled the immediate move down to lower lows.  And, this week, the market made it clear that it was providing us with a larger degree corrective structure to set up the run to lower lows.
First, in the GDX, the rally we experienced last week broke through the lowest level support we noted on our charts.  It then rallied to the middle level support, and backed off.  But, in an ideal sense, it would seem like the rally seen last week was only an a-wave rally, and the pullback seen on Friday a b-wave.  This would mean that, as long as we hold last week's low, I would expect a c-wave rally which can take us back towards the 19.42-20.12 region.  And, the question still remains as to whether this is a wave ii of 3 down, or if we are going to see this as a wave 2.  And, it will take a move through 19.90 to confirm this is a wave 2, rather than a wave ii of 3 down.  But, as long as we remain below the 21.25 high made on May 14th, we are in a primarily bearish pattern.
Next, the GLD also remains in a primarily bearish pattern as long as it remains below the 117.88 high made on May 18th.  While we can see the market approaching 116.50-117 region to complete a c-wave in wave 2, it would take a break out over 117.88 to make me view the market as not immediately set up to strike lower lows.  Until that region is broken, we have a clear bearish pattern on the table.  But, at this time, I have no indication that the top of wave 2 has been struck, as I have no micro 5 wave structure down off the past week rally high.  The next 5 wave structure down will have me sending out a Market Alert to all members at Elliottwavetrader.net as to how to set up for the next short trade.
As for silver, which I noted for the past several weeks as my biggest issue with an impending break down set up in this complex, we are likely in a wave 2 rally, as in the GLD. 
But, the pattern I noted in silver, as potentially being in an ending diagonal down, has made me consider another possibility in the entire metals complex, which has been noted several times by Garrett Patten, one of our lead analysts in our StockWaves service, who will be working with me on a managed portfolio of mining stocks we are rolling out at the end of the summer at Elliottwavetrader.net.
Ultimately, the diagonal pattern in the GDX presented by Garrett (which is attached below) does not change our perspective for lower lows later this year, but it does suggest that the road to lower lows may be present more volatile trading in a-b-c fashion, rather than standard impulsive structures to the downside.  This would seem to explain the pattern down in silver much better than standard impulsive structures.  So, this is something I am keeping in the forefront of my mind once we confirm the break down in the current bearish set up within which we find ourselves.
In summary, the market is still setting up the bearish pattern we have been tracking to take us to lower lows.  There is nothing suggestive to me yet that this is anything more than a corrective rally setting up the run to lower lows.  But, I will not be issuing further instructions to short the market – for those even interested in shorting the final leg down in this complex – until I see the next 5 wave structure down in the metals, followed by a 3 wave corrective rally.  At that time, I will issue a specific Market Update to all members to identify the short set up.
********
See Avi's charts illustrating the wave counts on the metals at https://www.elliottwavetrader.net/scharts/Charts-on-GDX-GLD-YI-20150623751.html