A Stock Market Crash Is Written On the Wall (Street)
Institutional 'smart money' is historically always ahead of the Pollyanna masses, who only listen to the incessant blah-blah from commission hungry brokers.  Traditionally, institutional smart money investors are late to enter a secular bull market…but on the other hand are early to leave when the stock price levitation reaches unbridled greed levels…AS IT IS TODAY.
The following chart clearly demonstrates this.  It is a 20-year (basis monthly) of the DOW Index divided by the 30-Year US T-Bond Price.  The analytical theory dictates that stock prices logically move higher and faster during a bull market.  That is to say stock prices enjoy much higher performance than do investments in safe haven T-Bonds.  Consequently, the DOW Index/T-Bond ratio will relentlessly rise in a Bull Market. However, when the stock market turns bearish due to over-valuation, institutional smart money slowly and melodically begins selling their stock holdings to realize profits.  And with the proceeds from profitable stock sales, institutional smart money begins buying safer T-Bonds.  Thus the DOW Index/T-Bond ratio will begin to decline.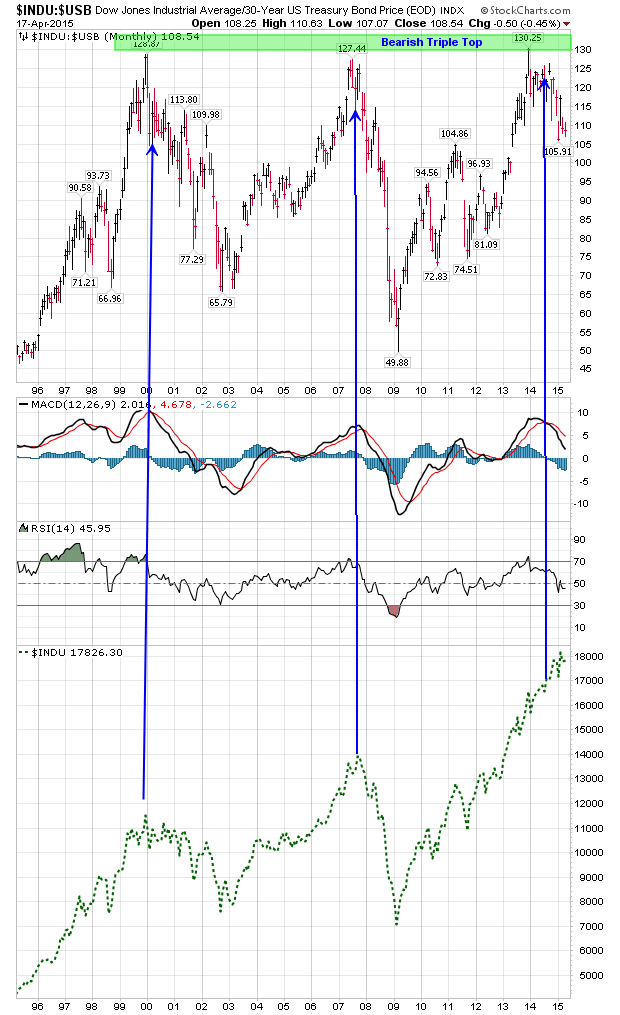 Take careful notice of the 1995-2000 Stocks Bull Market, when the DOW Index soared +195%.  Also notice the 2003-2007 Stocks Bull Market soared +100%.  Each of these phenomenal secular Stock Bull Markets ended when the DOW Index/T-Bond ratio peaked.  Indeed, smart institutional money began dumping stocks and acquiring T-Bonds in early 2000 and again in late 2007 (see chart).
Well again, a Stock Market Crash Is Recently Written On the Wall (Street)…ergo smart institutional money is presently dumping STOCKS and acquiring T-BONDS…slowly and methodically.  Not only the DOW Index/T-Bond ratio indicates this, but the Bearish status is TODAY confirmed by the two Technical Indicators:  MACD & RSI…just as they did in 2000 and 2007.
The above chart depicts a NOT often seen BEARISH TRIPLE TOP, which suggests the forth-coming Bear Market might reach cardiac-arrest proportions.
The above argument and logic also applies to the NASDAQ Composite Index, which sports a Bearish Double Top:
And OH…we see the same in Bearish 'footprints' in the UK's FTSE:   http://tinyurl.com/menwb5h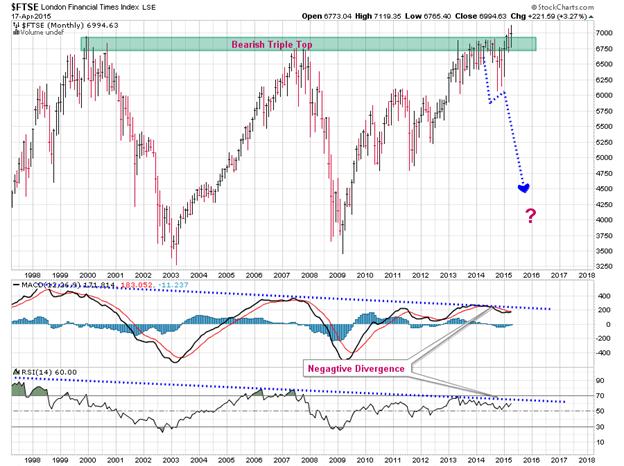 DOW Index Crash Forecast
Based upon the data of the prior two Bear Markets, and taking into account the current market conditions which are even more direly pronounced, we venture the following prediction:
The DOW Index may be hammered down to 10000 support by mid-2017.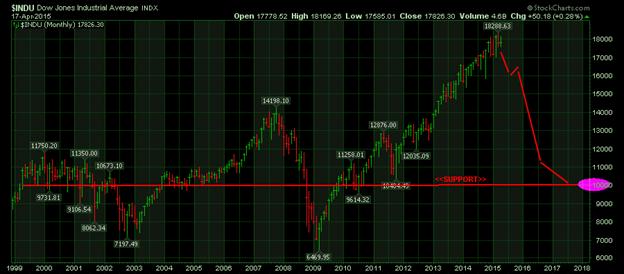 Related Articles
DOW Utilities Lead Stocks: A Bear Market In Stocks Looms On The Horizon
US Stock Market Will Likely Drop 5% By Next Week!
Something Big Is Coming To Markets
Billionaire Buffett May Repeat His Bear Market Fiascos Of 1998-2000 And 2007-2009