World Stocks Crash Prediction
Numerous globally recognized stock analysts and sage market pundits are voicing bearish opinions of the possible forth-coming crash in major stock markets.  Here are a few bearish predictions.
Marc Faber: 
"We are in a gigantic financial asset bubble," warns Swiss adviser and fund manager Marc Faber. "It could burst any day."   Faber doesn't hesitate to put the blame squarely on President Obama's big-government policies and the Federal Reserve's risky low-rate policies, which, he says, "penalize the income earners, the savers who save, your parents — why should your parents be forced to speculate in stocks and in real estate and everything under the sun?"
Peter Schiff:
"I think we are heading for a worse economic crisis than we had in 2007," Schiff said. "You're going to have a collapse in the dollar...a huge spike in interest rates... and our whole economy, which is built on the foundation of cheap money, is going to topple when you pull the rug out from under it."  " The crisis is imminent," Schiff said.  "And stock market investors are oblivious to the problems."
Jimmy Rogers:
Well known investor Jim Rogers, who made his fortune during the 1970′s crisis by investing in commodities like precious metals, has long-warned about the calamity faced by, not just America, but the world as a whole.  Sage guru Rogers warns:   "Prepare, we are on the brink of a very serious collapse that will end with currency turmoil, food shortages, panic, social unrest and a total shakedown of average citizens."
Warren Buffett:
Billion-dollar investor Warren Buffett is rumored to be preparing for a crash as well. The "Warren Buffett Indicator," also known as the "Total Market Cap to GDP Ratio," is breaching sell-alert status and a collapse may happen at any moment.  In preparation of stocks going lower, Buffett's flagship (Berkshire Hathaway)  has built-up a cash position of about $50 BILLION.
Mark Spitznagel:
"We have no right to be surprised by a severe and imminent stock market crash," explains Mark Spitznagel, a hedge fund manager who is notorious for his hugely profitable billion-dollar bet on the 2008 crisis. "In fact, we must absolutely expect it."
Frank Holmes:
"CEO and Chief Investment Officer of U.S. Global Investors Mutual Funds advises:  "Warning:  Market Correction This Week…" 
Robert McHugh, Ph.D:
"High Alert!!!  The stock market sits at a very precarious place this weekend. There are important and rare technical indicators that are contemporaneously telling us that a major stock market top is close at hand and a powerful and damaging stock market decline is not far from starting."
And What Do The Charts Predict?
To back-up the above bearish market predictions are the charts of major world stock indices.  Literally all of them clearly demonstrate the possibility that stocks may be heading for a major correction similar to the bear markets of 2000-2002 and 2007-2008. 
DOW Industrial Index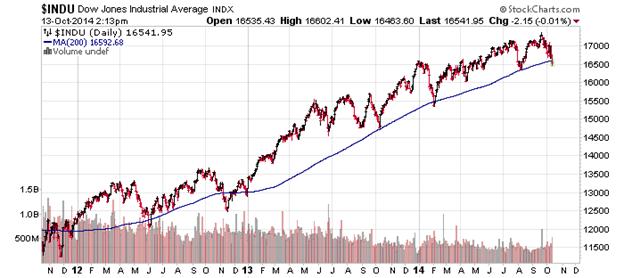 S&P500 Index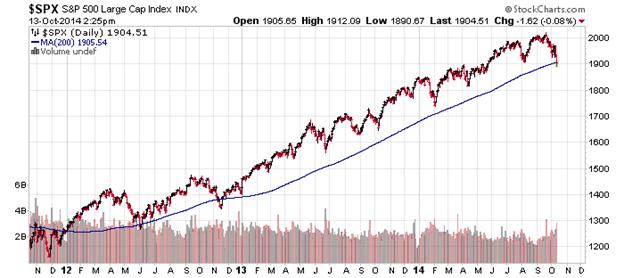 NASDAQ Composite Index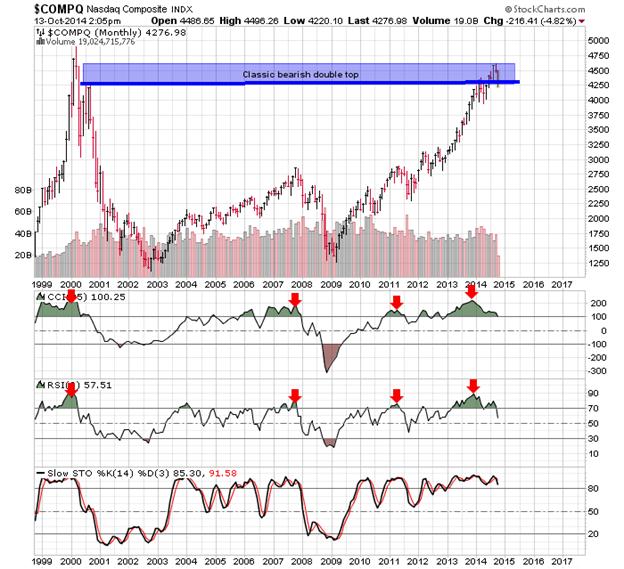 Russell 2000 Index
Wilshire 5000 Index
FTSE-UK
German DAX Index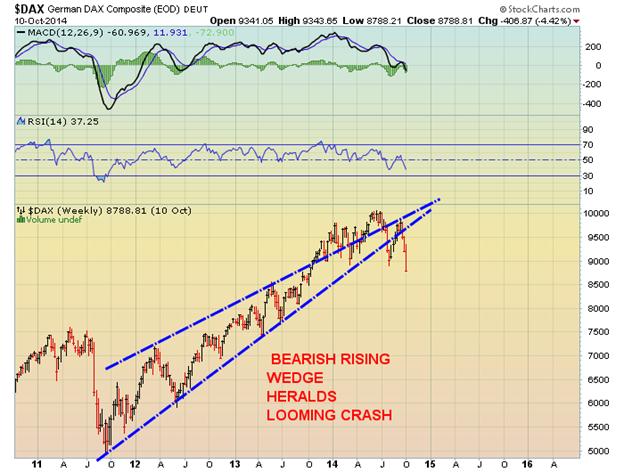 France CAC Index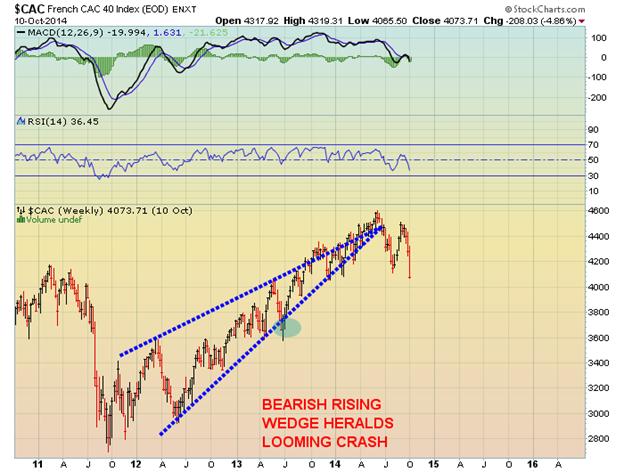 Dow Jones STOXX Europe 600 Index
Dow Jones World Small-Cap Index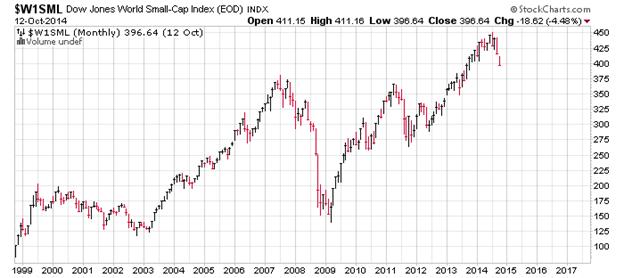 MSCI World Index (ex USA)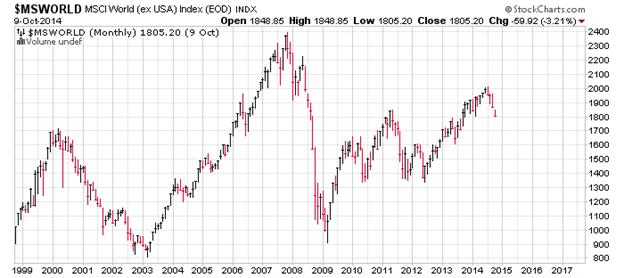 Dow Jones Global Index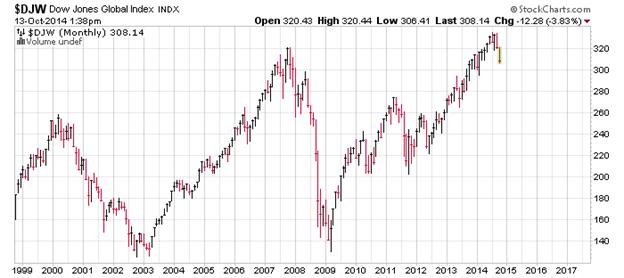 FTSE All World Index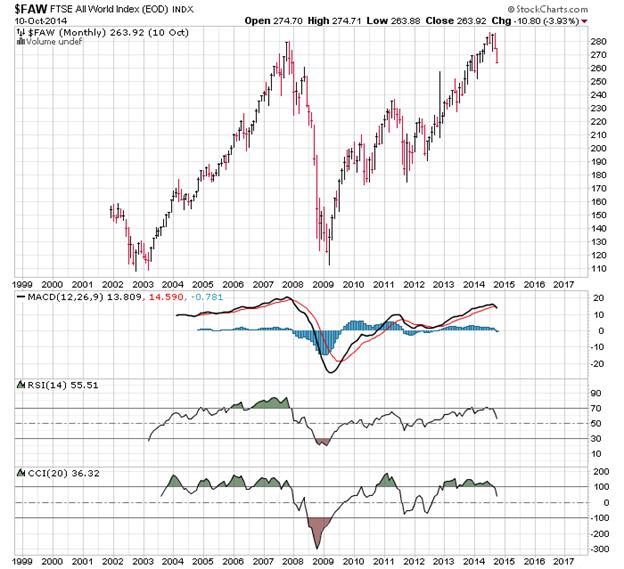 All the above major world stock indices show they have recently peaked,  implying the heretofore up-trend has reversed downward.  Furthermore, all the above indices have fallen below their 200 dma, which is an ominous sign that considerable more downside is expected.   Moreover,  the Russell 2000 Index is particularly bearish in that it has formed a Death Cross (i.e. when the 50 dma falls below the 200 dma)…predicting a crash is imminent.
Worldwide Bear Market Stock Prediction
Based upon the irrefutable bearish trend reversals of all the above charts, it is reasonable to forecast that stocks worldwide will most probably suffer a material correction here to yearend…and most probably well into 2015.  In fact it is predicted the extent of the stock correction may indeed replicate the severity of the 2007-2008 bear market…when stocks were hammered down more than 50%.  Only the intervention of the US Fed and the Euro Union Central Bank can avert a major Stock Market Crash by flooding the markets with liquidity via QE (aka printing new money).  In this event,  the value of all currencies will plummet as most smart investors will trade their paper fiat money for GOLD AND SILVER.
********