A Technical Explanation Of Why Lower Lows In Gold Price Will Be Seen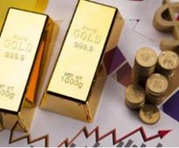 For those that have read me before, you know that I am an Elliott-Wave Technician.  That means that I use Elliott Wave analysis as my primary methodology of analysis.  And, as I have noted before, it is this methodology which allowed me to call the top in gold price back in 2011 within a few dollars of the top actually struck.  This same methodology provided us with the downside targets before we even topped in 2011.
In prior articles on Gold-Eagle I have provided background for how Elliott Wave works to track market sentiment.  And, as I have said so many times before, it is market sentiment which is the primary driver of precious metals in the short and long term.  
While I know many of you believe that technicals may be useful for short-term, while fundamentals are for long-term, my only question is why would you think one methodology can only work in the long-term, while being useless in the short term?  Would not an accurate mythology be able to direct you in both the short term and long term?  This is exactly why I trust Elliott Wave analysis much more than any other analysis, especially fundamental analysis, especially when fundamental analysis has so miserably failed investors for the last 4 years, especially in the silver market which took a 70% haircut.
In order for me to "call" a bottom in the GLD (i.e. the ETF backed by pure gold), there are two things I need to see from an Elliott Wave perspective.  
First, I need to see a completed 5-wave structure to the downside.  That would complete the c-wave of an a-b-c corrective decline.  Since c-waves are 5 wave structures, I need a 5-wave structure into a bottoming Fibonacci target to consider the market as having bottomed.  
Second, my minimum target for a bottom in the GLD is the 105 region, with a preference of a bottom closer to the 95 region, and with the outside potential for an over-exaggerated drop to as low as the 75 region.  
Based upon the current wave structure, the market only has 3 waves completed within this c-wave.  This is one of the reasons why I am still awaiting lower lows in the GLD.  Additionally, we have not yet even touched my minimum target for a bottom in the GLD.  This is the second reason as to why I am still awaiting lower lows.
Now, let's assume that I am wrong about both those conclusions I just noted.  The next and final test of a bottom being in place for a long-term pattern is the move off the lows must be a 5 wave structure to signal the resumption of the bull market. Since the market has moved off its lows in 3 wave structures, it reaffirms my expectation that any rally that is seen will only be part of a corrective rally, which will only set up the run to lower lows. 
Again, this leaves me wanting for another decline to lower lows.  Nothing that I see suggests that the long-term bottom in the gold price has yet been struck.  And, until I see at least 2 of the 3 criteria – or preferably all 3 criteria met, I will continue to look for another drop to lower lows in the precious metals market.
********
See chart illustrating Elliott Wave's pattern of 5 waves up and 3 waves down, plus detail on Fibonacci Pinball.
********
Gold-Eagle provides regular commentary and analysis of gold, precious metals and the economy. Be the first to be informed by signing up for our free email newsletter.
Free Gold-Eagle Newsletter!
Fresh weekly insights on gold, precious metals, and the economy
Leading authors from around the world
Always free
Stay informed!