Transitory Inflation: Great News For Gold
Most market analysts believe the Fed got inflation wrong.  They feel higher prices are not transitory and the strong arm of the Fed will push gold modestly lower in 2022.
Could it be that these analysts who failed to predict the rise of inflation… are about to fail again?
I think so.  That's because inflation and deflation come in waves.  There's an ebb and flow, and the first wave has likely run its course.
The impact of Trump's "QE for the people" stimulus checks is fading fast.  America's new president "Gman Joe" shows no interest in any more direct handouts, even though many citizens are still struggling with the horrifying medical and financial fallout from the Corona crisis.
This is happening while the Fed gets ready to reduce its "stock, bond, and real estate market welfare" QE programs… and the first big reduction could come with tomorrow's Fed announcement!
The big picture chart for gold.
A rally to the neckline of the massive inverse H&S pattern appears imminent, but this rally is likely to happen with a background of fading inflation, falling stock markets, and a Fed that back peddles on its rate hike plans.
After that, the breakout above the H&S neckline for gold is likely to occur with the Fed moving back into aggressive tightening mode, in response to a much bigger wave of inflation.
Institutional loss of confidence in the Fed is likely only in its infancy.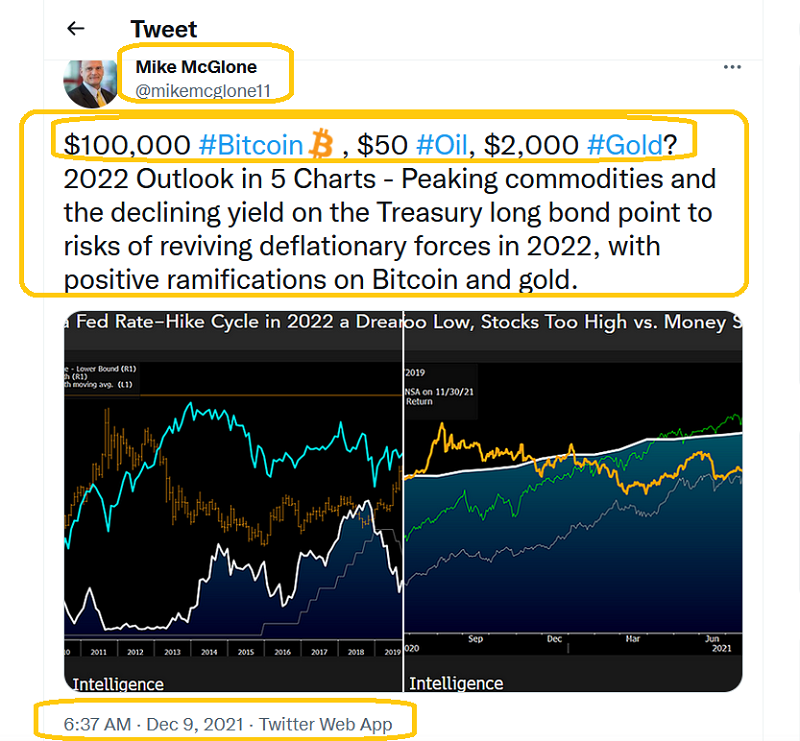 Bloomberg's commodity market "maestro" Mike McGlone is one of the few mainstream analysts who may have the outlook for the coming year correct…
But I doubt he anticipates the resurgence in inflation in 2023 that I see.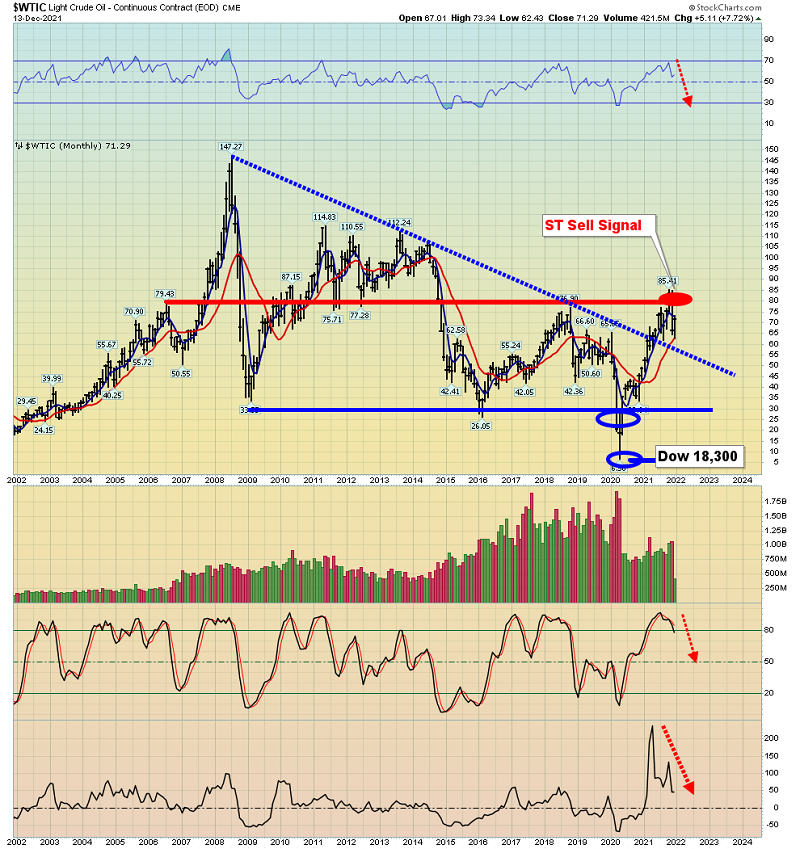 The weekly oil price chart.  Oil has quickly surged from about $6 a barrel to above $80.
That's created a lot of news headlines, but the $80 area is significant resistance, and a dip towards $50 (or even lower) looks likely.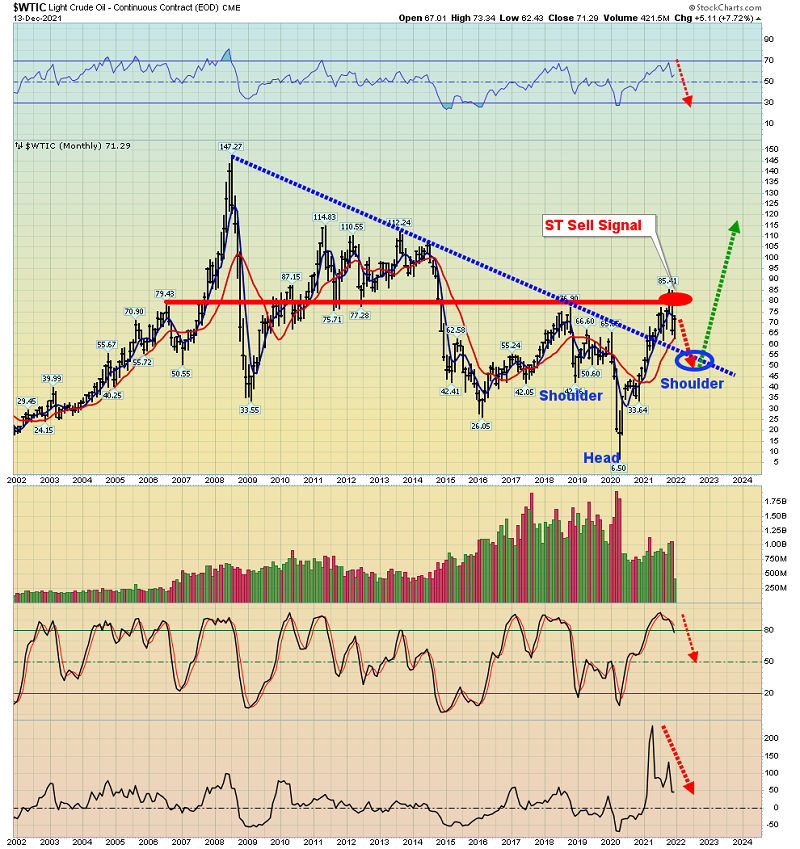 A second look at this important oil chart.
A big inverse H&S pattern appears to be forming, and that's good news for stagflation enthusiasts.  The price target of the pattern is…
Fresh all-time highs above $147.
Another big price driver for gold is of course the Asian love trade.
Last year's Chinese New Year was a dud for gold demand, but this year looks better.  Also, Indian demand is recovering fast, and digital gold (backed by physical metal) is seeing phenomenal growth.
The horrifying US stock market chart.
The Russell 2000 mutual fund chart shows a deadly accident waiting to happen.  When calculating the P/E ratio, the money managers strip out the companies with losses and that makes it look like the ratio is about 20:1.
When those companies are (rightfully) included in the calculation, the P/E ratio for the Russell 2000 index is revealed to be… above 600 to 1!  The bottom line: A deflationary wave in 2022 is highly likely, and an inflationary tidal wave in 2023 is likely to follow. 
2022 looks good for gold and 2023 should be great!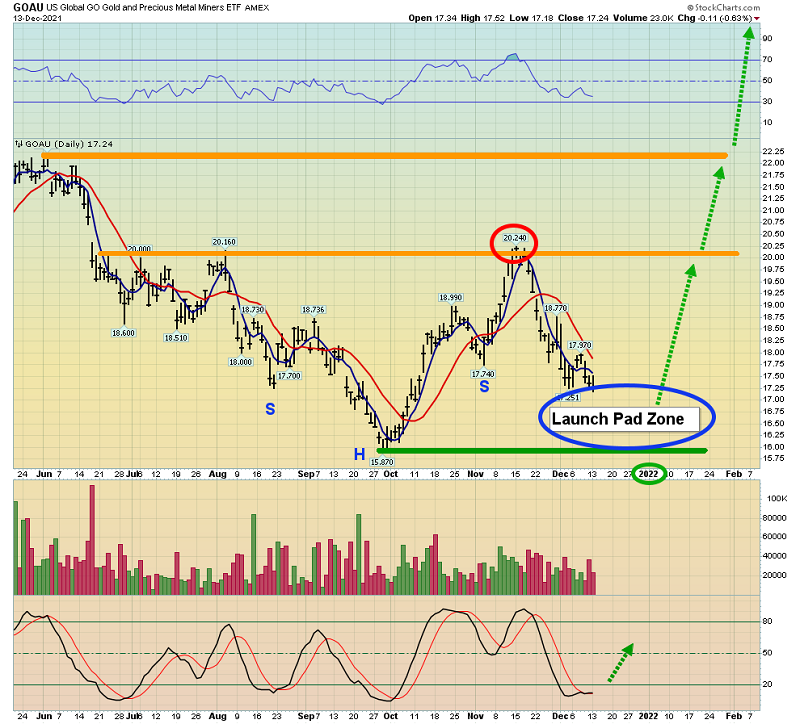 The GOAU ETF chart.  January is just two weeks away, and the technical action suggests a significant rally for the miners is imminent.
GOAU has entered what I call the "launch pad" zone.  This is where gamblers can purchase call options on an array of miners.  Watch for a break over the 20 level for my key 14,7,7 Stochastics oscillator.  That breakout should usher in the New Year, with golden cheer!
Special Offer For Gold-Eagle Readers: Please send me an Email to [email protected] and I'll send you my free "Golden Jackpot!" report. I highlight ten mining stocks (junior and intermediate) that are poised to lead the sector in a stunning January rally.  Key investor tactics are included for each miner!
Thanks!    
Cheers
St
Stewart Thomson 
Graceland Updates
Note: We are privacy oriented.  We accept cheques, credit card, and if needed, PayPal.
Written between 4am-7am.  5-6 issues per week.  Emailed at aprox 9am daily    
Email:
Rate Sheet (us funds):
Lifetime: $1299
2yr:  $299     (over 500 issues)
1yr:  $199     (over 250 issues)
6 mths: $129 (over 125 issues)
To pay by credit card/paypal, please click this link:
https://gracelandupdates.com/subscribe-pp/
To pay by cheque, make cheque payable to "Stewart Thomson"
Mail to:
Stewart Thomson / 1276 Lakeview Drive / Oakville, Ontario L6H 2M8 Canada
Stewart Thomson is a retired Merrill Lynch broker. Stewart writes the Graceland Updates daily between 4am-7am. They are sent out around 8am-9am. The newsletter is attractively priced and the format is a unique numbered point form.  Giving clarity of each point and saving valuable reading time.
Risks, Disclaimers, Legal
Stewart Thomson is no longer an investment advisor. The information provided by Stewart and Graceland Updates is for general information purposes only. Before taking any action on any investment, it is imperative that you consult with multiple properly licensed, experienced and qualified investment advisors and get numerous opinions before taking any action. Your minimum risk on any investment in the world is: 100% loss of all your money. You may be taking or preparing to take leveraged positions in investments and not know it, exposing yourself to unlimited risks. This is highly concerning if you are an investor in any derivatives products. There is an approx $700 trillion OTC Derivatives Iceberg with a tiny portion written off officially. The bottom line:  
Are You Prepared?
********