The Upside To This Hated Asset Is 50% Within Six Months
The media has decided that the single bets investment going forward is the US Dollar. Indeed, Marketwatch has proclaimed that 2017 will be "The Year of the Dollar."
If you want signs of a top in a particular asset, it's hard to beat this.
Meanwhile, as everyone is crowding into an already overcrowded US Dollar trade, gold has broken out of its downtrend. Not only that, but it's broken above key resistance.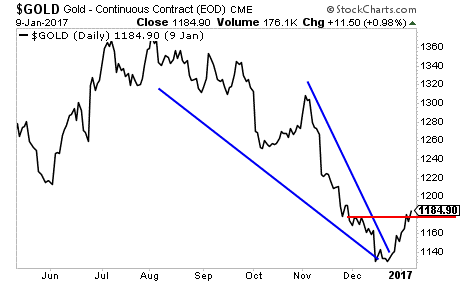 This asset class is absolutely HATED. Investors have been pulling BILLIONS out of gold based ETFs. And it is the single least liked asset class for the entire investment advisor community.
Guess which one will outperform in the next six months?
On that note, we just published a Special Investment Report to our clients concerning a unique play on gold that less than 1% of investors know about.
This gives you exposure to 25 million ounces of gold. The market is completely mispricing the value here, valuing the entire resource at just $273 per ounce.
Our report is titled The Gold Mountain: How to Buy Gold at $273 Per Ounce…
To pick up yours, swing by:
http://www.phoenixcapitalmarketing.com/GM1.html
Graham Summers
Chief Market Strategist
Phoenix Capital Research