A Wall Street Stock Correction Looms On The Horizon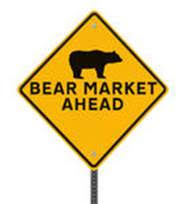 The following S&P500 Index - 90 Year Historical Chart shows the yearly gain or loss from 1929 through 2016. The following upshots (i.e. conclusions) may be drawn from this very illustrative bar chart of Wall Street's yearly stock performance during this prolonged period.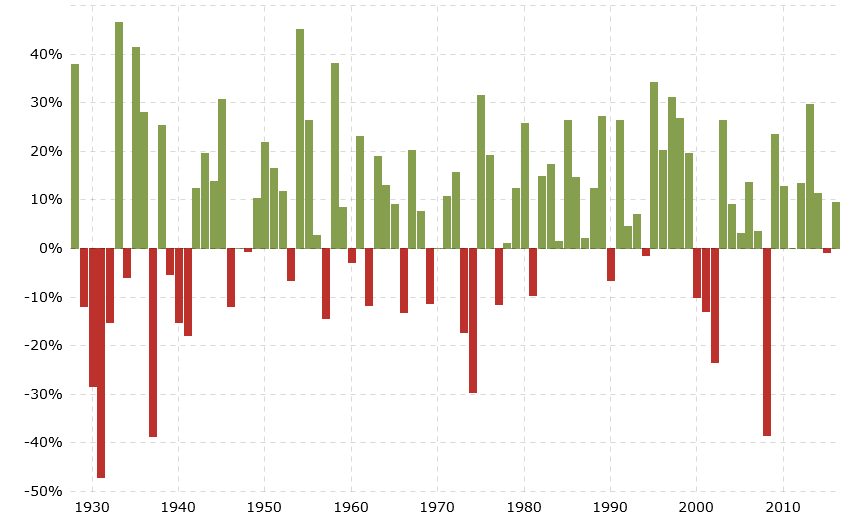 Source: http://www.macrotrends.net/2324/sp-500-historical-chart-data
Notable Upshots Of The Above Bar Chart:
1928 culminated a prolonged period of stock appreciation (1921-1929) when the S&P500 Index soared nearly 38% in the last year.

A prolonged 3-year bear ensued from 1929-1932…when S&P500 Index was hammered down about 86%.

The longest continuous bull market lasted 8 years from 1991-1999 (the very small negative performance in 1994 ignored as the amount was too tiny). HOWEVER, the present bull market is also quite long in the tooth…as it has to date also lasted 8 years (2009-2017)…ignoring the small negative performance of 2015 as it was too tiny to take into account.
To wit: A material stock market correction is inevitable…ergo only magnitude and duration are yet to be determined.
Based upon stock market history since 1929, a Stocks Bear Market inevitably looms on the horizon…in the not too distant future.
This begs the question: How far might stocks fall in the next BEAR MARKET? The following historic data might provide guidelines to help estimate the extent of the next decline in stock prices:
Below is an accounting of all BEAR MARKETS since 1929. For the sake of clarity, a BEAR MARKET is defined by the S&P500 falling at least 20%.
Here is the upshot of BEAR MARKET HISTORY:
Since 1929 there have been 25 Bear Markets

The average Bear Market period lasted 10 months

The average Bear Market loss was -35% (The smallest loss was -21% in 1949, and the largest loss was -62% registered in 1932)

Average frequency of Bear Markets since 1929 is every 3.4 years

The last Bear Market ended in March 2009. Therefore, another Stocks Bear Market looms - as the present BULL MARKET is quite long in the tooth with approximately 8.2 years to date.
I am reminded of the sage knowledge of Wall Street: Whereas history does not always repeat…it indubitably rhymes (i.e. history provides lines of probability). Consequently, the next bear market in stocks may well dumbfound the delusional Pollyannas who are blind-sighted by their own insatiable greed.
Irrational Exuberance Par Excellence
The current BULL MARKET in stocks is one of the greatest and longest lasting in history. Since early 2009 the S&P500 Index has relentlessly soared 220% to date. Consequently, excessive investor greed will sooner or later morph into fear…thus sparking and fueling a panic sell-off as fleeing investors stampede out of the financial carnage.
********