War & Inflation: Rally Time For Gold?
As the Dow tumbled 600 points yesterday, GDX and key gold stocks closed slightly higher. 
Is this the sign of a turn for the miners… a repeat of January to March 2022, when the US stock market crashes and gold stocks soar?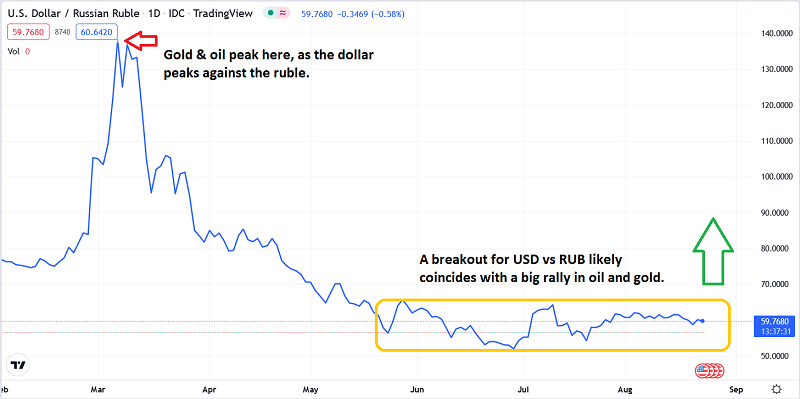 It might be.  For some insight as to why it could happen,  the important dollar versus ruble chart.
The 2021-2025 war cycle is poised to become the biggest in US history.  It's a dual cycle, both civil and global.  On the global side, US government war worshippers are using mountains of new debt to pit themselves against the Russian government.
The US "Gmen" have lost all their wars for decades, and it was obvious from day one that they would lose the Ukraine war too… perhaps with significant blood ultimately spilled on US soil as "warflation" creates horrifying riots that morph into a full civil war.
After promising to annihilate the Russian fiat ruble with the supposedly mighty fiat dollar, the US Gmen have only annihilated the fiat of their allies, including the pound and the euro, while all Western fiat has tumbled into a gulag against the ruble.
The daily oil chart.  A rally seems imminent.  I eagerly bought the $85 zone, with a focus on oil market dividends.
Oil has been the canary in the war cycle mine, and as the dollar peaked against the ruble in early March, so did oil, gold, silver, and the miners.
A reversal in oil would likely see the dollar begin to rally against the ruble, and usher in a big gold price rally too.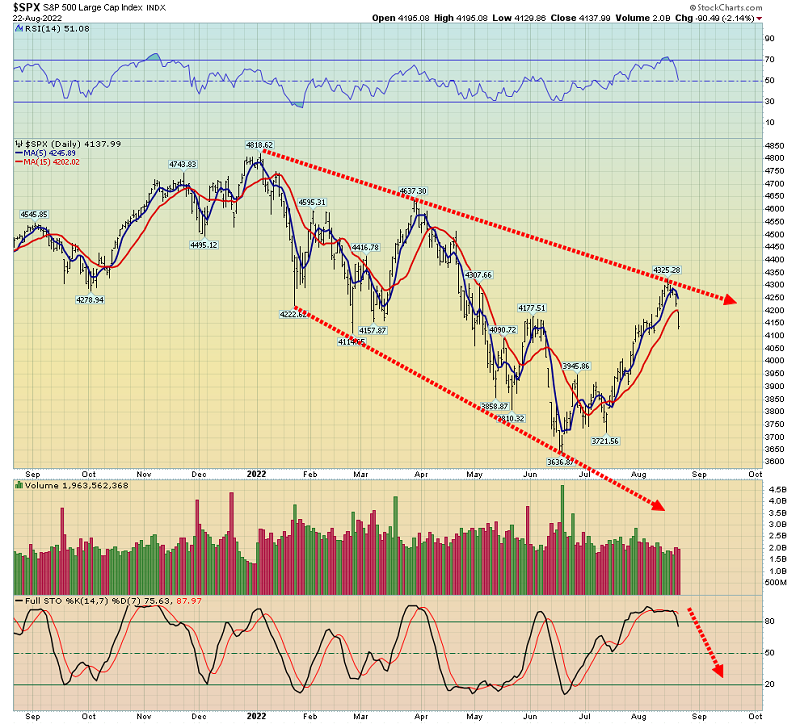 The SP500 chart.  It looks horrific. 
What's particularly exciting (for the bears) is that the supposed safe-haven bonds of the US government fell yesterday as the stock market tumbled.
Whether it's the bond market, the stock market, or the gold market, almost all analysts are getting the macro situation wrong.  That's because they are focused on the Fed and the US mid-term elections rather than the immense 2021 to 2025 war cycle.
Investors want to make money in markets, but sometimes it's easier to make money by focusing less on economic reports and the Fed, and to instead think about the big picture more. 
One of the main things I do in my big picture newsletter is to remove gold bug fear on price declines.  A rational investor is a winning investor because winning begins in the heart more than the brain.  There's no need to predict a decline in the gold price or to be afraid of one, but there is a need to buy the declines at strategic times and prices.  Investors who sell into rallies don't need to worry about avoiding declines because they've done so by selling.  At $199/year, my GU newsletter is solid value.  This week I have an "Ode To The War Cylce" special offer of just $179 for 15 months.  Please send me an email if you want the offer.  Thanks!
In war, surprise is always a major theme and a lot more of it likely lies ahead. 

Surprise is good for the precious metals, and on that note, the simple line chart for gold.  Note the nice channel breakout and pullback.  The bottom line:
With the USD/RUB chart and the oil chart indicating big rallies are likely in those markets, it's clear that an explosive gold price rally is imminent.
The PDBC general commodities ETF chart.  It looks ready to rally, too.
A move above $18 would be strong confirmation that the lull in commodity price action is over.
The DBA agricultural commodities chart.  It also looks set to rally, and stoploss enthusiasts could buy now with a stop at about $19.10.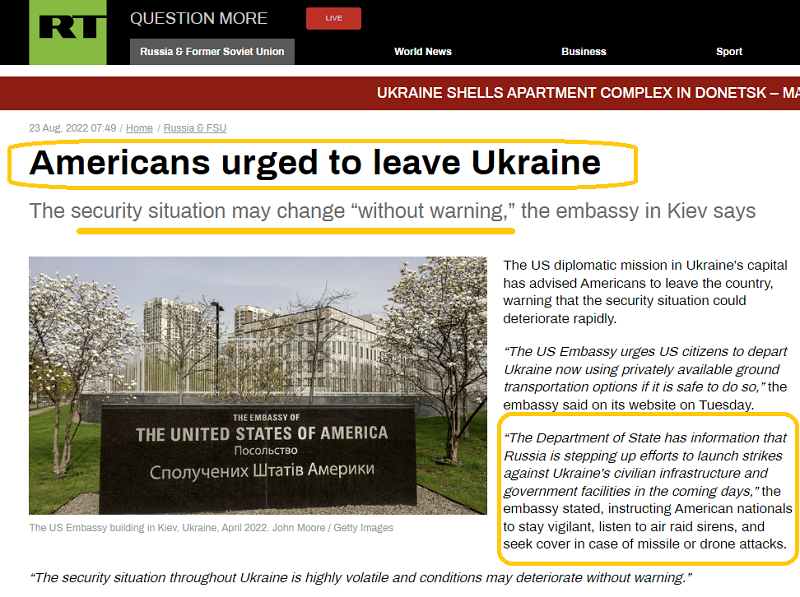 A rally in both energy and food is a "double whammy" of inflation, and it's likely to be triggered by a fresh ramp-up in war cycle action.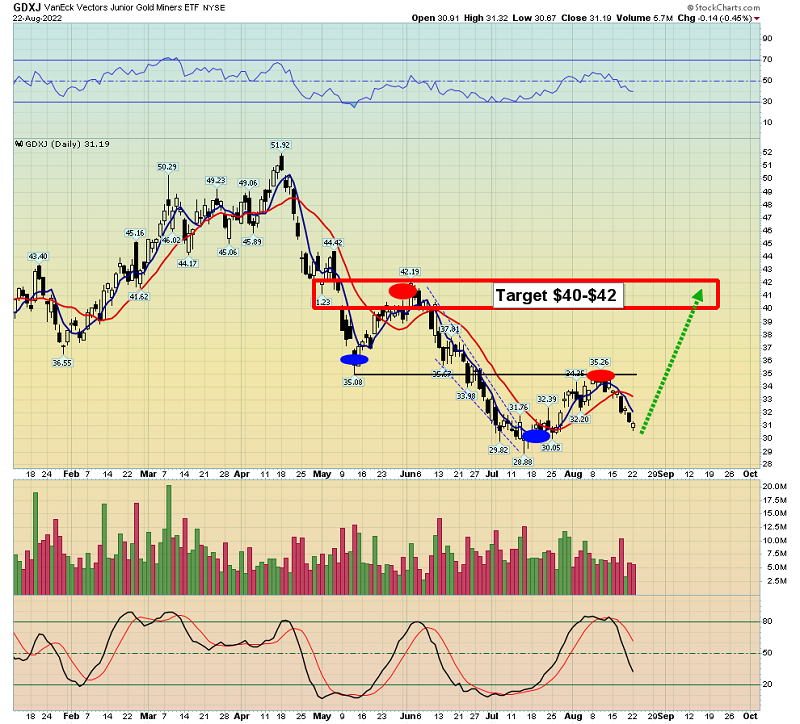 The miners?  The enticing GDXJ chart.
I issued a significant buy alert in mid-May for GDXJ, targeting 20% gains in one to two months, and it happened in just a few weeks.  I issued another buy alert in mid-July, also targeting 20% gains, and that played out magnificently.
Now?  Now I'll dare to suggest a much bigger rally is imminent.  A rally to the $40-$42 target zone would be roughly a 30% gain and many individual miners would soar 100%... and more!
Special Offer For Gold-Eagle Readers: Please send me an Email to [email protected] and I'll send you my free "Jacked With J!" report.  I highlight ten key component stocks of the GDXJ ETF, with strong tactics for eager investors to play the imminent rally!
Thanks!    
Cheers
St
Stewart Thomson 
Graceland Updates
Note: We are privacy oriented.  We accept cheques, credit card, and if needed, PayPal.
Written between 4am-7am.  5-6 issues per week.  Emailed at aprox 9am dailyhttps://www.gracelandupdates.com/    
Email:
Rate Sheet (us funds):
Lifetime: $1299
2yr:  $299     (over 500 issues)
1yr:  $199     (over 250 issues)
6 mths: $129 (over 125 issues)
To pay by credit card/paypal, please click this link:
https://gracelandupdates.com/subscribe-pp/
To pay by cheque, make cheque payable to "Stewart Thomson"
Mail to:
Stewart Thomson / 1276 Lakeview Drive / Oakville, Ontario L6H 2M8 Canada
Stewart Thomson is a retired Merrill Lynch broker. Stewart writes the Graceland Updates daily between 4am-7am. They are sent out around 8am-9am. The newsletter is attractively priced and the format is a unique numbered point form.  Giving clarity of each point and saving valuable reading time.
Risks, Disclaimers, Legal
Stewart Thomson is no longer an investment advisor. The information provided by Stewart and Graceland Updates is for general information purposes only. Before taking any action on any investment, it is imperative that you consult with multiple properly licensed, experienced and qualified investment advisors and get numerous opinions before taking any action. Your minimum risk on any investment in the world is: 100% loss of all your money. You may be taking or preparing to take leveraged positions in investments and not know it, exposing yourself to unlimited risks. This is highly concerning if you are an investor in any derivatives products. There is an approx $700 trillion OTC Derivatives Iceberg with a tiny portion written off officially. The bottom line:  
Are You Prepared?
********