Zimtu Capital: Nothing Is More Powerful Than An Idea Whose Time Has Come
Recently on TED.com, the well-known start-up investor, Bill Gross, thought out loud the reasons for success and failure of his investments. Convincingly, he comes to the conclusion that the most crucial criteria for success of publicly traded companies is not the product itself, or the team, or the financings, but the timing. Or as Victor Hugo, widely esteemed as one of the greatest French writers and poets, announced long ago in the 19th century: 

"Nothing is more powerful than an idea whose time has come." 

Hence, one must really ask: Is the time right for this corporate idea and vision? Does a market exist already or in the future? Are investors already lining up, or are they waiting to see if milestones are reached? 

Gross's thoughts appear to be applicable to the current resource markets: No matter how good resource projects may look, investors may not make the expected returns if the overall sentiment of the market is negative. This negativism for resource investments has existed since 2011. Since then, the TSX Venture index nosedived from more than 2,400 to 650 points. Thus, the dominant question inebriating resource investors, standing on the sidelines ready to jump in, is: When will the market turn?

Sound arguments exist for a bottom already behind us or to be reached shortly. Lately, liquidity has returned to some resource stocks, which is a first indicator for a general trend change. Yet investors should not wait bullheaded for "The Great Turnaround" but, in the meantime, seize individual opportunities and moments of truth. As the Oracle of Omaha has often opined, it is fundamentally difficult to hit the exact bottom, and so let's take this opportunity to look at the publicly traded investment issuer, Zimtu Capital Corp. and their equity holdings focused on junior mining companies: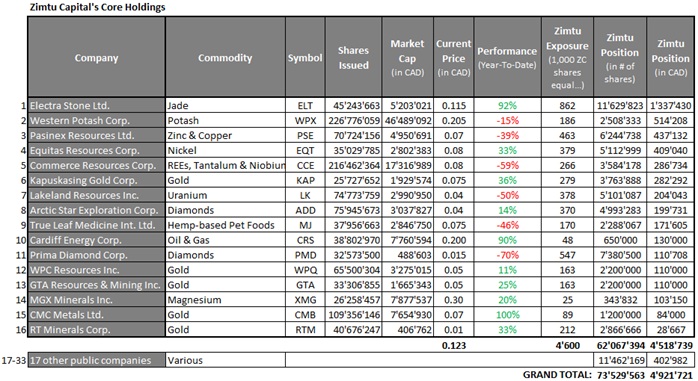 The full research report from Rockstone Research on Zimtu Capital Corp. and its 16 core equity holdings can be read here. Please read the full disclaimer within the full research report entitled "Buy 1 Stock And Get 33: Zimtu Capital Backing Up Portfolio Holdings With Special Diversification Strategy And Team".