1970s Repeat" Stock Market Tumbles And Gold Rallies
GU Galactic Maines Update!
China's real estate behemoth Evergrande is now "Notsogrande".  Not surprisingly, fiat debt is the problem.  The proposed "solution" is likely to be more debt… and more money printing. 
That's great news for gold investors.  The short-term gold chart. 
The price action is positive, and a rally to my target zone of $1800-$1808 seems imminent.
The intriguing daily gold chart.  As I predicted just a week ago, gold moved higher yesterday, as US stock markets crashed.
There is immense "head and shouldering" action on this gold chart, and it's in sync with both the Evergrande crisis and the floundering US government's attempts to raise the debt ceiling (which I call a floor).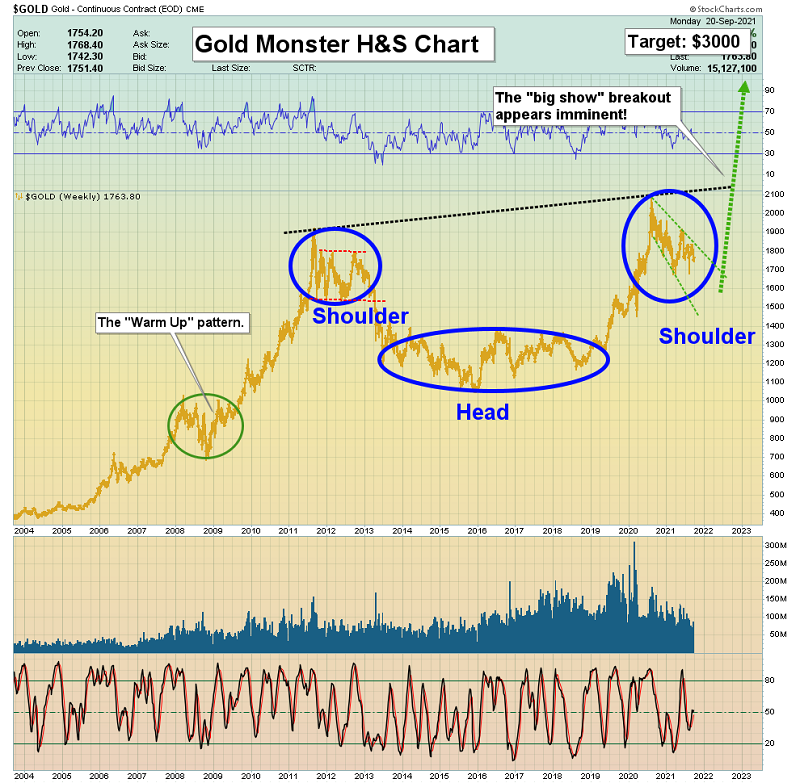 The daily gold chart action fits perfectly with the huge right shoulder that is nearing completion on this magnificent monthly chart.

With a key Fed decision coming tomorrow, suspicious gold bugs wonder if Janet (Treasury) and Jay (Fed) were involved in providing an overnight "helping hand" for the stock market.
That's unknown.  It's most likely money managers are buying the dip, and they hope the Fed will support their play.
Candlestick "maestro" Morris Hubbartt has warned that a major crash can feature early morning green candlesticks after the initial meltdown… and then the candlesticks turn red by the close!
That's a horrifying scenario; money managers would lose confidence and panic if yesterday's "Black Monday" is followed by "Terrible Tuesday" marking today's close. 
An important technical view of the disturbing US stock market action.  I've urged stock market investors to pay attention to my powerful red and green traffic light signals for the Nasdaq QQQ ETF.
These signals are based on the 10,100 moving averages on the 2hour chart.
A red light is in play as of yesterday!  At my swing trade newsletter we anticipated the sell signal and are heavily short via SQQQ.  We are holding positions to profit from a QQQ drop to $350 and then $315.
If Fed chair Jay doesn't give stock market investors confidence tomorrow, the Dow could drop thousands of points… while gold surges higher.
The typical Western gold bug is mainly oriented around the fear trade, and a US stock market crash that sees gold surge higher would be "nirvana". 
This hasn't happened since the 1970s, but the rise of stagflation combined with government obsession with fiat, debt, and money printing is opening the door to the rise of a super-sized version of that era.
Back in 2019, I warned gold investors of a disturbing virus cycle that could catch government and citizens by surprise.  I predicted a "carpet bombing" of small business and freedom would stun Western world citizens and… that's exactly how it's played out.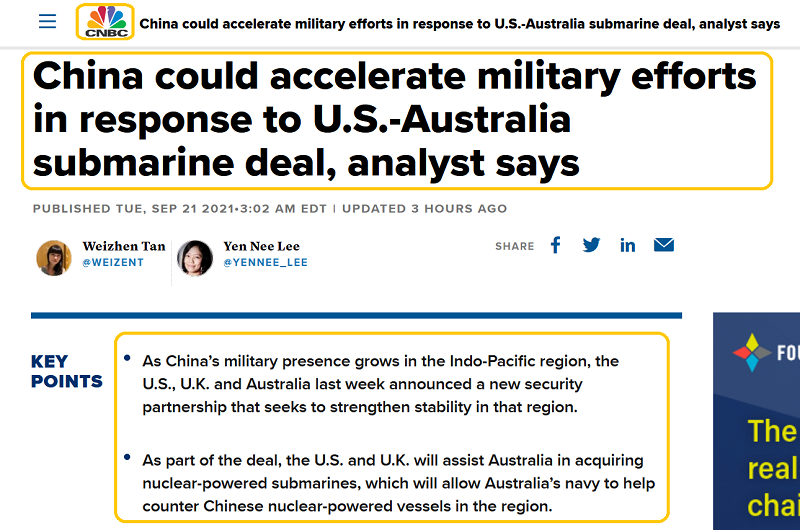 Virus cycles and war cycles tend to see a significant loss of freedom for citizens who are unprepared for the onslaught.
The good news is that from a time perspective, the virus cycle is in fade mode.  The bad news is that the 2021-2025 war cycle is upon investors, and it could become a horror in 2022.  Here's why:
Governments have a history of turning mean when finances collapse, and their money printing produces significant inflation.  A stock market meltdown in 2022 that is stagflation-inspired could see the US government try to point citizen anger at foreign lands.
The "solution" to the foreign lands problem could be… war.  That can backfire on the government; citizens might rise and engage in civil war on American soil. 
In 2022, things could go from bad to worse, and from worse to "into the dumpster" very quickly!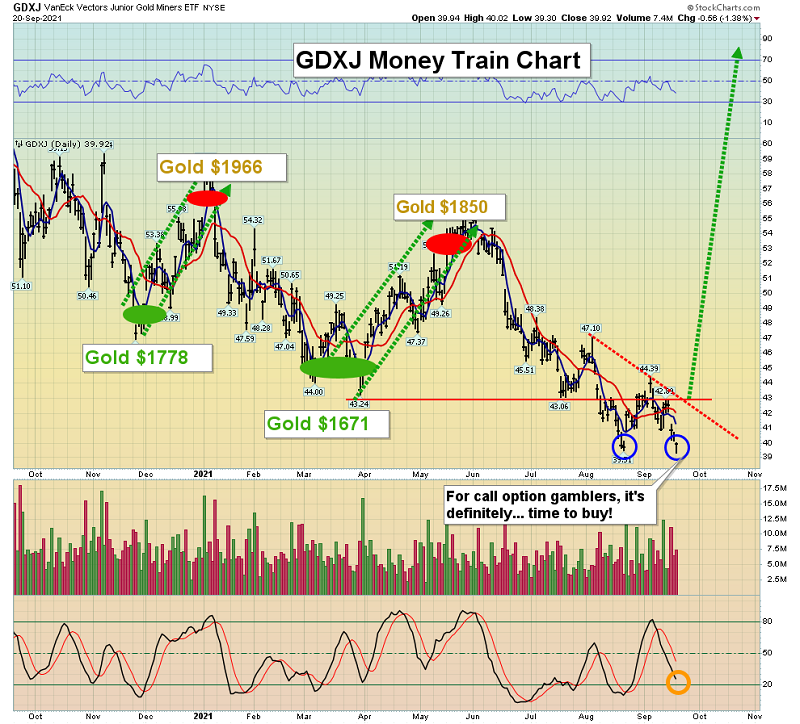 The exciting "money train" chart.  GDXJ may be poised to begin its biggest rally in its history.
Investors should focus on the two converging red trendlines and the $43 price zone.  Gamblers can buy now with an optional stoploss placed under yesterday's low and… a two-day close above $43 would be a significant "add to positions" event!
Special Offer For Gold-Eagle Readers: Please send me an Email to [email protected] and I'll send you my free "Gold Stocks: 1970s Replay!" report.  I highlight a "Fab Ten" list of junior miners that look set to produce near-immediate 30%-50% gains for investors!  Risk management tactics are included in the report.
Stewart Thomson 
Graceland Updates
Note: We are privacy oriented.  We accept cheques, credit card, and if needed, PayPal.
Written between 4am-7am.  5-6 issues per week.  Emailed at aprox 9am daily    
Risks, Disclaimers, Legal
Stewart Thomson is no longer an investment advisor. The information provided by Stewart and Graceland Updates is for general information purposes only. Before taking any action on any investment, it is imperative that you consult with multiple properly licensed, experienced and qualified investment advisors and get numerous opinions before taking any action. Your minimum risk on any investment in the world is: 100% loss of all your money. You may be taking or preparing to take leveraged positions in investments and not know it, exposing yourself to unlimited risks. This is highly concerning if you are an investor in any derivatives products. There is an approx $700 trillion OTC Derivatives Iceberg with a tiny portion written off officially. The bottom line:   Are You Prepared?
**********