2012-2015 US Gold Supply Deficit: One Hell Of A Lot Of Gold
The US suffered another sizable gold supply deficit in 2015.  Matter a fact, the deficit was 50% larger than in 2014.  In 2015, total US gold demand was 118 metric tons (mt) higher than total supply versus 77 mt in 2014.
According to figures put out by the USGS, World Gold Council and Thomson Reuters GFMS, the U.S. had a total of 553 mt of gold supply compared to 671 mt of total demand… leaving a 118 mt shortfall for 2015: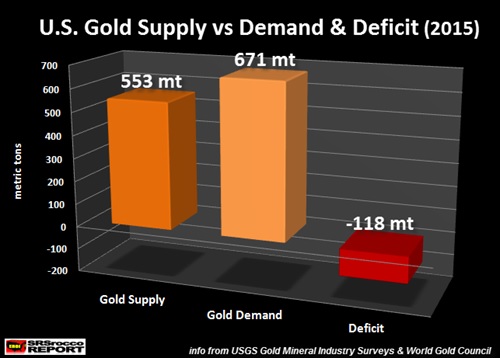 Here is how I arrived at the figures shown in the chart above:
US Gold Supply & Demand Figures 2015
Domestic Mine Supply = 213 mt
Gold Imports = 265 mt
Estimated Scrap = 75 mt
Total Supply = 553 mt
Gold Exports = 478 mt
Domestic Consumption = 193 mt
Total Demand = 671 mt
Total Deficit = 118 mt
American gold consumption increased from 179 mt in 2014 to 193 mt in 2015.  The majority of the increase was due to higher Gold Bar & Coin investment.  According to the World Gold Council Full Year 2015 Report, Americans purchased 132 mt of Gold Jewelry and 47 mt of Bar & Coin in 2014 versus 120 mt of Gold Jewelry and 73 mt of Bar & Coin investment in 2015.
What was interesting was the huge spike of U.S. Gold Bar & Coin demand during the third quarter of 2015.  This was at the same time when the retail silver market suffered extensive shortages with upwards of two month wait times on certain products.  Americans purchased 33 mt of Gold Bar & Coin in Q3 2015, 45% of the total for the year.
While some precious metal investors do not trust any of the data that comes from the World Gold Council or Thomson Reuters GFMS, I believe the figures for the U.S. are pretty accurate.  If we look at Gold Eagle sales from July-Sept 2015, they totaled 397,000 oz while Gold Buffalo sales were 74,000 oz.  Thus, total sales of these two official gold coins equaled 471,000 oz or 14.6 metric tons.  The remaining 18.4 mt of Gold & Bar & Coin for Q3 2015 was in from other official coins and bars (such as Gold Maples) and private bars and rounds.
U.S. Exports Every Bit Of Its Gold Supply In 2015
Now, if we were to exclude U.S. gold scrap supply and domestic consumption, this would be the result: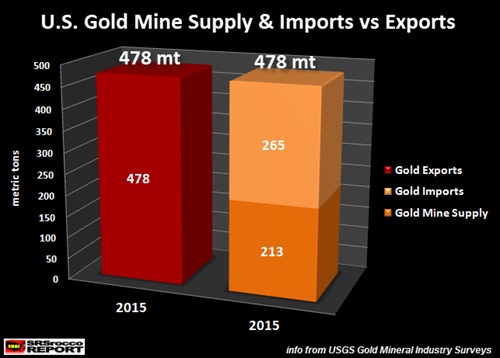 U.S. domestic gold mine supply of 213 mt and imports of 265 mt (478 mt) is the same total of gold exports at 478 mt.  Basically, the United States exported every bit of its mine supply and imports abroad.
U.S. Four-Year Gold Supply Deficit Equals One Hell Of A Lot Of Gold
If we add up total gold supply and subtract total demand since 2012, the United States suffered one hell of a deficit:
As we can see from the chart above, the U.S. experienced annual gold supply deficits since 2012.  In 2011, the U.S. actually enjoyed a 215 mt surplus.  What was interesting is that during the years when the price of gold surged (2009-2011), the U.S. reported more annual surplus.  However, since the price of gold peaked (2011), it has been one annual deficit after another.  I believe this is due to a significant "Trend Change" by the Eastern countries to acquire as much gold as they can get.
If we add up the annual gold supply deficits from 2012 to 2015, it totals 568 mt, or a massive 18.3 million oz (Moz).  To give you an idea of how much gold that is, it equals all the Gold Eagles sold by the U.S. Mint from 1988-2015, 18.3 Moz: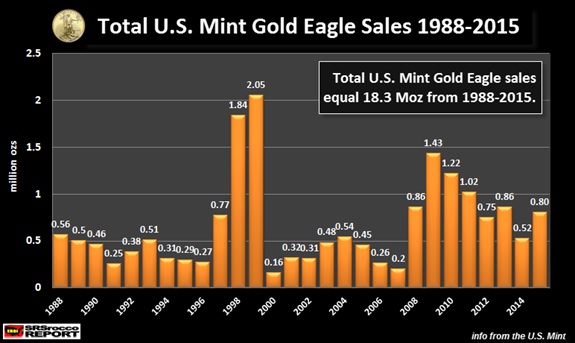 So, in just the past four years, the total U.S. gold supply deficit equals all the U.S. Gold Eagle sales for the past 28 years.  That's a one hell of a lot of gold.  It amounts to a $22 billion gold supply deficit, based on a $1,200 current market price multiplied by 18.3 Moz.
I will be writing more articles on the U.S. and Global gold supply-demand forces.  However, the basic takeaway is this… physical gold continues to be drained from the WEST and shipped to the EAST.  As we can see from the data in this article, the U.S. continues to export all of its domestic mine supply and imports abroad, while using its scrap supply for consumption purposes.
Which means, the present American Gold Ownership Strategy is to EXPORT IT ALL, JUST LET US KEEP THE SCRAPS.
Please check back for new articles and updates at the SRSrocco Report.  You can also follow us at Twitter below: