Americans "Looted" Nazi Gold – Reminder Of Gold's Role In Times Of Crisis
- Documents uncovered in Washington show American's seized Nazi gold in last days of war
- Himmler stashed emergency fund of gold and currencies in post office of small Eastern town to protect from bombing of Berlin
- Loot quickly shipped to Frankfurt where trail ends
- Story shows strategic importance of gold in times of crisis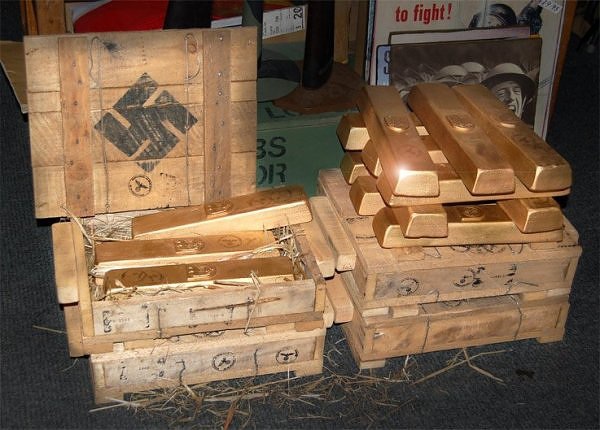 In the last days of the Second World War American troops uncovered a large stash of gold, silver and paper currencies at the post office of a small town in eastern Germany called Plauen. Documents show that the stash was directly linked to SS chief Heinrich Himmler.
The Americans seized the town on 16th April 1945. Documents uncovered in Washington by German historian Peter Heintje show that eleven days later a convoy left the town for Frankfurt.
Apparently the post office of the small town was also a secret branch of the Reichsbank. As the bombing raids on Berlin intensified in 1944 Himmler arranged for the stash to be secreted in the quiet eastern town.

Hitler's Nazis had looted gold throughout Europe. Indeed we featured the frightening but compelling video which details the plundering of Austrian, Czech, Polish and other national gold reserves and the theft of German and European citizens, especially Jewish people's gold, for the German Reichsbank back in 2008 – see video here.
On 26th April, 1945, a post office employee was interrogated. "He spoke of a safe in the post office building. In it were 900 kilos of gold mainly in the form of coins, 70 kilos of silver and cash found, " Heintje told German press.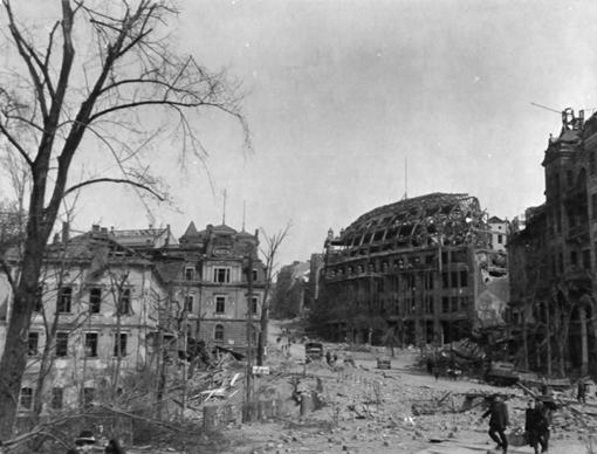 The city of Plauen after bombings in WWII
The key to the safe was not available and so US engineers broke into it with explosives. The bullion was stashed in 35 sacks. The hoard also included one million Swiss francs and 151,560 Norwegian kroner and 98,450 Dutch guilders. The fund would be valued at 32 million euros today.
Only one day transpired between the discovery and accessing the safe and its hurried shipment to Frankfurt. This was because Plauen was in the zone which was to come under Russian control at the end of the war as agreed at the Yalta conference.
Apparently the stash remained in Frankfurt for some time but no documents were found that show its final destination. It is believed that it was shipped to the U.S. as war reparations and likely ended up in Fort Knox or the New York Federal Reserve.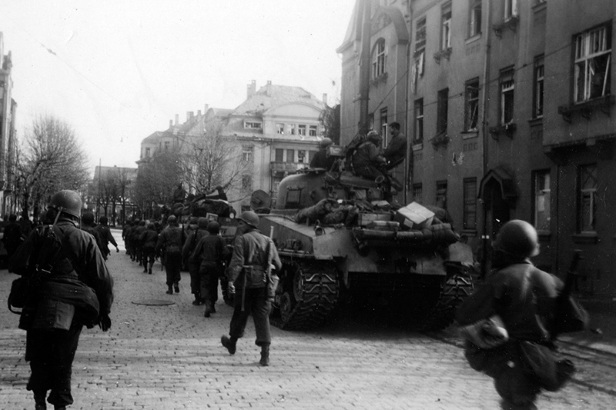 Photo courtesy of Mopo24.de
The story is a reminder of the extremely important role gold plays in times of crisis and chaos. Himmler's stash was predominantly made up of gold and silver bullion as opposed to paper currencies.
The U.S. also placed great importance on gold and it was partly due to its enormous gold hoard that it was able to have the dollar placed on an equal footing with gold at the Bretton Woods conference in July 1944.
With so many factors gravitating towards potential global financial stability and potential chaos today it Is prudent for investors and savers to own and have a healthy allocation to physical gold as financial insurance.
MARKET UPDATE
Today's AM LBMA Gold Price was USD 1,186.00, EUR 1,049.19 and GBP 767.86 per ounce.
Yesterday's AM LBMA Gold Price was USD 1,181.00, EUR 1,046.75 and GBP 772.40 per ounce.
Gold climbed $2.50 or 0.21 percent yesterday to $1,176.50 an ounce. Silver slipped $0.04 or 0.25 percent to $15.98 an ounce.
Gold climbed for its second consecutive day as European stock markets dipped, commodities strengthened and the U.S. dollar pulled back.
Gold in Singapore for immediate delivery was up 0.3 percent at $1,176.88 an ounce near the end of the day, while gold in Switzerland was flat.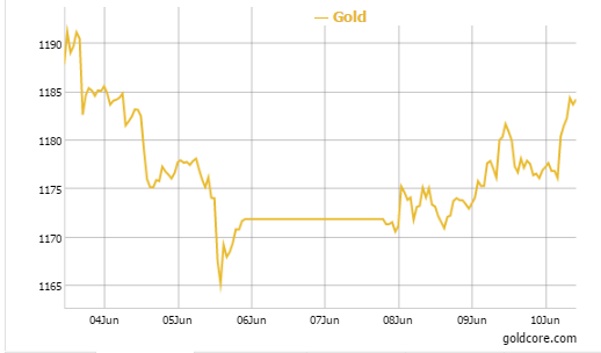 Gold in USD – 1 Week
In Asia, Chinese consumers took advantage of the dip in bullion prices after Friday's U.S. payrolls report and physical buying grew stronger.  Premiums climbed to $2.50 an ounce over the global benchmark on the Shanghai Gold Exchange a jump from premiums of $1.50 to $2 last week.
The Greek Prime Minister Alexis Tsipras is returning to Brussels today for a meeting with the leaders of France and Germany in an attempt to forge a bail-out deal however a stalemate may continue which should support gold.
In late morning European trading gold is up 0.76 percent at $1,186.26 an ounce. Silver is up 1.01 percent at $16.15 an ounce, and platinum is up 0.82 percent at $1,117.14 an ounce.
******** 
Courtesy of http://www.goldcore.com/