And Now Microsoft Leads the Stampede!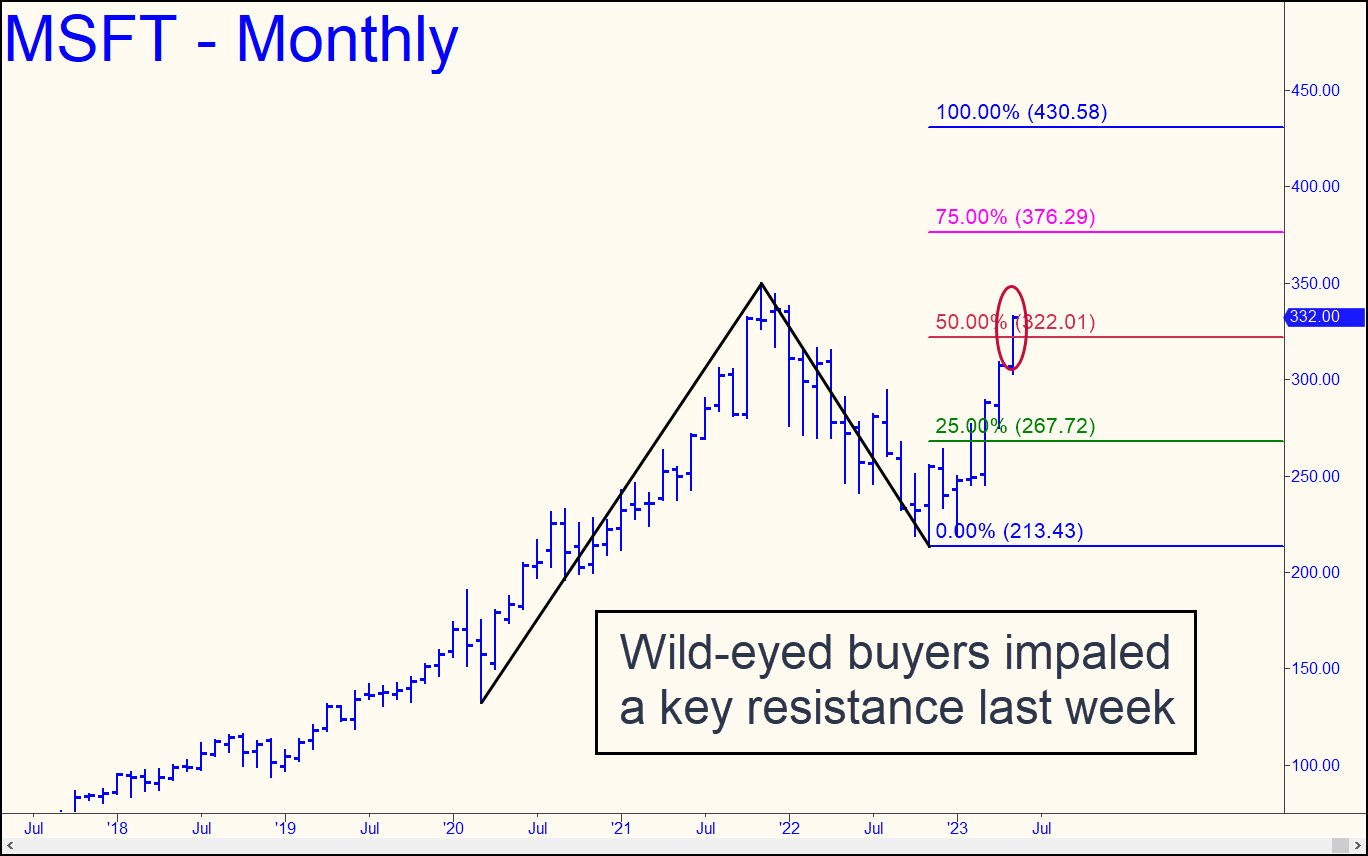 Microsoft's bullish rampage last week added to already strong evidence that the stock market is headed to new records highs.  The shares of the software leviathan's shares not only jackhammered through granite resistance in the form of the midpoint 'Hidden Pivot' shown in the chart, they ended the week decisively above it. This technical telltale is almost never wrong, as Rick's Picks subscribers could attest. When a stock fist-pumps through the midpoint 'Hidden Pivot' and then stays above it for even a short while, the rally is all but certain to reach the 'D' target — in this case 430.58. That would equate to a 30% rally from current levels, putting MSFT 80 points above the old all-time high at 349. If the Dow Industrials were to achieve a relatively modest gain of 20% over the same period, they would be trading just shy of 40,000 — substantially above the record 36,952 achieved in the early days of 2022.
Previously, I wrote that similar wilding sprees in Chipotle and AAPL were pointing to the same outcome: new all-time highs for the broad averages. With a third world-beater joining the list, an enticing bet on new all-time highs has become even juicier. This is despite the fact that the radically inverted yield curve the financial system just weathered has never been wrong in predicting a recession. Factor in a collapse in commercial real estate that appears inevitable, as well as a wave of bank failures that even Janet Yellen is expecting, and it would seem that stocks are facing a perfect storm of deflationary forces. So how come your editor, a hard-core bear's bear, thinks stocks are just now lifting from the launching pad?  Very simply, because the market is a rabid beast, inured to all logic, common sense and caution. Greed is what impels it higher, and the effect intensifies the higher the market goes.
'Rhythming' Three Stocks
Since nothing is 100% certain, I will continue to monitor the charts of Chipotle, Apple and Microsoft for signs of a stall at lesser Hidden Pivot targets. AAPL has yet to exceed the last such resistance it faced, but last week's rebound could put it back in gear with MSFT and CMG. The next important number to watch in MSFT is 335,69, a Hidden Pivot target that lies just $4 above Friday's close. The ABCD pattern used to project that target is gnarly enough to be off the radar of most chartists, and that's why I expect a tradeable top of at least short-term importance to occur there.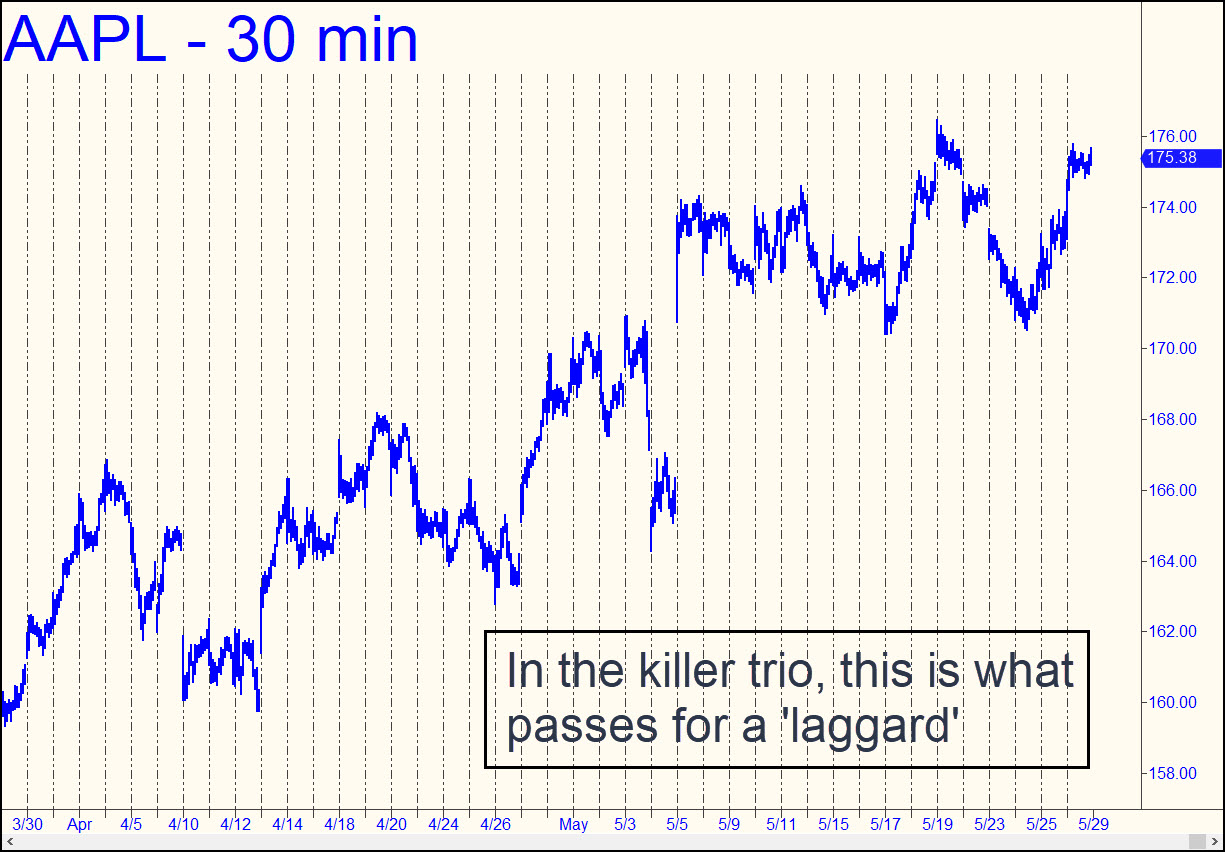 All of these stocks are favorites of the chimpanzees who purport to manage your portfolio by holding onto just a small handful of stocks forever. A bear market that is inevitable will someday force redemptions of erstwhile no-brainer stocks in times when there are no buyers. Until then, shares can and will continue to rise, often into airless gaps in which no shares or money changes hands. Although this may sound like a perpetual motion machine that creates money from nothing, it assuredly cannot continue for long, let alone forever. It is perversely drawing energy at the moment by flouting the investor maxim, "Go away in May." The boring summer many expect could give our three bellwether stocks an opportunity to reach their Hidden Pivot D targets by mid-summer. That would put the market in good position to do a Pearl Harbor on the multitudes who think historical crashes happen only in October.
*********