Are Precious Metals And Miners Close To A Cyclical Top?
In my last published article titled "Intermediate Forecast: Gold, Silver And Mining", I noted that prices were fast approaching our initial target areas for gold, silver and miners. Most have reached the previously posted targets. Consequently, I will now begin looking for a cyclical top. Once the February top is established, metals and miners should drop for several weeks into a 6-month cycle low, bottoming sometime in April or May.
Though we are currently expecting prices to top, we are overwhelmingly bullish on gold, silver and miners. Our analysis suggests the critical 8-year cycle low will arrive this year (2016). Subsequently from that low, prices will begin a multi-year rally. Below is our most recent market update.
The dollar finally broke through the cycle trendline Wednesday, giving metal prices a boost into their target areas; the dollar should make a cycle low rather soon. Gold drove deep into the target box and has now become oversold; these conditions are often seen near biannual cycle tops. Silver captured the rally we were looking for, but prices are still a little short of the target area. Miners have reached their target zones and could form tops any day. I will be looking for confirmed price swings and other topping signals over the next few days. We will update as often as necessary as the top comes in.
US Dollar Chart
After crawling several weeks along the 10-day moving average prices belatedly broke below the cycle trendline. They are now at the 200-day moving average and prices should find support. A cycle bottom should form within the next few trading days.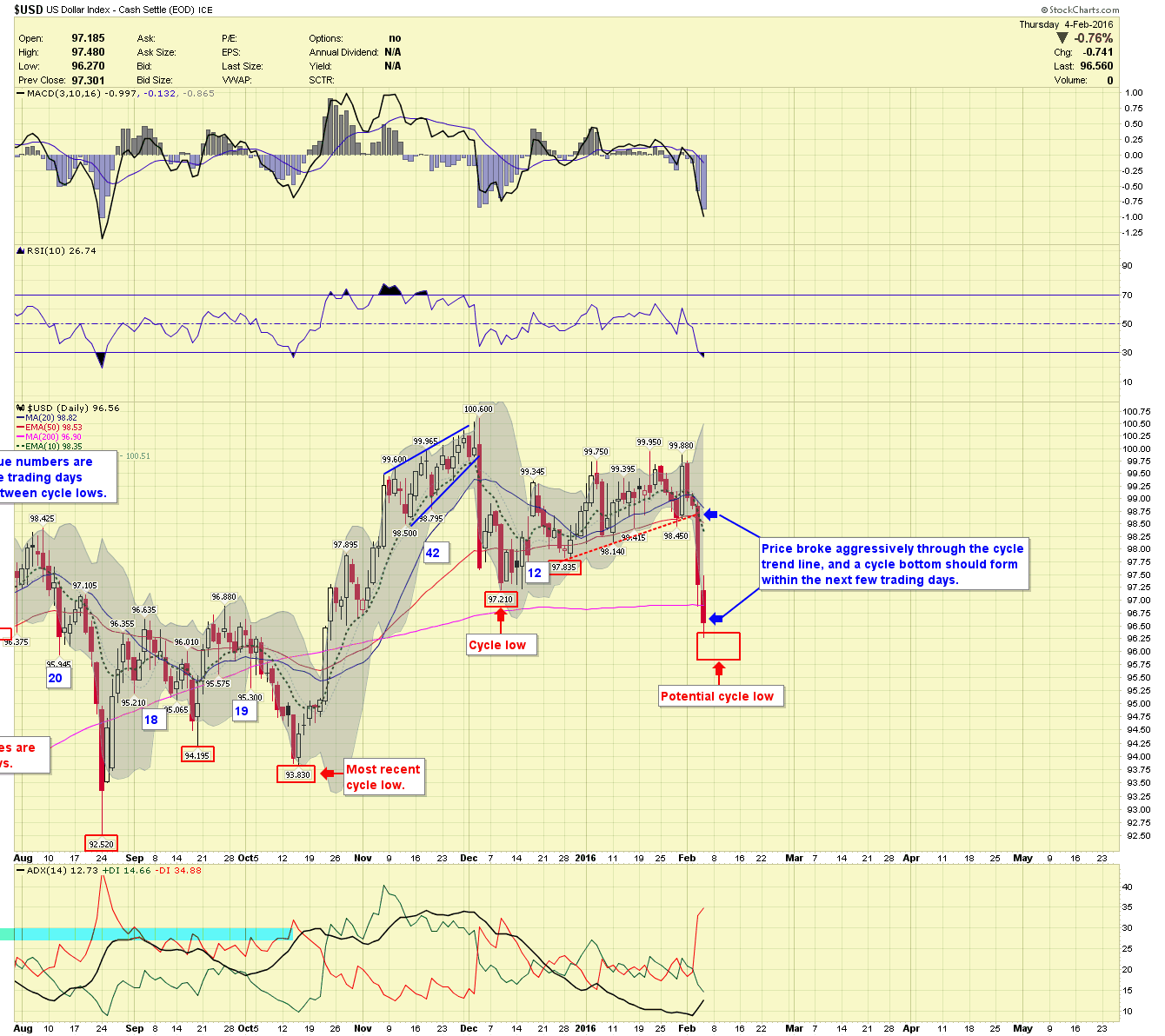 Gold Price Chart 
Gold prices have outperformed my expectations breaching the upper boundary of my target zone. The MFI and slow stochastics are overbought; I'm waiting for a crossover or a confirmed price swing to mark a potential top to this 6-month cycle. Once we have an established top prices should drop to a spring low, sometime around April or May of 2016.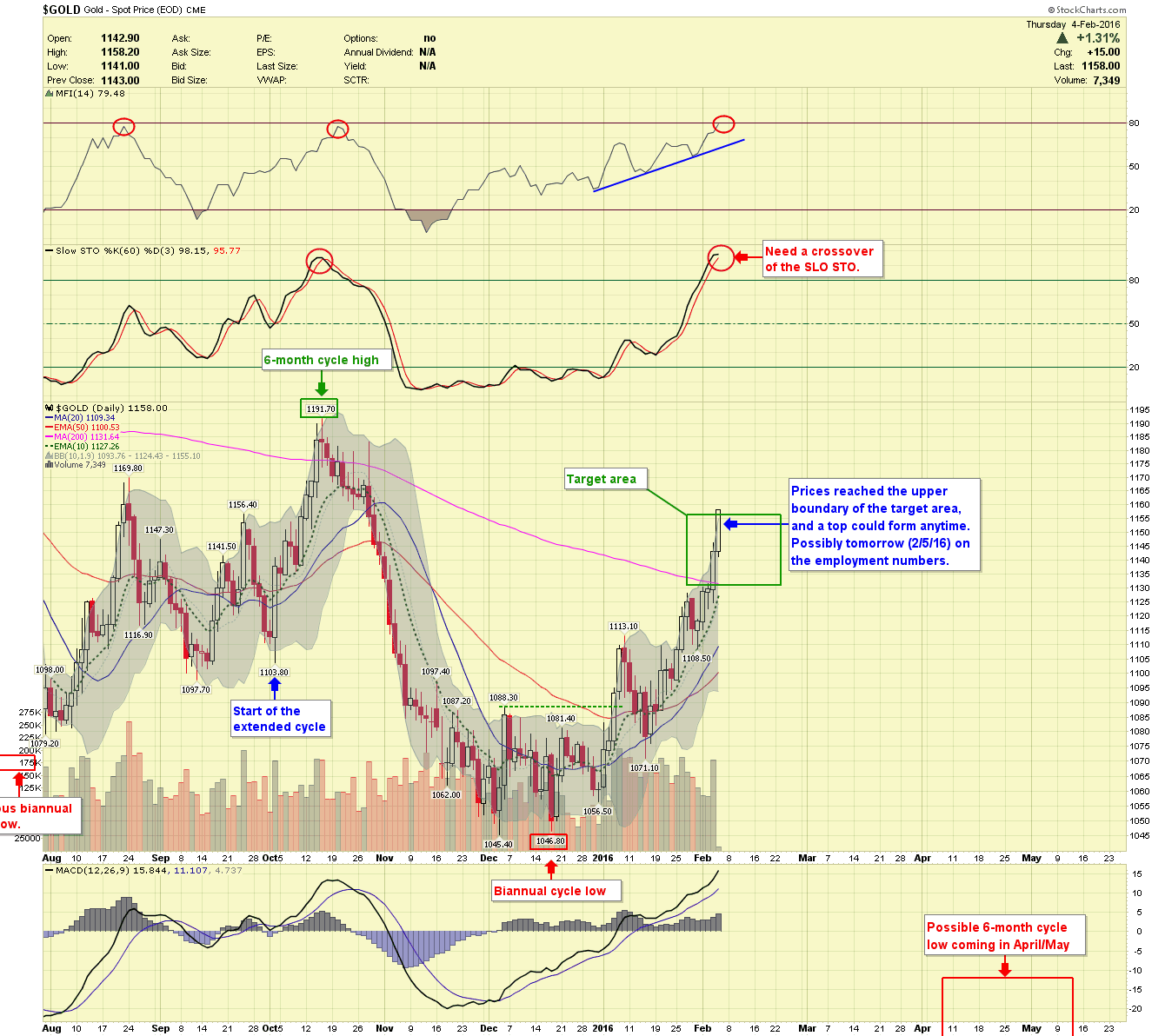 SIlver Price Chart
In the Tuesday report we stated silver required an explosive rally day if it were going to reach the target area. We got a rally, but I wouldn't classify it as explosive. Indicators are short of overbought and prices are still expected to touch the 200-day moving average at a minimum before rolling over.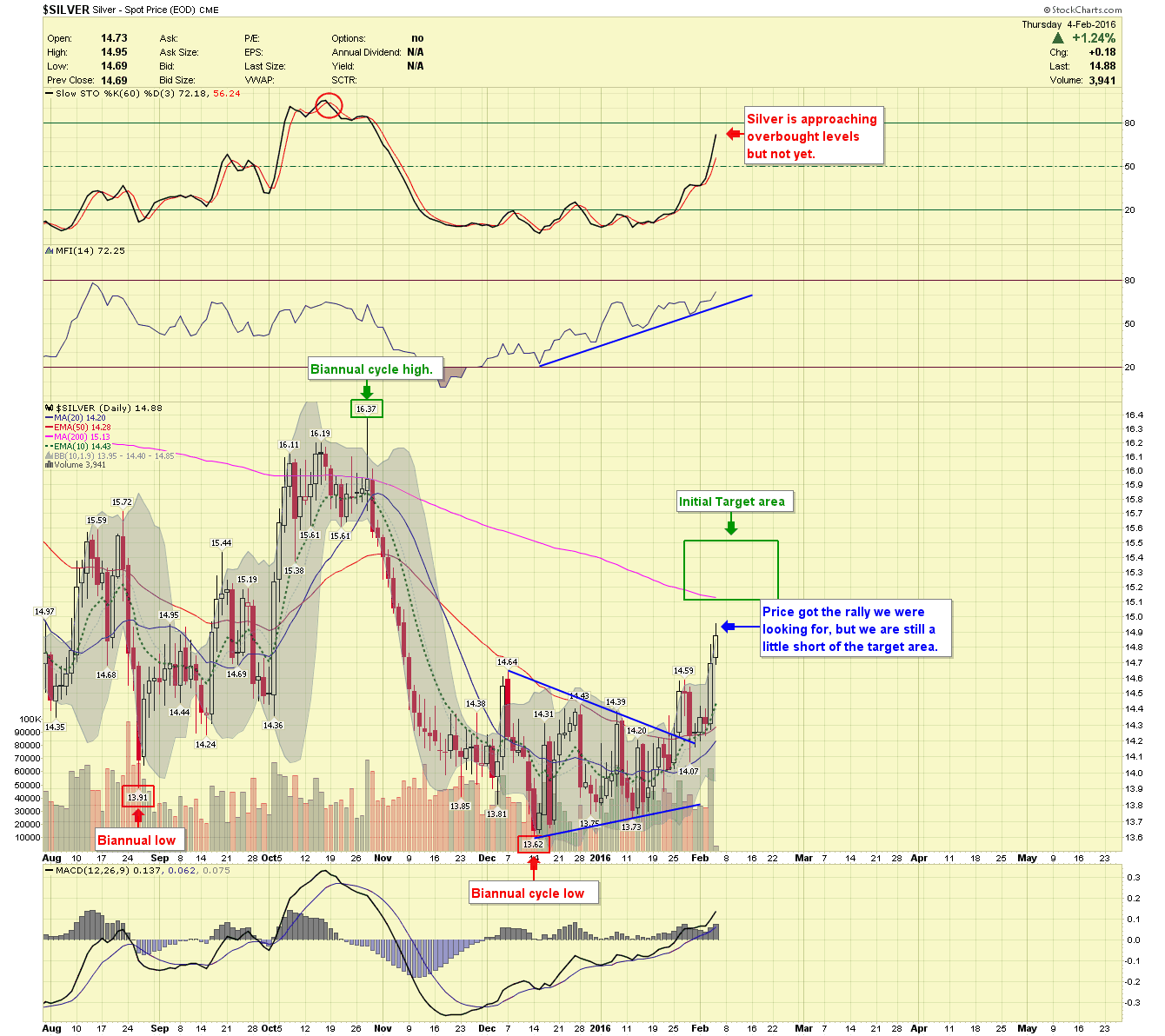 GDX Chart
Prices opened higher this morning forming a gap straight through the 200-day moving average. Prices are smack dabbed in the middle of the target zone, and it's important to note that most rallies fail at these levels. The gap that opened today will inevitability get filled.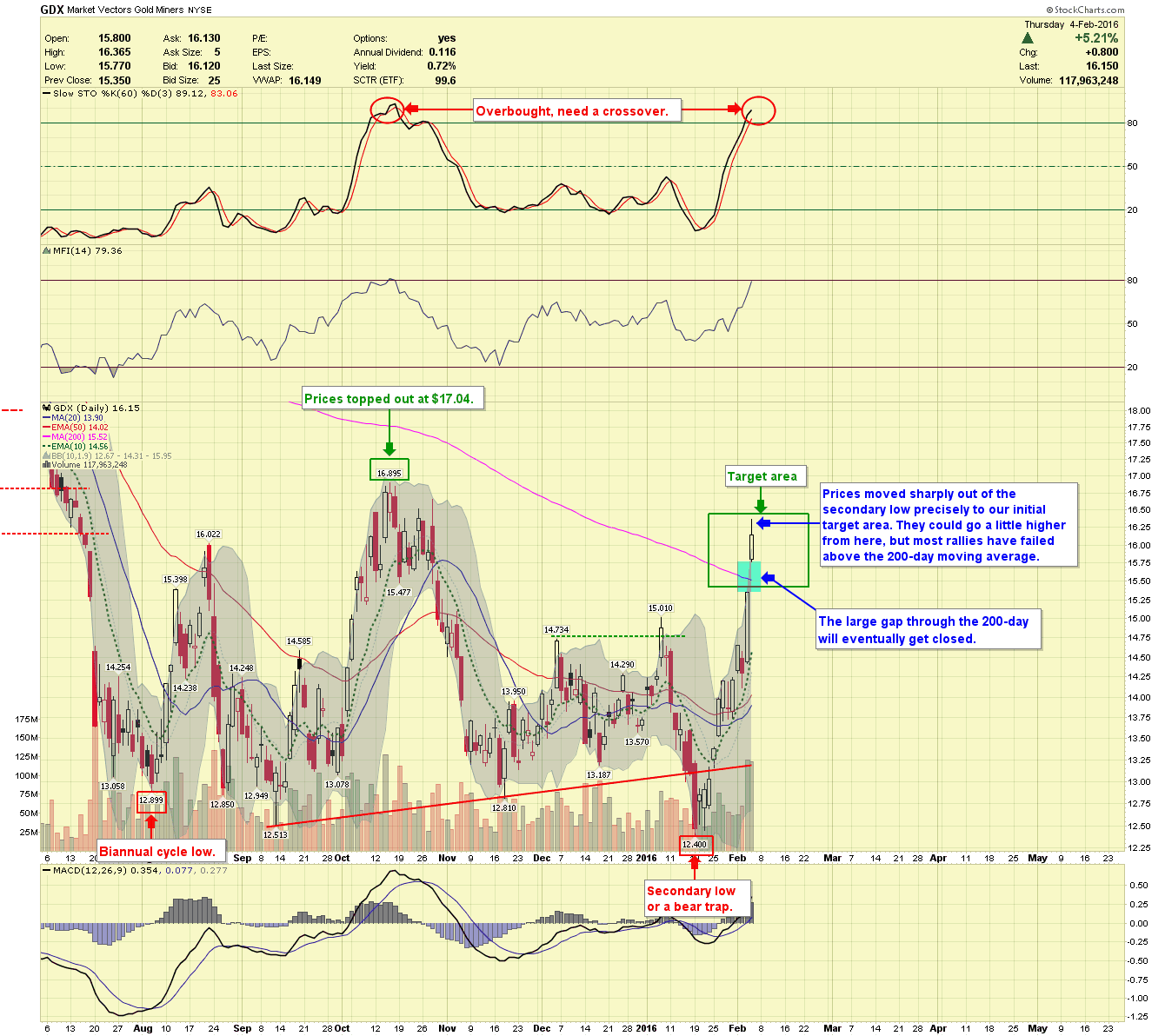 GDXJ Chart
Prices entered the lower aspect of the target area today just reaching the 200-day moving average. The cycle top of October 2015 displayed in a similar fashion. The slow stochastics is currently short of overbought territory.
SPY Chart 
Prices are adhering to the 10-day moving average without purpose. Hopefully, tomorrow's jobs report will provide some guidance.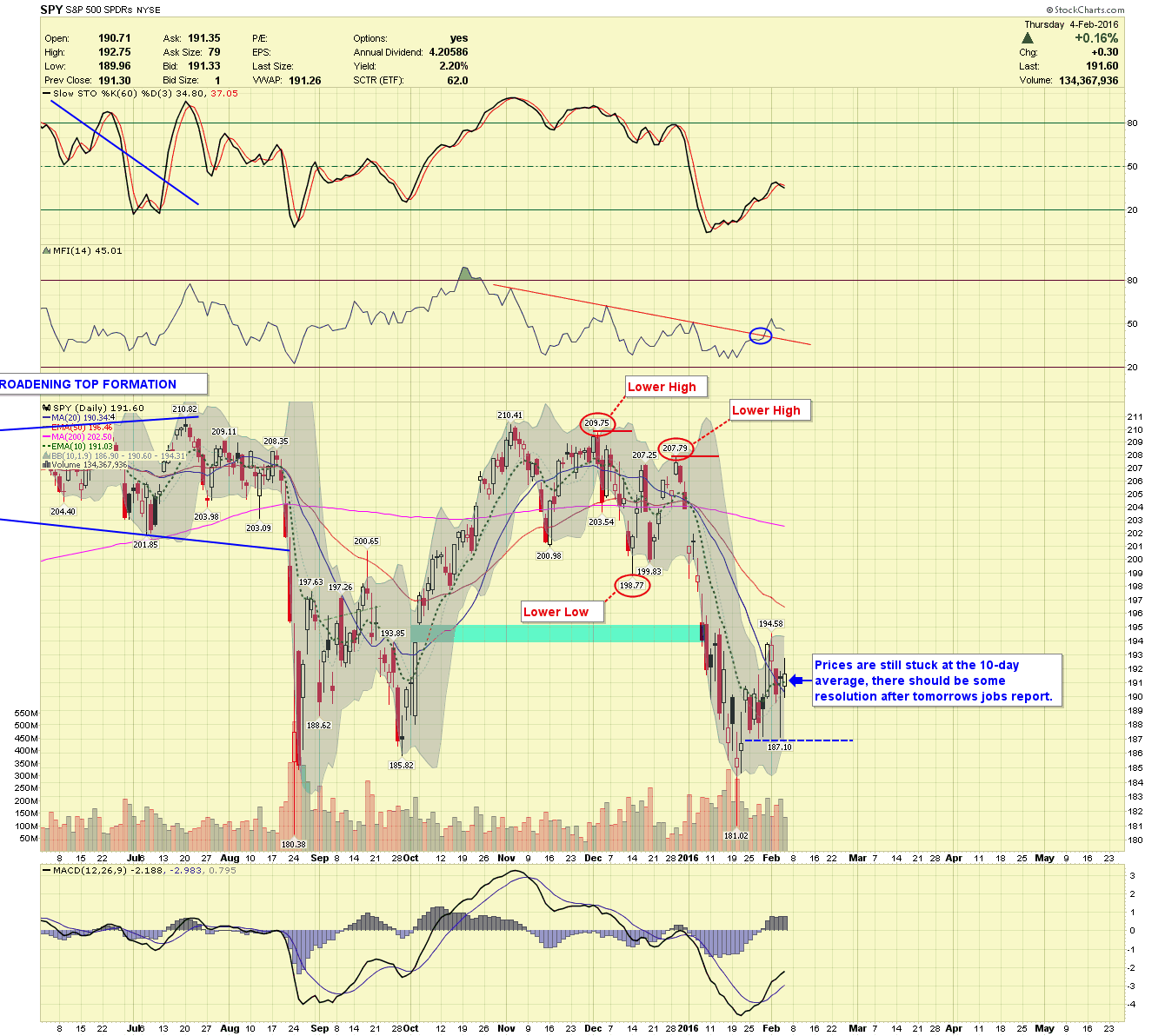 The January non-farm payroll numbers will dictate tomorrow's action…they are expecting 180,000 new jobs.
Have a great weekend and stop by to visit us at www.buygoldprice.com