Asian Metals Market Update: US Retail Sales In Focus
Another Federal Reserve speaker speaks to manipulate gold price and bring it down. Boston Federal Reserve Bank President Eric Rosengren said yesterday that one more month of strong job gains could satisfy the U.S. central bank's requirements for beginning to reduce its monthly asset purchases. Taper will not happen in September Federal Reserve meeting. Earliest taper will be in November 2-November 3 Federal Reserve meeting. This is slowly getting factored in by the market. Gold is unable to trade over $1800 due to November taper expectation. One should ignore the comments by Federal Reserve speaker on "taper timings".  Taper is dependent on economic performance as a whole for USA and not just jobs growth.
This is why US July retail sales is important. US dollar Index, bond yields and industrial metals trend will change if the US July retail sale number comes in either of the extremes. Extremely high of extremely low numbers will be trend changing for precious metals and industrial metals both.
Comex Gold December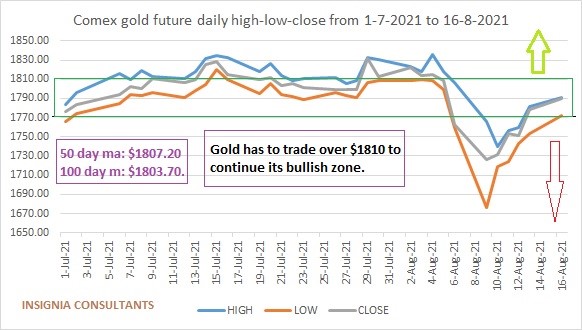 Gold will plunge only if $1810 is not broken by Thursday. If gold crashes then it will not stop before $1638.50.
There will be massive short covering if gold manages to trade over $1810 till Friday. A short covering fuelled price rise can (if any today and till Thursday) push gold $1900.
Big three trading sessions ahead for gold bulls.
Any big deterioration in Afghanistan will positively impact gold price. In recent times geopolitics does not impact gold price. But this will be the first of the many failures of America under the leadership of President Biden. Afghanistan is near to India, China, and Russia and ex ally Pakistan. Chinese will try to make friends with US opposed Afghan leaders. Biden and his team will feel the first real heat. Get ready for more trade war with China and Russia as Biden will divert his Afghan failures to something else.
*********