Barron's Gold Mining Index Hits New All Time High
In September of 2007, after 27 years the Barron's Gold Mining Index (BGMI) hit a new all time high of 1326.09 surpassing its October 1980's all time high of 1285.16.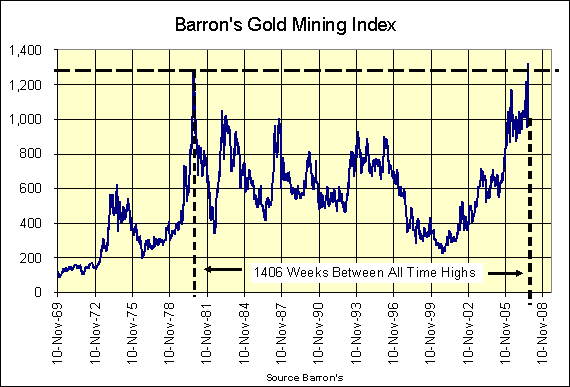 This new all time new high is a significant achievement for the gold mining shares even if unnoted by the staff at Barron's in their 24 Sep 2007 issue. I claim no gold conspiracy in Barron's writer's staff. A plea of total ignorance of what had just happening with an index that Barron's created and published weekly and without fail for 69 years, since its 25 July 1938 issue is acceptable. No matter, the fact that Barron's is ignoring their own gold mining index that spans seven decades of market history tells me that this gold bull market has a very long way to go before it hits its ultimate high. SSHHHH! Don't tell anyone!!
Below is a table that will allow us to put this new all time high into some perspective, after all the price of things have changed between October 1980 and September of 2007.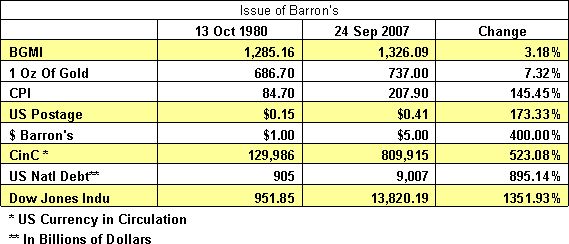 Price wise, BGMI at 1326.09 is nothing to brag about. For anyone holding on to the gold shares since 1980 they still have some catching up to do with even US first class postage. However it is not prices that catch speculators attention but pricing trends. And the best trends to catch are those that are firmly established with no to only little public attention focusing on them.
Sounds like gold shares in 2007 to me!
I am going to make a prediction; someday Barron's will rediscover its old Gold Mining Index and the market history it represents. When the staff of Barron's starts to report on its own gold mining index, I expect the BGMI will be significantly higher than it is today.