Bear Market Cascade Coming
The three month daily chart below is showing a sell signal on momentum oscillators, an overbought "slow" stochastic, and an OBV buy signal that looks like it wants to abort.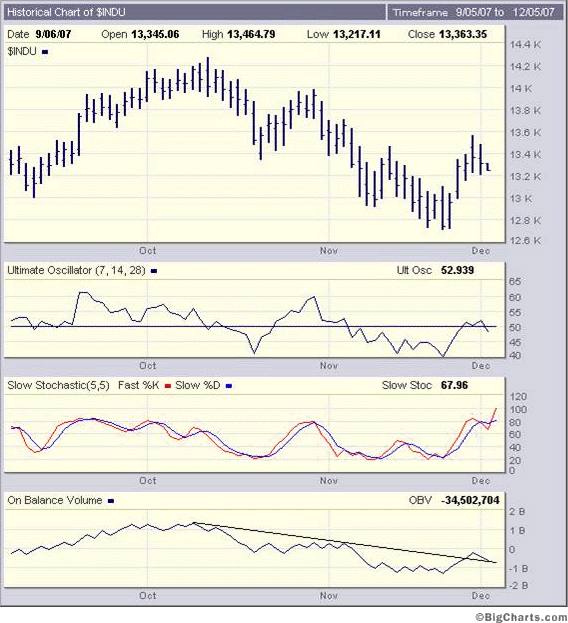 By contrast, the 2 year chat below is showing that the "apparent" buy signal on the OBV was nothing but a technical reaction back up to the rising trendline which had been broken on the downside in early November.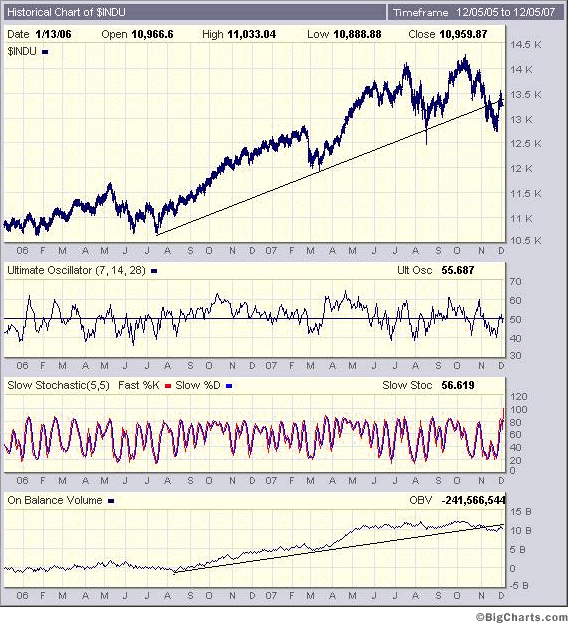 Summary
The charts, courtesy Bigcharts.com, when read together look ominous:
Back in early November, the Dow Jones Industrial Index broke down through a rising trendline and rose back towards it in a classic technical reaction. The stochastic is now overbought, the OBV sell signal given in early November is intact, and the momentum indicator is giving a sell signal.
Conclusion
Hang onto your hats. The next few weeks/months are not going to be happy times.
Recommendation
I hope you guys are all out of the markets (except for special situations based on undervalued fundamentals). If not, my suggestion is that you get out immediately.
Paradoxically, it looks like the gold shares may get caught in the down draught. I've decided to hold mine for the longer term in the belief that the euro price of gold will soon break up convincingly. Nevertheless, in the short term (as can be seen from the following $XAU chart) the same patterns are manifesting.
Brian Bloom
www.beyondneanderthal.com
4 December 2007
Author's comment
It appears that the authorities have not yet come to understand the subtleties and/or the nuances of the statement that "energy drives the world economy". An unholy alliance between the Banking Industry, the Fossil Fuel Industries, Big Business and the Politicians has given rise to a life-threatening accident that is now waiting to happen.
The time has come for the world to begin migrating to a new platform of industrial, consumer and transport technologies which will be driven by electromagnetic energy. There are three such energy technologies which are introduced in my novel, Beyond Neanderthal, which is targeted for publication in March 2008. The logic which underpins these technologies is compelling. If embraced, they have the capacity to usher in a new era of human evolution.
By means of its entertaining storyline, Beyond Neanderthal explains both the logic and the technologies themselves, and also articulates a clear pathway forward. If taken, this pathway will enable us to extricate ourselves from the quagmire into which we have been led by the unholy alliance of self-interested groups. There is still a window of opportunity to act - but the evidence suggests that this window will begin to close around 2012. Please register your interest to acquire a copy of the novel at www.beyondneanderthal.com.