A Bull Era For Gold Stocks
Gold investors are in a pretty good mood, and rightly so.  I'll dare to suggest the mood is about to get even better and here's why:
Mining stocks are poised to deliver the kind of outperformance against the underlying metal that was last seen in the 1970s!
The GDX versus gold weekly chart.  The miners are poised to stage an upside breakout from a huge base pattern.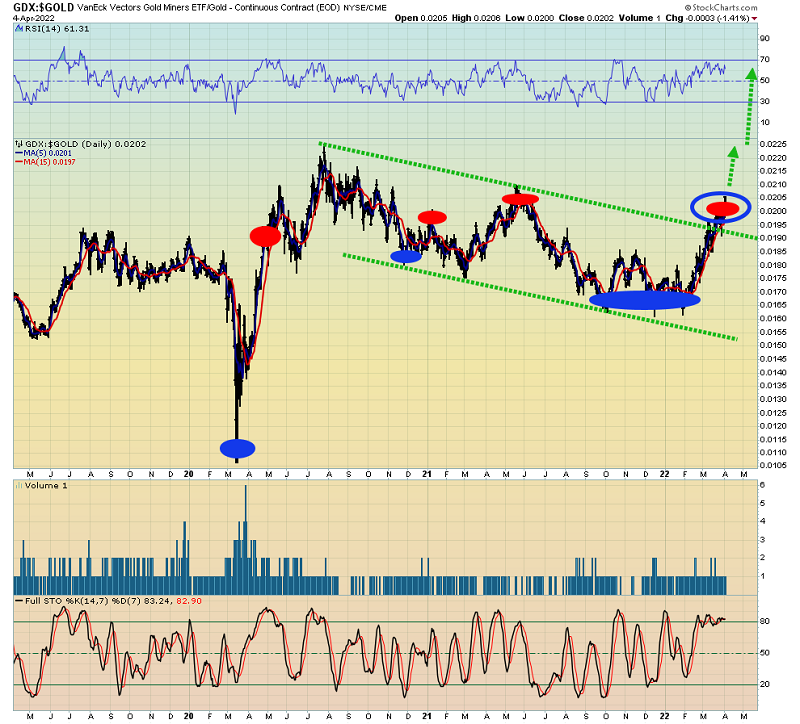 A look at the daily chart.  The action on the daily chart is in sync with the weekly chart.
The current area is both a buy and a sell zone.  It's a sell zone for price sale buyers, who bought my Oct-Dec 2021 buy zone.
For momentum buyers, it's time to buy.  Put options, stop losses, or just modest size can be used as tactics for risk management.
The rise of three billion gold-oriented Chindian citizens is poised to push gold into a "bull era" lasting for a century or more.
Horrifically (for everyone except gold bugs), US government debt, money printing, and "sanctions madness" is putting this theme on steroids.
The world's poorest citizens who aren't killed or maimed in the Ukraine war are being ravaged by both inflation and the accelerating destruction of the small business economy.
The disturbing chart of the US stock market. 
Since the year 2000, there have been three consolidations, and all three are broadening patterns.  I've highlighted those patterns with solid red trendlines.  Broadening patterns indicate a market that is out of control.
Each of these patterns resolved to the upside, and the resolution was created by money printing.  My buy and sell signals are highlighted in red and green.  I don't issue major signals often, but when I do, something very big is likely to happen.
In the short-term, the stock, commodity, bond, and gold markets are gyrating wildly.  My swing trade newsletter offers great value at $269/3mths.  Given the wild market action and the solid tactics we use with items like GDXU, OILU, SQQQ, etc, I'm going to extend my $249/4mths special offer until Friday this week.  Click this link or send me an email if you want the offer, and I'll get you onboard! Thank-you.
Fundamentals?  Gold bugs generally detest Jamie Dimon and view him as a "bankster".  Regardless, his views carry a lot of weight with money managers and right now those views are very negative.
His views are not only negative… but inflation oriented.  I've predicted America will see interest rates rise to above the highs of 1980 in the coming decades, and there's nothing the republicans or democrats can do about it.  That's because both parties are obsessed with fiat money.
They refuse to jettison the hideous fiat money system that has become the jelly-filled "backbone" of the nation.  They refuse to adopt electronic gold as the money for the citizens, and the price paid will be: decades of destructive inflation and rate hikes.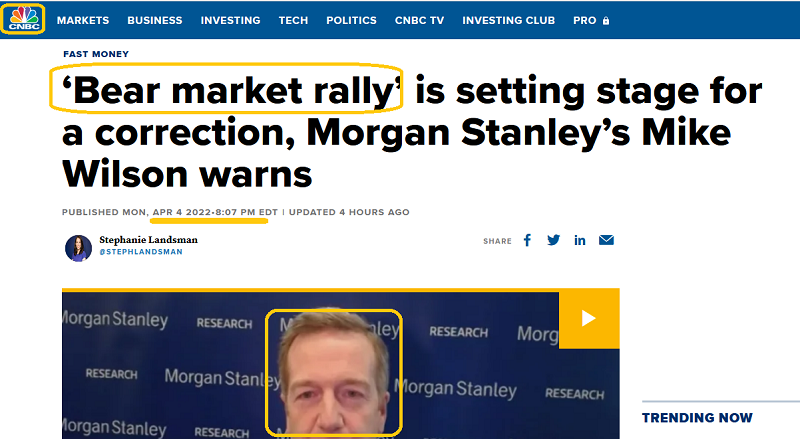 Morgan Stanley analyst Mike Wilson calls the current US stock market rally "bear market action".   Institutional money managers have dropped their "one and done" approach to rate hikes but most are still heavily invested, living on hope that something changes.  It will not change, and it likely gets a lot worse.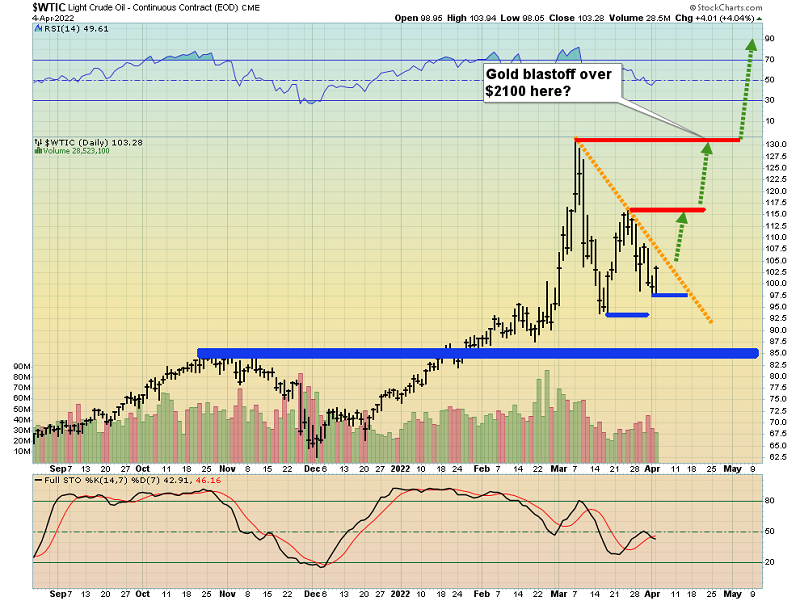 The big story for gold right now is commodity inflation, with oil taking centre stage.  The $115 area is important and so is $130.
A move through $130 for oil likely sees gold push through $2100.  That rings institutional and small investor alarm bells.
Time?  Time is probably the least appreciated market factor, yet it's at least as important as price.  When the Ukraine war began, US president Joe Biden told struggling citizens that high gas prices were their "sacrifice for freedom".  The freedom to pay food, transport, and shelter bills obviously wasn't one of the freedoms on his mind.  That was at the start of the war. 
Anything new is exciting.  Anything old becomes tedious (except gold!).  At the start of the Afghanistan and Iraq wars, citizens were excited.  As time went by, their excitement turned to disgust and numbness.
As the Ukraine war drags on, the next rise in oil to above $130 will see even more freedom to pay basic necessity bills taken away from millions of Americans, and they won't be happy… to put it mildly.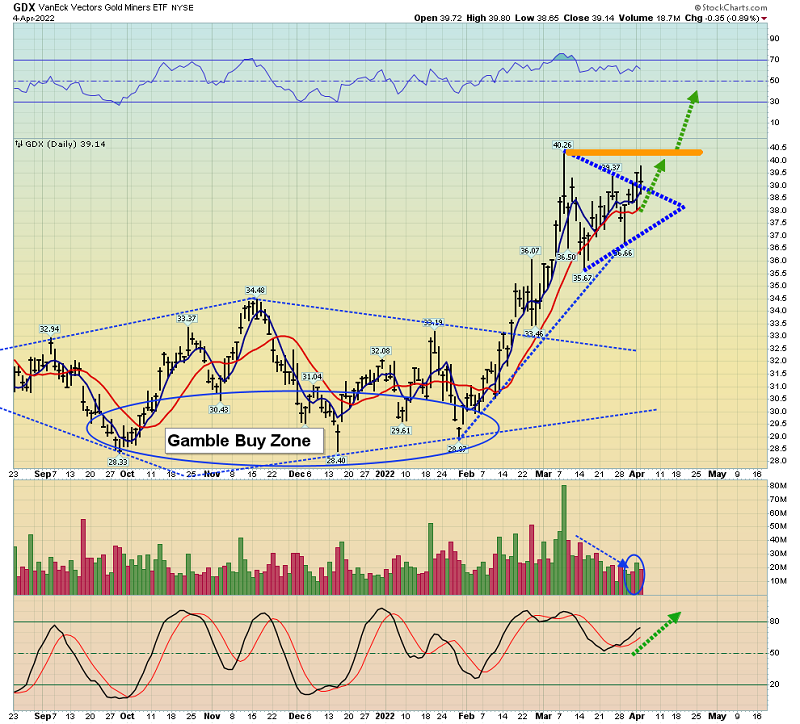 The GDX "breakout" chart.  A breakout from a bullish triangle is in play… and the breakout happened with a Friday close. 
Note the rise in volume with the breakout.  If oil pushes over $130, GDX is likely to shoot to an all-time high at $70 and do so very quickly.  The United Gold Bugs of America are in a bullish groove.  They are ready for what is likely to be a 20year inflation-themed move!
Special Offer For Gold-Eagle Readers: Please send me an Email to [email protected] and I'll send you my free "CDNX Superstars On The Move!" report.  The laggards are joining the stocks in breakout mode and the time is now for junior mine stock enthusiasts to buy!  I highlight ten key miners in the report, with tactics for each great stock.
Thanks!    
Cheers
St
Stewart Thomson 
Graceland Updates
Note: We are privacy oriented.  We accept cheques, credit card, and if needed, PayPal.
Written between 4am-7am.  5-6 issues per week.  Emailed at aprox 9am daily    
Email:
Rate Sheet (us funds):
Lifetime: $1299
2yr:  $299     (over 500 issues)
1yr:  $199     (over 250 issues)
6 mths: $129 (over 125 issues)
To pay by credit card/paypal, please click this link:
https://gracelandupdates.com/subscribe-pp/
To pay by cheque, make cheque payable to "Stewart Thomson"
Mail to:
Stewart Thomson / 1276 Lakeview Drive / Oakville, Ontario L6H 2M8 Canada
Stewart Thomson is a retired Merrill Lynch broker. Stewart writes the Graceland Updates daily between 4am-7am. They are sent out around 8am-9am. The newsletter is attractively priced and the format is a unique numbered point form.  Giving clarity of each point and saving valuable reading time.
Risks, Disclaimers, Legal
Stewart Thomson is no longer an investment advisor. The information provided by Stewart and Graceland Updates is for general information purposes only. Before taking any action on any investment, it is imperative that you consult with multiple properly licensed, experienced and qualified investment advisors and get numerous opinions before taking any action. Your minimum risk on any investment in the world is: 100% loss of all your money. You may be taking or preparing to take leveraged positions in investments and not know it, exposing yourself to unlimited risks. This is highly concerning if you are an investor in any derivatives products. There is an approx $700 trillion OTC Derivatives Iceberg with a tiny portion written off officially. The bottom line:  
Are You Prepared?
*********