Bull Flag Breakout For Gold Stocks
As US markets re-open after the holiday, the world's "queen of assets" continues her glorious ascent to higher prices.  This is the magnificent short term gold chart.
The rise above $1332 ushers in my new short-term target: $1355!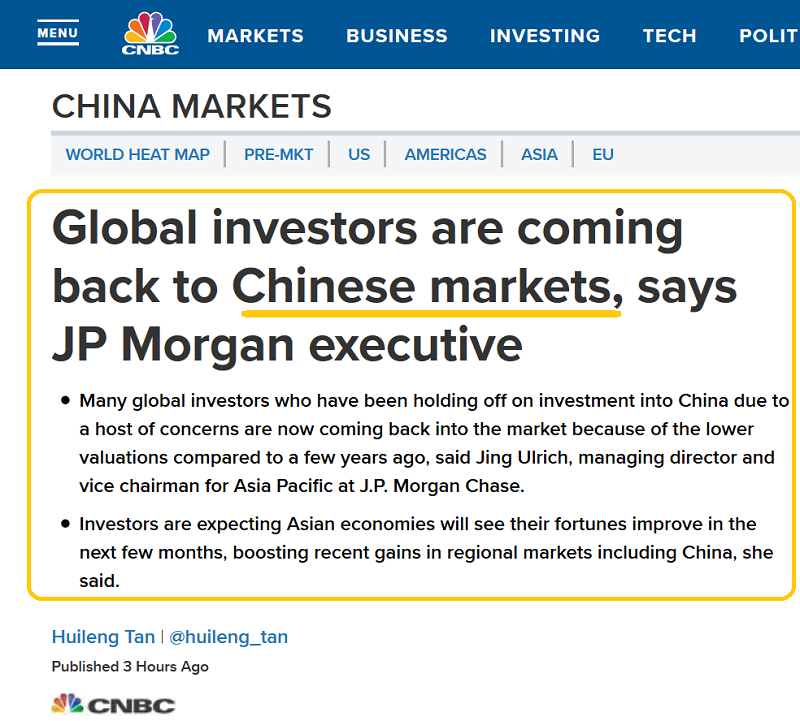 Gold is well on its way to becoming a mainstream asset like stocks and bonds.
The reason for that is the "citizen wealth effect" created by the relentless rise of China and India.  These gold-oriented nations are well on their way to becoming the most gargantuan economic empires in the history of the world.
It's simple mathematics:  There are eight Chindians for every American, and about half of the Chindians are under the age of 35. 
It's an unstoppable force that I refer to as, "The Gold Bull Era".
In the West, gold has been traditionally bought only when major stock, bond, currency, and real estate markets get into trouble.
In contrast, Chindian citizens view gold as the "ultimate asset", meaning they buy it in both good times and bad. 
This view is beginning to gain acceptance amongst Western analysts and money managers and I'm predicting it will continue to do so for many decades.
Gold's role as ultimate asset was showcased in the September-December period when it rose while US stock markets tumbled. 
Most gold bugs were stunned by the incredible price action, and even more stunned as the GDX gold stocks ETF soared too!
Now, gold is rallying while US stock markets rise, and most analysts are again somewhat shocked as their attempted top calls for gold fail repeatedly.
This type of "win-win" price action is unique to gold and I'll boldly state that it is essentially here to stay!
On this daily chart, gold looks like a freight train that cannot be stopped.
From a big picture technical perspective, this type of daily chart action is expected and normal.  This is what I consider to be the greatest weekly chart in the history of markets.
Gold appears to be rallying from the final right shoulder in a multi-shouldered inverse H&S bull continuation pattern.  Incredibly, that pattern itself appears to be just the head of a much more gargantuan pattern with a target price of $3000!
In this situation, the current "freight train" technical action being showcased by gold on the daily chart is perfectly normal.
This is the key GDX daily chart.  A spectacular bull flag breakout occurred on Friday.
In pre-market action this morning, the price is gapping higher.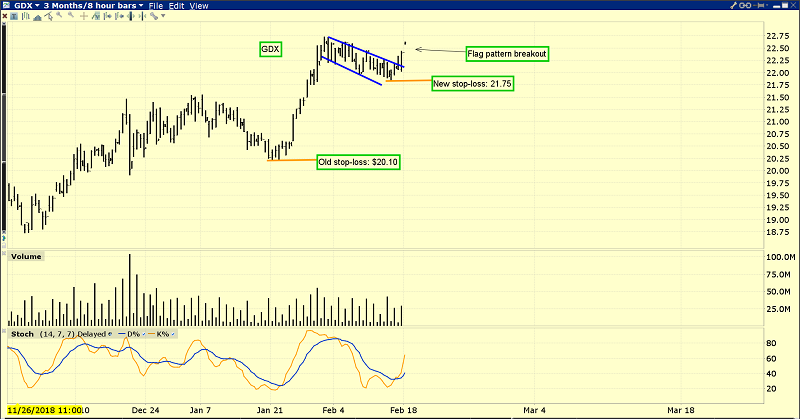 That's another look at GDX on a short-term chart.
With the bull flag breakout now in play, stop-loss enthusiasts can now raise their protective profit-locks from $20.10 to $21.75.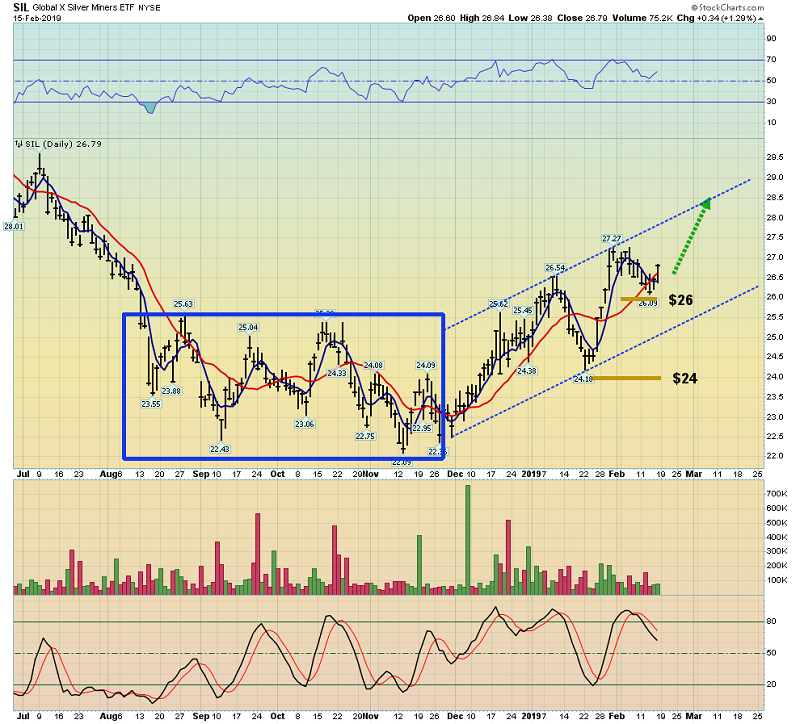 This is the silver stocks ETF chart.
A classic staircase chart pattern is developing.  Traders can raise protective stop-loss orders from $24 to $26.
I recommend that all investors carry some silver and associated miners in their portfolios and the $26 stop-loss level for SIL-NYSE allows investors to board this precious metals "freight train" with minimal risk and maximum potential reward!
Special Offer For Gold-Eagle Readers: Please send me an Email to [email protected] and I'll send you my free "Golden Cogs In The Bull Era Wheel!" report.  I highlight six of the hottest mining stocks in the world that are poised to lead the sector in 2019, with pinpoint tactics to help traders and investors get richer!
Note: We are privacy oriented.  We accept cheques, credit card, and if needed, PayPal.
Written between 4am-7am.  5-6 issues per week.  Emailed at aprox 9am daily.
Email:
Rate Sheet (us funds):
Lifetime: $999
2yr:  $299     (over 500 issues)
1yr:  $199     (over 250 issues)
6 mths: $129 (over 125 issues)
To pay by credit card/paypal, please click this link:
https://gracelandupdates.com/subscribe-pp/
To pay by cheque, make cheque payable to "Stewart Thomson"
Mail to:
Stewart Thomson / 1276 Lakeview Drive / Oakville, Ontario L6H 2M8 Canada
Stewart Thomson is a retired Merrill Lynch broker. Stewart writes the Graceland Updates daily between 4am-7am. They are sent out around 8am-9am. The newsletter is attractively priced and the format is a unique numbered point form.  Giving clarity of each point and saving valuable reading time.
Risks, Disclaimers, Legal
Stewart Thomson is no longer an investment advisor. The information provided by Stewart and Graceland Updates is for general information purposes only. Before taking any action on any investment, it is imperative that you consult with multiple properly licensed, experienced and qualified investment advisors and get numerous opinions before taking any action. Your minimum risk on any investment in the world is: 100% loss of all your money. You may be taking or preparing to take leveraged positions in investments and not know it, exposing yourself to unlimited risks. This is highly concerning if you are an investor in any derivatives products. There is an approx $700 trillion OTC Derivatives Iceberg with a tiny portion written off officially. The bottom line:  
Are You Prepared?