Bull Market Is Closer To The End Than Investors Think
Jim Stack says sentiment is out of line with the fundamentals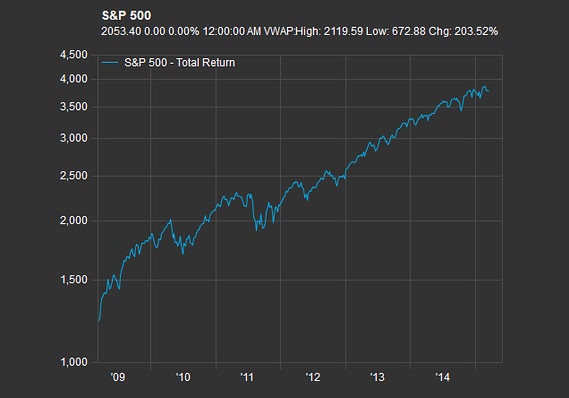 Other things give him pause:
Margin debt has peaked and begun to fall. "Past peaks in margin debt have led or coincided with the start of past bear markets," he wrote in InvesTech Research.
Professional investors are extremely bullish, with bearish sentiment under 14%, "the fewest bears since 1987, just before the crash," he told me.
Corporate profits topped out more than a year ago, but S&P 500 earnings per share continued to rise until recently. That discrepancy is often an early-warning sign.
Although the S&P 500's current multiple of 19.9 times earnings is slightly below the average when interest rates are below 3%, that will make stocks especially vulnerable when rates do rise. And the median US company trades at its highest valuation of the past 65 years, according to the noted finance scholar Kenneth French of Dartmouth College.
How bad could the next bear get? "I'm not looking for [it] to be a generational bear market like the last two," he said. The S&P500 lost almost half its value from 2000 to 2002 and nearly 57% from late 2007 to March 2009.
A more likely outcome, he said, was for the S&P 500 to retrace about half of its bull market gains. If March 2 was the peak, that would mean it could fall to around 1,400, roughly a 35% decline.
Stack doesn't think investors should bail out completely in anticipation of that. "Reduce the risk of your portfolio without abandoning the bull market," he said. "Make your portfolio more defensive."
He says some sectors historically have performed well late in bull markets — energy, which has usually done the best (but maybe not this time); industrials, technology and health care. (The latter two are my faves, too.) He would avoid financials, utilities and consumer cyclicals.
Thus far, Stack hasn't seen the technical divergences (such as a falling number of advancing vs. declining stocks) that usually precede bear markets, so he's not bailing yet. But he's definitely getting more cautious.
That's a pretty good approach for the rest of us, even if this bull market ain't over till it's over.
*********
Courtesy of MarketWatch