Bullion & Miners: Winning Plays Now
Investors want to know: will it be recession, inflation, or both?
The unfortunate answer is that it will be mostly a surprise because surprise is the main theme of a war cycle, and the world is in the 2021-2025 war cycle now.
When the main theme is surprise, the main assets to own are of course gold and silver.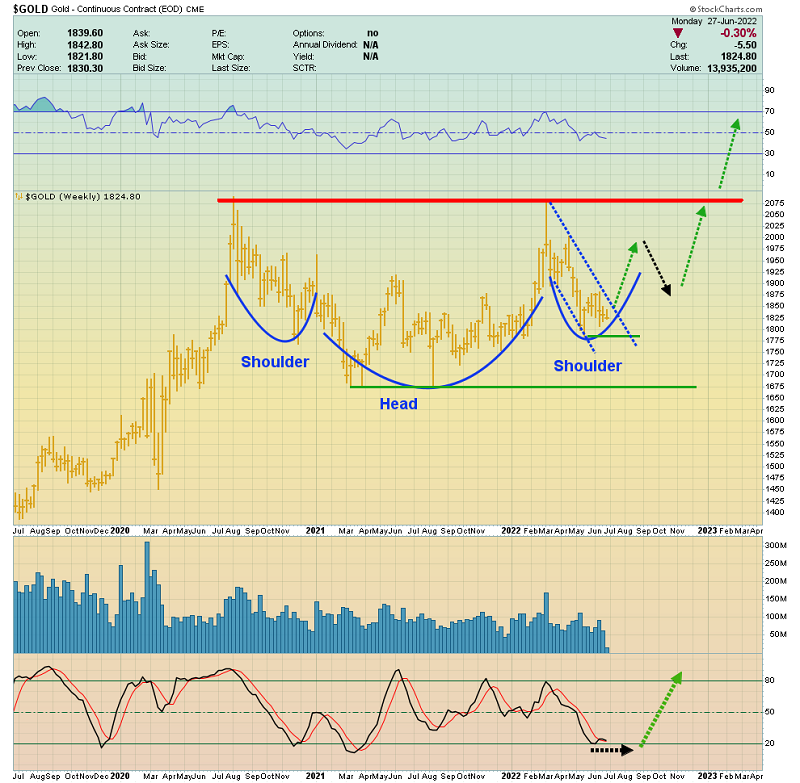 The weekly gold chart.  While a summer rally for gold looks ready to begin, the most likely time for a major move higher above the key $2000/ounce zone is early 2023.  Here's why:
By then, the BRICS coalition may include Argentina, and will likely have negated most sanctions-oriented harm to Russian citizens.  This, while millions of Western Europeans will be skipping meals and told to forage in the forest for sticks to heat their homes….
All in the name of their supposed freedom.  Significant protests are likely forthcoming. 
In addition, the US mid-term elections will be complete, likely leaving most of America even more divided and angry than it is now.  Rather than fade, school shootings and random attacks on children and elderly citizens could intensify as more citizens "snap" mentally.
Politicians may consider sanctions on China to "save Taiwan", as a way to reduce US citizen anger and tension, but the amount of usable sand left in the US government's scapegoating hourglass appears minimal.
All signs on the war cycle roadmap point towards January 2023 as a time of significant danger, surprise, and a major upside breakout for gold!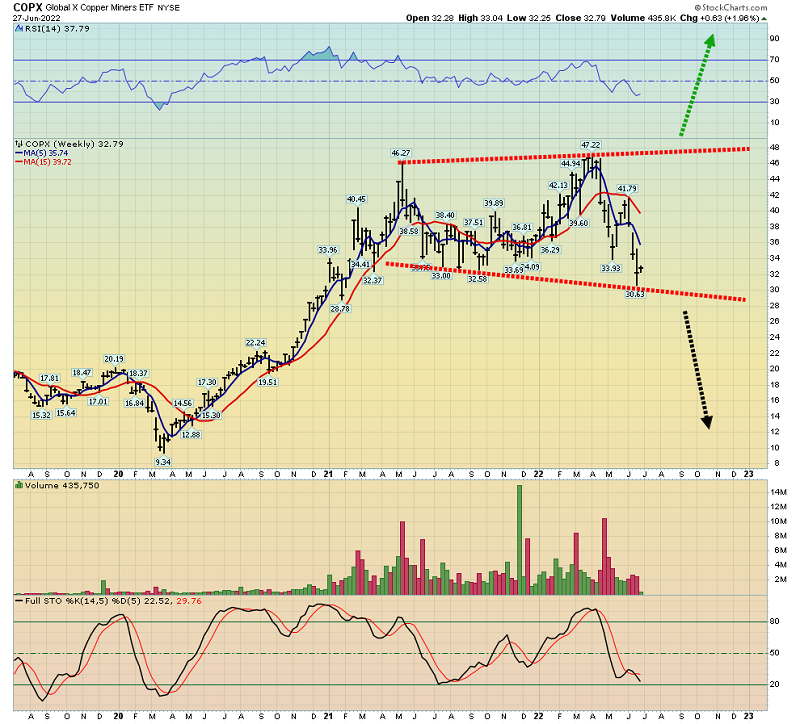 The weekly copper stocks ETF chart.  The broadening action suggests a situation that is… out of control. 
Inflation could create an upside breakout and collapsing growth could make it to the downside.  Neither situation is good.
The gargantuan BASF complex with 200 chemical plants in Germany could close as the US led sanctions scheme goes ever-more awry.  Even if BASF stays open, many other factories in Europe could be shuttered (some permanently)… and this could happen while oil and gas prices begin a fresh surge higher. 
That could produce protests that become riots and the riots could morph into outright civil war.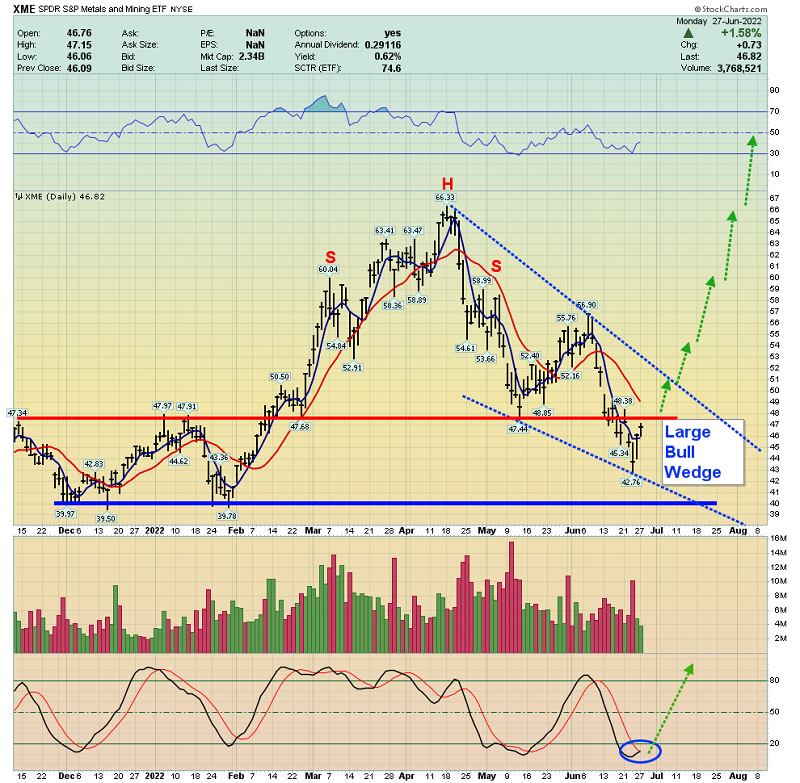 The XME metals and mining stocks ETF.  This ETF is a good way to play both industrial and precious metals inflation… as well as a possible stock market rally. 
I own it, like it, have more buy orders at $40, and the huge bull wedge and Stochastics buy signals suggests that investors with none could buy right now.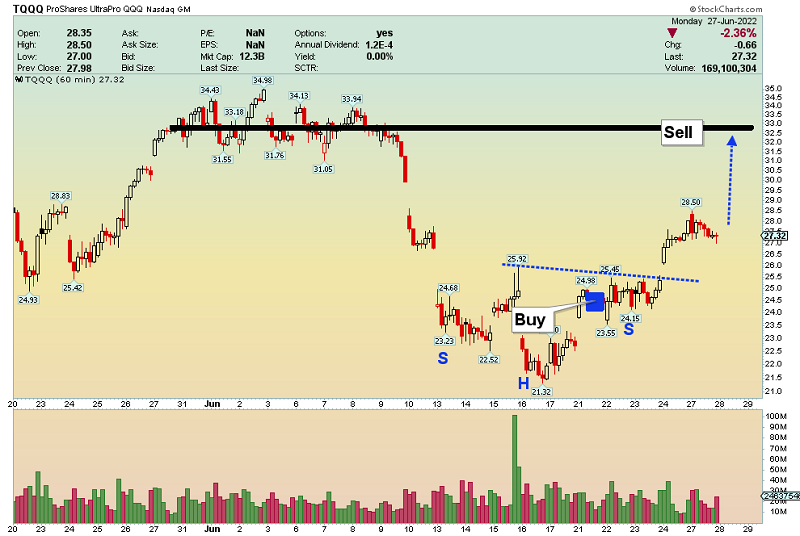 The TQQQ US stock market chart.  At my swing trade newsletter, we're long and strong the "TQ's" and it looks like a winning trade.  We trade leveraged GDX via GDXU and GDXD also, and at $99/mth, swing traders love the action.  To celebrate the good times, I have a "No Inflation Here" special offer this week of just $249 for 4 months.  Click here to get the offer or send me an Email and I'll get you onboard.  Thank-you.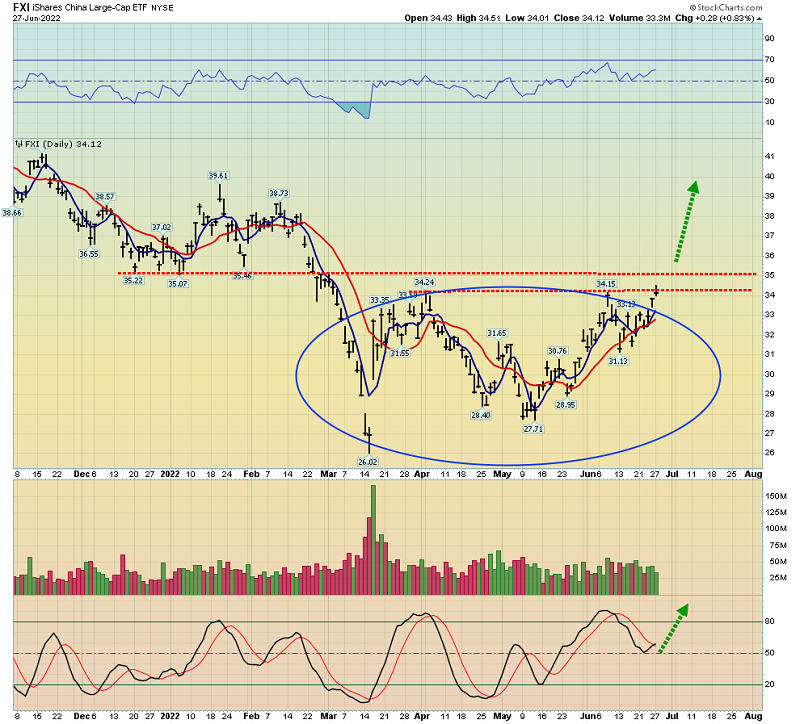 The FXI Chinese stock market chart.  As the Chinese government ramps up debt, spending, and money printing to boost the lockdown-ravaged economy, it's unlikely to have much effect on anything but inflation and the stock market. 
That's going to get a lot of Chinese citizens very excited, very quickly, about gold.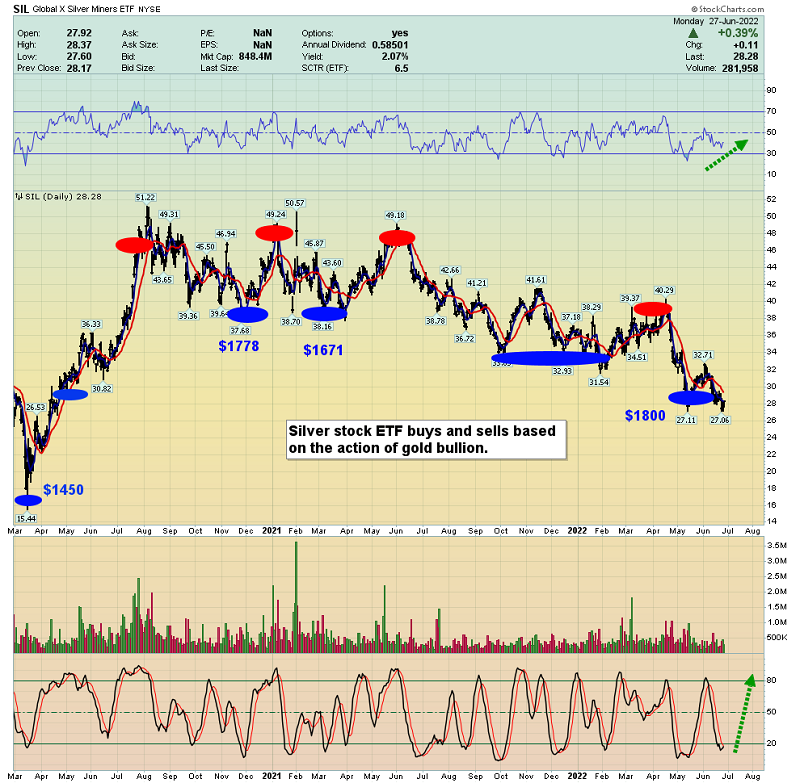 What about silver?  The SIL silver miners ETF chart.  I've highlighted all my buy and sell signals since March 2020 and the current one is particularly exciting!
A closer look at the SIL chart.  An enticing double bottom pattern is in play.
Stoploss enthusiasts could take note of the $27 area and place a stop just under there.  Also, the 14,7,7 series Stochastics oscillator is verging on a buy signal in the oversold zone and RSI has already turned higher.
Why is silver suddenly poised to significantly outperform gold?  Most likely, it's because of the sanctions-oriented inflation.  It's hurting the poorest citizens the most.
If the sanctions cause citizen deaths from lack of heating fuel, riots are likely.  The poorest citizens can't afford gold, so they will buy silver for their protection.
The physical market bid-ask spreads on silver bars, coins, and rounds have dropped.  The richest gold bugs should consider also buying some silver, as their ode to the "little guys and gals" living in this ever-crazier world! 
Special Offer For Gold-Eagle Readers: Please send me an Email to [email protected] and I'll send you my free "Hi Ho Silver!" report.  I highlight ten key silver miners set to benefit from the winter heating crisis and silver buying mania that lies ahead, with buy and sell tactics for each awesome stock!
Thanks!    
Cheers
St
Stewart Thomson 
Graceland Updates
Note: We are privacy oriented.  We accept cheques, credit card, and if needed, PayPal.
Written between 4am-7am.  5-6 issues per week.  Emailed at aprox 9am dailyhttps://www.gracelandupdates.com/    
Email:
Rate Sheet (us funds):
Lifetime: $1299
2yr:  $299     (over 500 issues)
1yr:  $199     (over 250 issues)
6 mths: $129 (over 125 issues)
To pay by credit card/paypal, please click this link:
https://gracelandupdates.com/subscribe-pp/
To pay by cheque, make cheque payable to "Stewart Thomson"
Mail to:
Stewart Thomson / 1276 Lakeview Drive / Oakville, Ontario L6H 2M8 Canada
Stewart Thomson is a retired Merrill Lynch broker. Stewart writes the Graceland Updates daily between 4am-7am. They are sent out around 8am-9am. The newsletter is attractively priced and the format is a unique numbered point form.  Giving clarity of each point and saving valuable reading time.
Risks, Disclaimers, Legal
Stewart Thomson is no longer an investment advisor. The information provided by Stewart and Graceland Updates is for general information purposes only. Before taking any action on any investment, it is imperative that you consult with multiple properly licensed, experienced and qualified investment advisors and get numerous opinions before taking any action. Your minimum risk on any investment in the world is: 100% loss of all your money. You may be taking or preparing to take leveraged positions in investments and not know it, exposing yourself to unlimited risks. This is highly concerning if you are an investor in any derivatives products. There is an approx $700 trillion OTC Derivatives Iceberg with a tiny portion written off officially. The bottom line:   
Are You Prepared?
********