Buy Gold Stocks And Sell The Stock Market
The US stock market continues to struggle, and the miners look ready for a major rally.
The US stock market chart. I've highlighted the 1966-1980 period… and suggested that America is at a point much like 1966.
Stock market investors were destroyed then, by inflation and skyrocketing interest rates.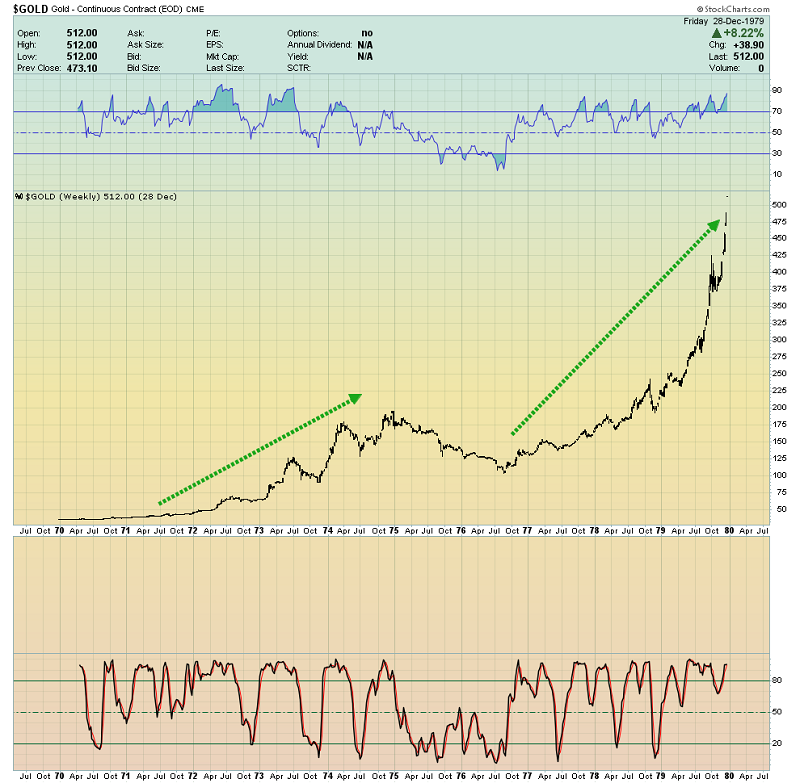 While stock market investors were waylaid, gold market investors made fortunes!
Most US metals market investors know that gold performs well when the Fed cuts rates in a deflationary environment, but what many of them don't understand is this:
Gold performs just as well (and the miners perform better) when rates are hiked in an inflationary environment like 1966-1980.
What about the current situation? Well, this could be gold market nirvana. That's because the environment is now dominated by inflation, yet the world's central banks are not hiking rates.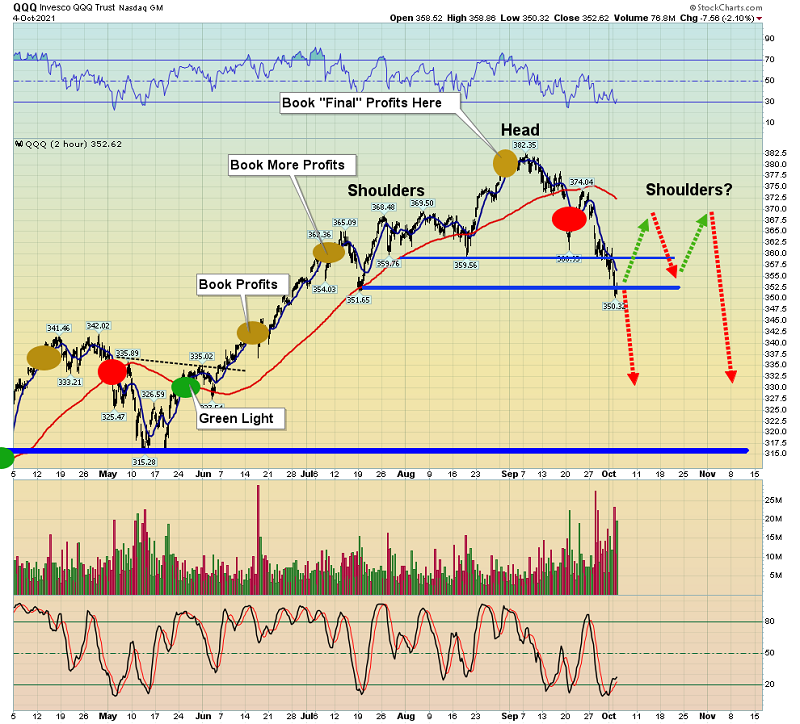 While my swing trade newsletter subscribers are already sitting on a mini mountain of profits, gained from shorting the Nasdaq at the top…
This may be only the start of an inflation-driven meltdown!
Gold bugs with memories of the 2008 and 2020 deflationary crashes should replace those memories with a focus on the 1966-1980 period. Prepare now, for a super-sized version of what happened then.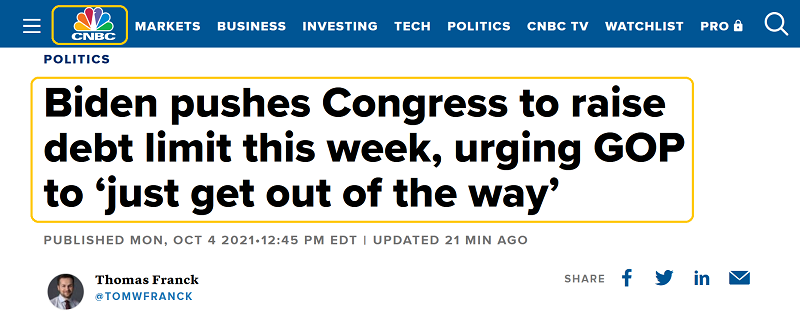 The US government's inflation management plan is obvious; add more debt, and anyone who dares to oppose more debt needs to just "get out of the way".
It's highly unlikely that a Fed (whose governors could soon go to jail for insider trading) is going to raise the government's cost of borrowing very much, let alone do it with the huge number of rate hikes that will be required to reverse the rising tide of inflation.
Even the few token hikes that are planned could begin a trip to Hades for stock market investors, while spiking inflation launches a gold miners rocket to the moon.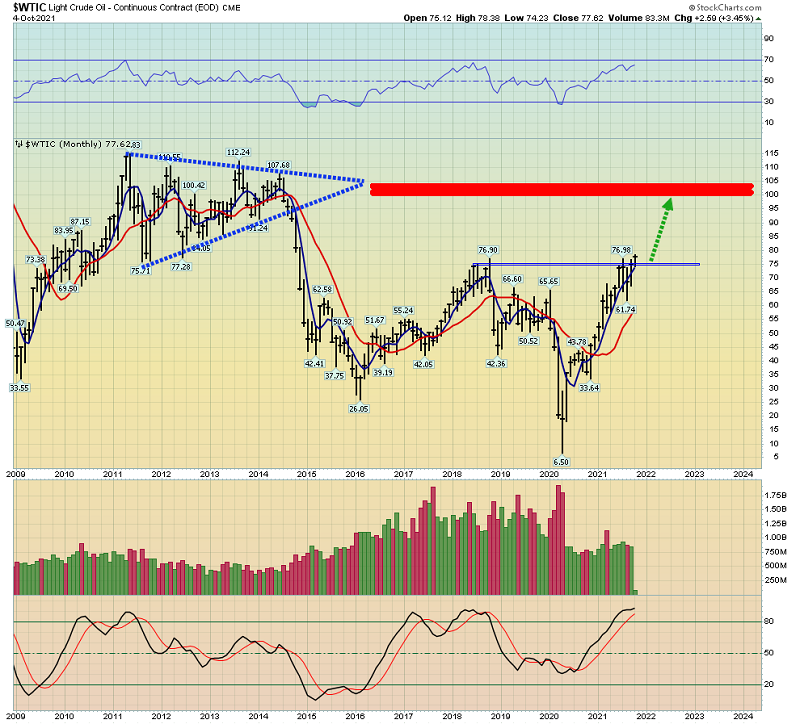 Oil market inflation has been a major concern, and now there's a weekly chart breakout through resistance at $75.
The breakout comes with oil companies nervous about adding production while governments promote green energy. This is happening with a major Corona-oriented supply chain issue.
Oil is making a beeline towards my $100 round number target, but I expect to see a price of $200 before the Fed gets serious about rate hikes…and by then the inflation fire will be burning out of control.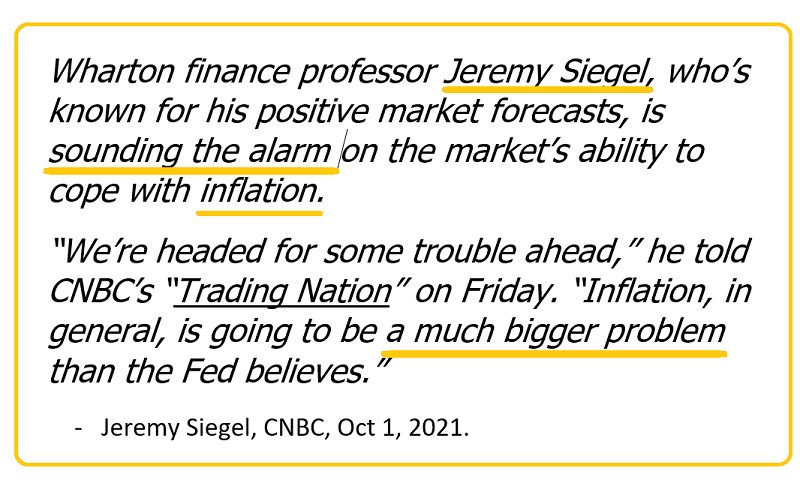 Wharton's Jeremy Siegel is horrified by the amount of inflation being created right now.
I don't think Jeremy realizes what can happen when the stock market incinerates in an inflationary holocaust… and instead of hiking rates to restore confidence, the Fed prints even more money to stem the decline.
The Fed was an entity that created (some) stability for nation's fiat currency. Now it is a macabre monster. It exists solely to create stock, bond, and real estate inflation for America's richest investors.
The bottom line: The Fed doesn't need an audit. It needs to be shut down.
The daily dollar versus gold chart. Tuesdays are generally good for the dollar and soft for gold, but I expect the week to end on a note that could bring terror to the dollar bugs. Note the ominous H&S top pattern that is nearing completion.
The important GOAU weekly chart. I've highlighted my last sell zone with a red circle. Now?
Well, now it's time to buy! I'm going to start nibbling.
My key 14,5,5 series Stochastics oscillator is now the most oversold in years. I'll be buying GOAU every 25 cents lower from here and adding to stock market short positions. I invite the entire Western gold community to partake in this play. Long gold and short the stock market: Double the pleasure. Double the fun!
Special Offer For Gold-Eagle Readers: Please send me an Email to [email protected] and I'll send you my free "Get Stoked With Gold!" report. I highlight ten mighty miners that have Stochastics looking as good, and better, than the GOAU chart, and I include money making tactics for each great stock!
Stewart Thomson
Graceland Updates
Note: We are privacy oriented. We accept cheques, credit card, and if needed, PayPal.
Written between 4am-7am. 5-6 issues per week. Emailed at aprox 9am daily
Email:
Rate Sheet (us funds):
Lifetime: $1299
2yr: $299 (over 500 issues)
1yr: $199 (over 250 issues)
6 mths: $129 (over 125 issues)
To pay by credit card/paypal, please click this link:
https://gracelandupdates.com/subscribe-pp/
To pay by cheque, make cheque payable to "Stewart Thomson"
Mail to:
Stewart Thomson / 1276 Lakeview Drive / Oakville, Ontario L6H 2M8 Canada
Stewart Thomson is a retired Merrill Lynch broker. Stewart writes the Graceland Updates daily between 4am-7am. They are sent out around 8am-9am. The newsletter is attractively priced and the format is a unique numbered point form. Giving clarity of each point and saving valuable reading time.
Risks, Disclaimers, Legal
Stewart Thomson is no longer an investment advisor. The information provided by Stewart and Graceland Updates is for general information purposes only. Before taking any action on any investment, it is imperative that you consult with multiple properly licensed, experienced and qualified investment advisors and get numerous opinions before taking any action. Your minimum risk on any investment in the world is: 100% loss of all your money. You may be taking or preparing to take leveraged positions in investments and not know it, exposing yourself to unlimited risks. This is highly concerning if you are an investor in any derivatives products. There is an approx $700 trillion OTC Derivatives Iceberg with a tiny portion written off officially. The bottom line:
Are You Prepared?
*********