"Buy Gold When and Where? "
One of the most frequent questions we get from newcomers to the gold market is "When should I buy Gold?"
It has been pretty easy since 2001 for us to figure that one out and we'll show you what we've been using successfully. All one needs is a rudimentary understanding of how to plot a moving average on a chart. Nothing fancy is needed except for keen eyes that can spot a stochastic crossover signal nearest a particular moving average. Let us show you…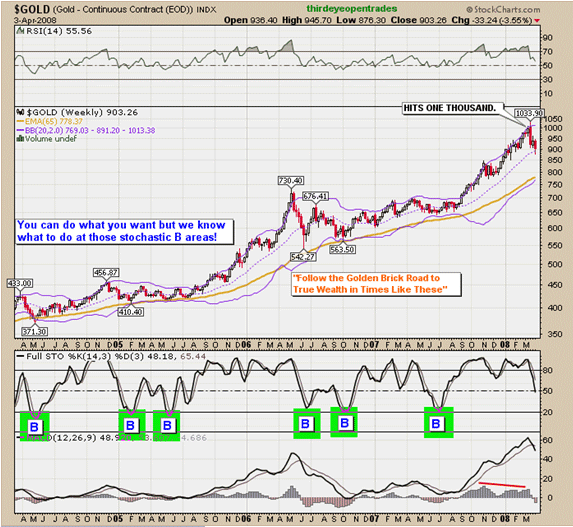 As we're not licensed financial advisors we can't tell you what to do with your money. However, we'll share with you what we like to do with ours and let you do some more research for yourself.
The 65 week moving average is our price floor. It's a place that price likes to visit from time to time each year or two. But we also noticed that when price gets real close to that moving average the stochastic likes to reverse upward. Those are labeled for you above.
We're waiting for the next one to occur and suspect that within two to three months the next buying opportunity will come our way.
If you like the way we use simple charts to help us make buying decisions you might request a free newsletter and we'll e-mail you one. The Thirdeyeopentrades newsletter is published weekly and helps put things in proper perspective…such as when we think is the best time technically to step into gold. Send us an e-mail at thirdeyeopentrades.com and we'll e-mail you one copy of the latest newsletter to sample along with subscription information.