Canadian Gold Mining Outlook Neutral; Some Potential Winners Still to be Found
The fabulous momentum in the Canadian gold mining sector that we saw in late 1998 has all but dissipated now and only a few Canadian golds are in bullish positions at the moment. This is not to say the Canadian gold stock outlook is bearish, merely that most Canadian gold mining stock charts are showing a neutral sideways movement with no sign of trading action whatsoever.
A handful of selective stocks offer all the action in the Canadian golds sector right now with every other stock in a veritable no man's land. Volume on many charts has literally dried up to nothing as investors spurn all but the most liquid stocks with the highest potential for quick and easy profits. That leaves most Canadian golds continuing their long-term basing patterns and just waiting for investor interest to arouse them from dormancy and send prices upward. For now, however, all the action is in a few of the stocks we covered in previous Canada golds commentaries.
The broad market for Canada's gold outlook is decidedly neutral but showing signs of underlying bullish currents. For instance, the VSE Mining Indicator weekly chart is forming what appears to be a basing pattern near the $275-$300 range with a rectangle consolidation underway. At bottoms, this often serves advance notice of a turnaround. Adding credence to this possibility is the fact that the Relative Strength Indicator (RSI) for the VSE chart has turned higher in a bullish divergence. We'll just have to wait and see what happens, but a breakout from $300 resistance by 3 percent or more should confirm the start of a new bull trend.
Meanwhile, the TSE Gold & Precious Minerals Index weekly chart shows a potentially bullish wedge formation with an even more bullish flag pattern in formation. Overhead resistance at 8000 must be decisively penetrated to signal the beginning of a bull trend. The RSI indicator for this index has also turned up in bullish divergence, a positive sign.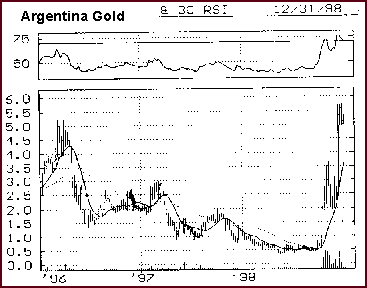 The latest Canadian golds charts from WIL-ARM, our source for Canadian gold stock information, are not as exciting as they have been in recent months. Only a relative handful are worthy of mention. The most notable chart, not surprisingly, is our darling Argentina Gold—the stock that has gained us nearly 600 percent from the time we picked it last fall. This stock has now gained the attention of a broad class of investors and has subsequently benefited from the corresponding increase in liquidity injected into it. Yet another bullish flag has formed on the chart (currently trading at $5) forecasting a rise to $8.50 once the consolidation underway is complete. We advise traders to set a one point protective stop in this stock, meaning that whenever Argentina falls below its current price by one dollar, you are automatically stopped out of your position. This will prevent major losses from any unforeseen turnaround in this stock. The rise in this stock since we recommended it in October has been extremely impressive, but a pullback sometime in the near future is in order. Traders should watch this stock daily so they aren't caught off guard by it.
A gold stock that is technically neutral but shows a promising chart pattern is DIA MET Minerals. This stock registered a spike bottom last fall and promptly moved higher where it has been consolidating ever since. Its RSI has turned slightly upbut volume activity has still been unsatisfactory. Traders should await a breakout from its current trading range of $20-$22 on increased volume before committing.
Goldcorp Inc., another of our earlier recommended stocks, is in a moderate uptrend and seems to have found nice support each step of the way. Its RSI and momentum indicator also confirm its bullish trend. It may be accumulated but should be sold if $7 support is penetrated.
Another of our fall picks—Holmer Gold—is starting to pay off. We earlier recommended this as a "gambler's play" because of the exceedingly thin trading volume. But we noted back then that its chart pattern looked bullish and since that time investors have taken note of this stock and volume has increased noticably. Holmer's RSI is pointing up and all systems are go for a takeoff in this stock. Still speculative, but definitely worth a looksee, especially at these bargain basement prices (approximately 20 cents a share).
Yet another of our fall picks, Kookaburra Resources, saw a subsequent skyrocket in price from its then $0.5 price to as high as $2.55 in only a couple of weeks. It is now down to around $1 but it appears support has been found and consolidation is underway. As long as $1 holds, it should be preparing for another move higher. A high-volume breakout above $1.30 will signal another buying opportunity.
MacMillian Gold shows a gorgeous complex head and shoulders bottom in formation and nearing completion. A break above $0.6 resistance will signal an all-out buying opportunity.
A bullish flag pattern has appeared in the chart for Northway Exploration. A break above $0.5 will give a buy signal.
The only Canadian golds chart that screams "bearish" in our view is Meridian Gold, a stock we recommended as a buy this fall—and one which has performed spectacularly up to now. But a bearish rising wedge has formed in its chart and this points to a steep decline ahead. Further, volume activity has diminished as prices have made their way to the "apex" of the wedge, a sign that the upmove is nearly finished. This stock may be sold short by high-risk investors.
Winspear Resources, another of our winning fall picks, shows nice scalloping activity on its chart which presages a continuation of its bull market. However, a pullback is long overdue and an exhaustion gap has appeared in its chart. Conservative investors might await a pullback and consolidation before getting in.