China Allowing Banks To Import Larger Amounts Of Gold
This week spot gold closed the week at $1,776.51, up $32.63 per ounce, or 1.87%. Gold stocks, as measured by the NYSE Arca Gold Miners Index, ended the week higher 3.50%. The S&P/TSX Venture Index came in off 1.55%. The U.S. Trade-Weighted Dollar fell 0.68%.
Strengths
The best performing precious metal for the week was palladium, up 5.13%, despite Nornickel stating that it expects to resume production ahead of schedule. Both Citigroup and UBS Group AG highlighted their expectations for further price gains in palladium. Gold rose on Wednesday after Fed Chair Jerome Powell reiterated his dovish view on monetary policy, sending the yellow metal's headwinds, bond yields and the dollar, downward. Bullion hit a seven-week high and climbed above its 50-day moving average.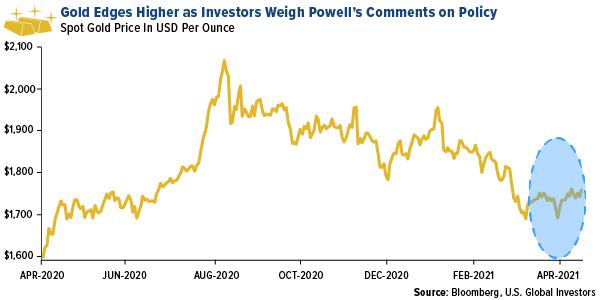 Silver Bullion Pte Ltd. Is building a six-story vault in Singapore that could store 15,000 tons of silver. The warehouse near Changi airport currently holds 400 tons of silver, but with demand for coins and bars booming, the company expects promising years to come. According to the London Bullion Market Association (LBMA), the amount of silver stored in vaults in London rose 11% in March to a record. Bloomberg reports that JM Bullion, a major precious metals retailer, will open a 25,000-square-foot-warehouse in Dallas in June that will be used for holding silver and other precious metals.

China has allowed international and domestic banks to import larger amounts of bullion, reports Reuters, saying 150 tonnes will be shipped next month. Gold imports by India, the world's second biggest consumer, rose in March to the highest monthly total in nearly two years. A pullback in gold prices stoked demand during the ongoing wedding season, where gold jewelry gift giving is considered auspicious. Bloomberg reports overseas purchases rose more than sevenfold to 98.6 tons, up from 13 tons in March last year.
Weaknesses
The worst performing precious metal for the week was platinum, down 0.05%. Both palladium and platinum have led the precious metals group this year with better than 12% gains in prices. Silver is on the verge of turning positive and gold is still the lagger, with losses of greater than 6%.

Holdings in SPDR Gold Shares could fall below 1,000 tons in the next few weeks as investors continue to pull money out of the largest bullion-backed ETF. Bloomberg reports holdings have shrunk by a fifth near 1,280 tons last September.

Sabina Gold fell as much as 18% intraday on Tuesday after a newsletter writer told its research clients to sell the stock due to the unlikelihood of takeover, reports Bloomberg. On the other hand, Sprott Capital Partners said in a February note that Sabina's reserves beat estimates and that no other developer globally has a lower EV/resource multiple. Wesdome Gold Mines reported gold production for the first quarter of 22,564 ounces, down from 25,122 ounces year-over-year or 10%.
Opportunities
Scottie Resources Corp. and AUX Resources Corporation announced a merger to consolidate the Stewart Mining Camp in the area known as the Golden Triangle of British Columbia. Ascot Resources Ltd. announced a C$20,640,000 private placement by Yamana Gold with the net offerings used to fund construction of Ascot's gold product in British Columbia.

CIBC analyst Cosmos Chiu wrote that he expects silver to benefit from its use in solar panels, especially given the growing importance of ESG investing. "Of all the metals, silver has the highest electrical conductivity, making it difficult for potential substitutes (such as copper and aluminum) to compete."

Philippine President Rodrigo Duterte will lift a 2012 ban and allow the government to approve new mining contracts to help boost revenue. The Philippine Stock Exchange's mining and oil sector index rose 5.4% on the news.
Threats
Brazil is investigating reports of COVID-19 vaccines being exchanged for illegal gold in the Yanomami indigenous reserve. Federal prosecutors are already investigating the diversion of vaccine shots intended for indigenous people. Brazil remains one of the worst hit countries by the pandemic.

Research firm CrossBorder Capital found that bitcoin is dragging down gold's fair value, reports Kitco News. "We calculate that the existence of Bitcoin has probably reduced the 'fair value' of gold by $158 per ounce given that liquidity is now spread a tad more thinly over these two combined stores of value," the analysts said in a report Wednesday. The report added that investors worried about monetary inflation to hold one unit of Bitcoin for every nine units by value of gold as a better hedge than gold alone.

The Grayscale Bitcoin Trust could soon surpass the SPDR Gold Trust as the growing popularity of cryptocurrencies pushes the bitcoin ETF over $50 billion, close to the $57 billion held in the world's second-largest commodity ETF. "In a world going digital, we believe gold symbolizes the diminishing potential for sustained commodity-price advances, notably vs. bitcoin," said Bloomberg Intelligence in a note to clients. "The crypto is a prime example of how advancing innovation suppresses commodity prices."
*********