The Coming Stock Market Crash Prediction
There are many irrefutable signs a US stock market crash is imminent. However, THREE of the most compelling are the following:  Dow Index/US T-Bond Ratio and; the S&P500 PER/VIX Ratio, and London's FTSE Stock Index. Each of these indicators heralded the market crash of 2000-2003 and 2007-2008.  Like they say a picture is work a 1,000 words.
1- Dow Index/US T-Bond Ratio has formed a bearish Triple Top.  Notice that the ratio peaked in 2000 and again at the same level in 2007, which sparked the crash in US stocks. Well again recently the Dow Index/US T-Bond Ratio has peaked. Consequently, history is testament a stocks' crash is highly probable.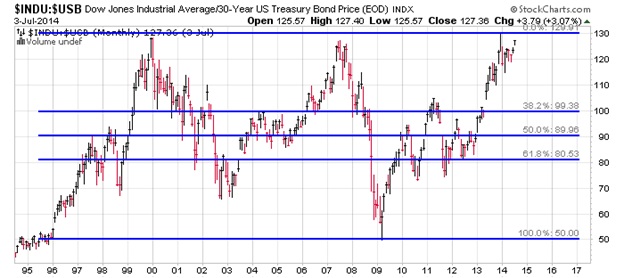 2- S&P500 PER/VIX Ratio (Price Earnings Ratio of S&P500) divided by the Volatility Index) is signaling a market crash....take careful notice of this in 2000 and 2007, which signaled SELL SIGNALS FOR STOCKS. Click chat to enlarge: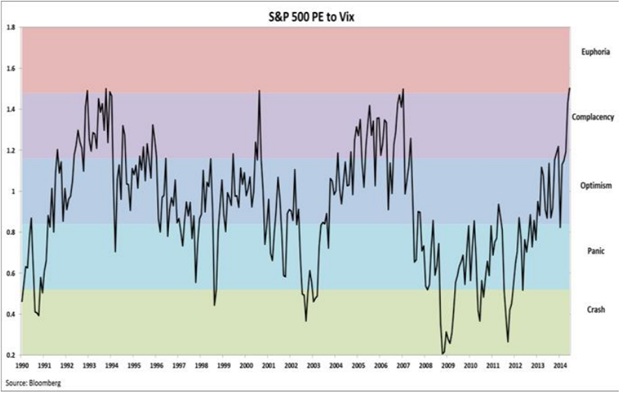 IMPERATIVE to notice we have the exact same topping level today as in 2000 and 2007, which means stocks may SOON CRASH.
3- London's FTSE Stock Index
In early 2000 and late 2007 the London's FTSE Stock Index peaked…and subsequently went into a crash mode. This is an ominous echo from October 1929 when London's FTSE Stock Index initiated the worldwide stocks' crash. Avid students of stock market history will certainly remember it was in late 1929 that the London's FTSE Index signaled the beginning of the horrific STOCK MARKET CRASH....which    gave birth to the 1930s GREAT DEPRESSION.
And TODAY there is current clear evidence the FTSE is again sounding the death knell for stocks...everywhere.
Today's FTSE has formed a bearish Triple Top.  Moreover, since 2000 the trend of the MACD and RSI technical indicators have shown continued Negative Divergence. This is long-term signal that bad times for stocks loom on the horizon.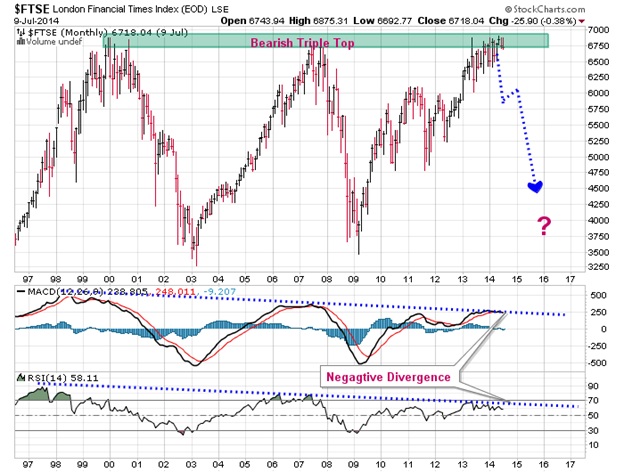 To ignore these overt bear signals will certainly be injurious to your financial health.  Below is a picture perfect example of today's Pollyannas, who audaciously indulge and recklessly wallow in irrational exuberance regarding the artificial stock levitation fueled by the US Fed's "magic of QE."
Provocatively, the THREE peaks of the above SELL SIGNALS came in 7-year integrals (ie 2000…2007 and 2014), which makes me recall the Biblical gospel from Genesis 41:30 –
"…and after them seven years of famine will come, and all the abundance will be forgotten in the land of Egypt, and the famine will ravage the land."
Might not this be the cardinal reason why the world's richest man Warren Buffett has been aggressively building cash by selling stocks (i.e. $50 BILLION)?!
Ironically, while the super-rich become filthy rich via wild irrational speculation in stocks, the legion of poor Americans spread like some lethal viral plague.  Today,  there are 47 MIILION impoverished Americans subsisting on FOOD STAMPS.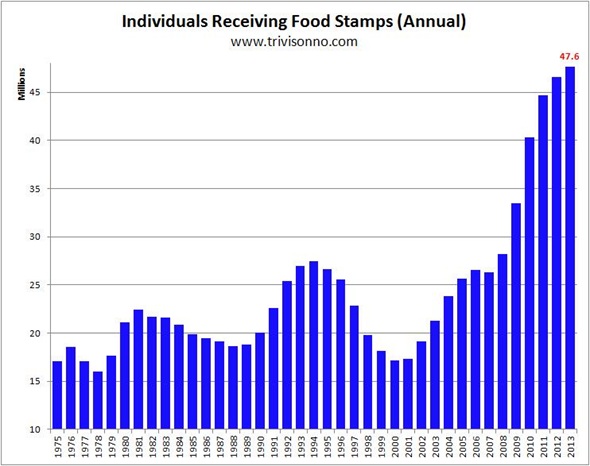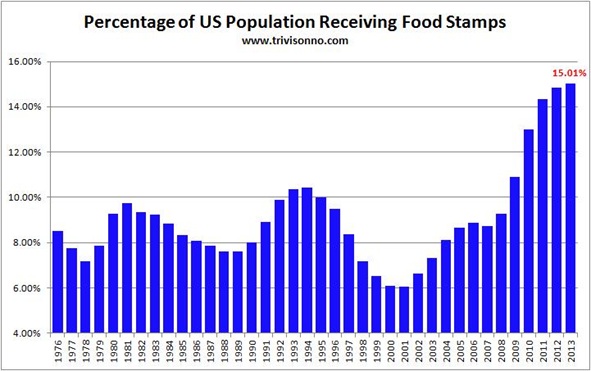 I SAY "IRONICALLY" because the proliferation of Wall Street greed and avarice appears to have no bounds…even as poverty spreads throughout the nation like the deadly bubonic plague…going viral.
Total US Credit Market Debt As A Percent of GNP
Total Credit market debt to GDP is greatest in 144 years...deja vu 1929
"The ratio of total credit market debt to GDP in the US has stood at around 150% for much of its recent history. Historically there are only two important exceptions: the 1920s ("roaring twenties"), during which a large credit expansion laid the foundation for the stock market crash and the Great Depression; and the current period, which originated in the 1970s.
In contrast to October 1929, additional growth in economy-wide debt was fostered after the stock market crash of 1987, among other things by Alan Greenspan's loose monetary policy. At the end of 2008, the ratio reached 375%, an all-time high. Since then there has been gentle deleveraging, however the ratio remains at an unnaturally high level and in "uncharted territory"."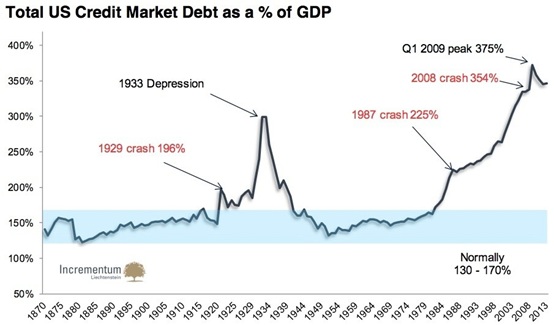 Source: KingWorldNews
The Coming Stock Market Crash Prediction:
US stock market is hell bent for leather to suffer another Bear Market disaster in the not too distant future.
GOLD IS THE ONLY SAFE-HAVEN FROM THE FORTH-COMING ARMAGEDDON.
********  
We (
Gold-Eagle.com
) provide regular commentary and analysis of gold, precious metals and the economy in general. Be the first to be informed by signing up for our free email newsletter. You can also stay connected by following us on
Facebook
,
Twitter
, or
Google Plus
.