Durban Deep Nears Important Cycle Low
The intermediate-term outlook for Durban Deep (DROOY) hasn't looked this promising in years, and long-term holders of this South African mining stock will not be disappointed as several key cycles bottom in the month of August.
Thus far, Durban has performed exactly as announced in last month's analysis of DROOY. Much technical improvement has been shown since then, although one final low is expected later this month before Durban really starts to roar into fall.
Our supply/demand and cycle analysis all point to one inescapable conclusion: Durban's intermediate-term cycle channel will be met sometime this month somewhere between $0.85-$0.90, give or take a few pennies. The lows for the year have been seen, and even the seasonal lows we believe have been posted. The final cycle low coming up this month should register as a higher low, that is above last month's bottom around $0.80.
The beauty of trading in a stock like Durban Deep is that it is extraordinarily liquid for a low-priced gold and always actively traded, hence finding a market is never a problem, regardless of what your trading position may be. The percentage gains and pyramiding possibilities in this stock are phenomenal, which makes it a favorite play for gold stock traders. The only problem in recent years has been the lack of a clear-cut long-term trend (for investment purposes). Well we can now confidently recommend Durban for the first time ever as both an excellent trading vehicle (perhaps the best among the penny golds) and a long-term investment recommendation.
Now for the $6 million dollar question: how high can Durban fly in 2001?
The cycle chart allows for a high above $1.40/share, but bear in mind magnitude and top forecasting are always made difficult due to the nature of cycles-cycle analysis is mainly focused on predicting bottoms. However, the much more reliable swing charts (for magnitude and price forecasting purposes) point unanimously to $1.50-$1.60 and quite possibly higher before the year is over. In percentage terms, for a low-priced gold stock, it doesn't get much better than this.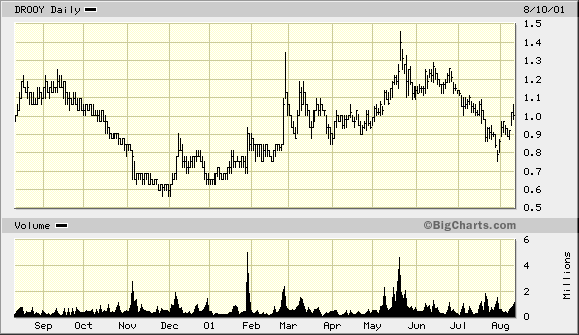 Based on the amount of insider buying that has been going on now for several months (revealed by the tape) a move to above $2 wouldn't surprise us one bit. One thing is certain: Durban's next upswing will be explosive in nature based on the convergence of time cycles, seasonal factors, insider accumulation, and late-coming public buying, which will almost certainly materialize in the gold sector once the public catches wind of it. In a word, Durban is a buy.
Watching the tape, as we do, for Durban on a regular basis has yielded many interesting things in recent days. It is amazing to watch the massive big block trades being bought as Durban's cycles align with her channels. It is nothing less than breathtaking-from a tape readers point of view-to see the supply and demand, the support and resistance line up in the most perfect configurations, even as sentiment towards and public awareness of DROOY continually improve. Everything is falling into place, and this is true from both an extremely short-term to a very long-term frame of reference.
Durban Deep will enjoy the distinction of being a part of that special class of stocks that will significantly and consistently outperform the S&P500 in 2001 and even into 2002. We predict that average daily trading volume in Durban will at least double and possibly triple or quadruple by the end of the year. Now is the time to seize the moment and stake positions in DROOY.