Fed Meet: A Key Catalyst For Gold
Competition is supposed to be healthy, but when governments compete to see who can borrow the most money while paying their lenders little or nothing… that's not healthy at all.
The daily gold chart. The next key Fed meeting is on Wednesday, and it's unlikely that the Fed does anything to interfere with the government's insatiable thirst for more printed and borrowed money.
Will doing nothing be enough to encourage investors to bid gold higher?
Maybe, but my suggestion is for investors to wait for the breakout to happen, rather than guess when it occurs.
The triangle pattern is arguably negative, and gold could ease to $1800-$1775 if the breakout is to the downside.
In a nutshell: Using technical analysis as outlined by Edwards and Magee, gold bullion investors should wait for the market to show some higher highs and higher lows before assuming this reaction has ended.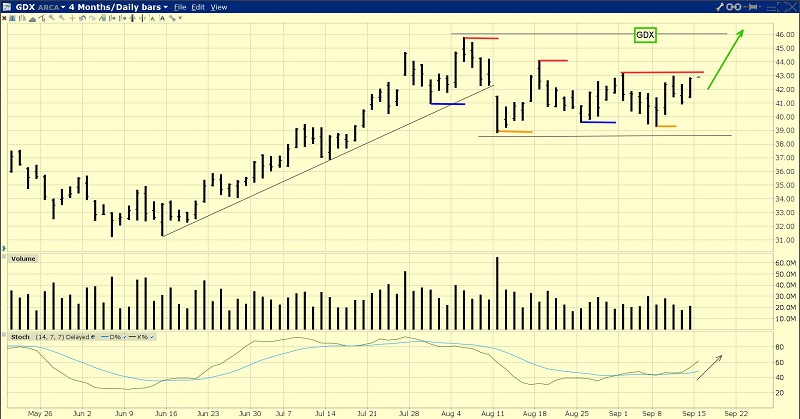 What about gold stocks? The GDX chart.
A dip below $39 would likely usher in a deeper sell-off, but it would likely relate to a meltdown in the US stock market.
The government has no savings. All it does to solve every type of crisis is borrow more "funny money"… money that the central bank electronically prints with relentless gusto.
The bottom line is that any deeper correction in gold or the miners is likely to be short lived… and followed by fresh "money printed" highs!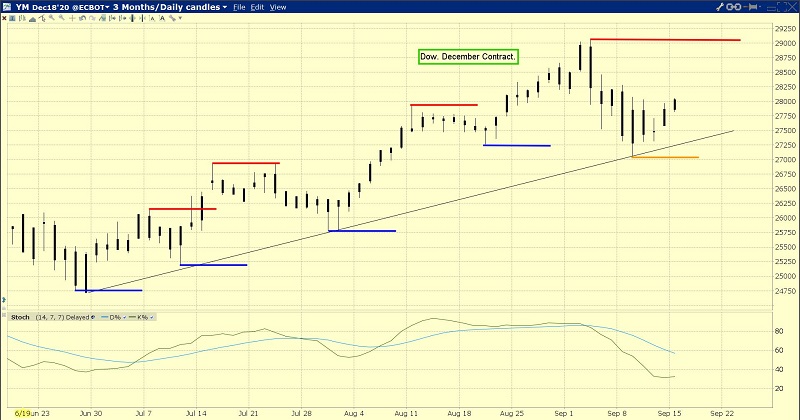 The daily Dow futures chart.
There are some resistance zones in play on US stock indexes. The QQQ ETF is near $300, a key round number. The Dow is near the all-time highs at about 30,000. A reaction is expected and normal.
Sadly, stock market investors have become akin to welfare deadbeats who don't want to work. They can buy any rally or dip without worry because they know their government and central bank will race to save them if valuations tumble.
This, while the average US citizen is called a "loser" if they can't afford medical care. Studies suggest that in 1963 it took a US minimum age earner 8 years of gross income to pay for a house.
Now it takes the same earner 34 years to do it! Most people now take 8 years just to pay off their car loan, and the car is worthless by the time they pay it off.
In a disgusting ode to insanity, the US government has repeatedly called this horrifying state of affairs, "the mightiest economy of all time".
In Japan, the central bank is now the biggest investor in the stock market. The Swiss central bank has a big portfolio of global stocks that it buys with photocopied fiat. The Fed is doing QE for corporate zombie bonds.
It appears to be only a matter of time before the Fed uses its printed money to become the biggest shareholder of US stocks.
Horrifically, this is called… capitalism.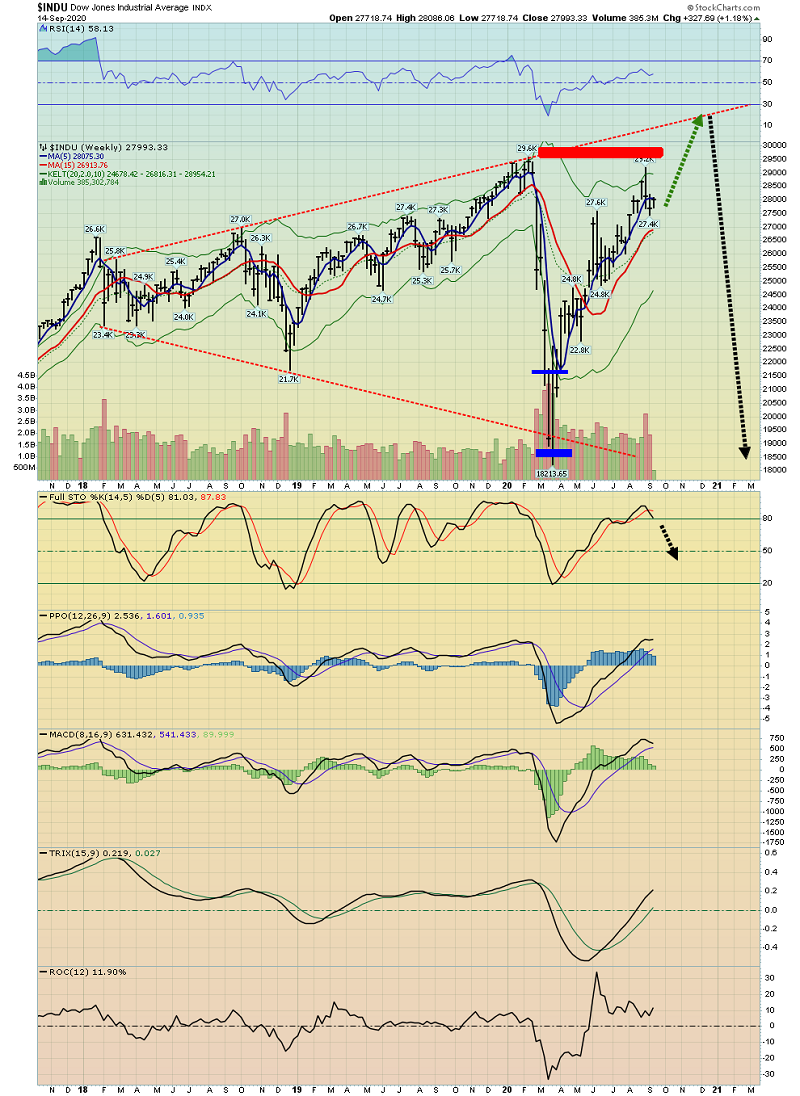 The important weekly Dow chart.
Key oscillators (especially the 14,5,5 series full Stochastics) are close to sell signals, but the Dow is likely to push higher within the massive broadening top formation… before likely collapsing like it did in 1929.
The SIL ETF chart. A modest pattern of higher highs and higher lows is emerging.
If the US stock market does collapse, it will likely be related to government debt worship finally producing inflation, and a possible 2021-2025 war cycle.
In that situation, American citizens will likely get quite interested in silver bullion, because it's cheaper than gold, and institutions will buy the miners. Hi, ho, silver!
Special Offer For Gold-Eagle Readers: Please send me an Email to [email protected] and I'll send you my free "Golden Trampoline!" report. I highlight key junior miners that continue to leap higher during the general metals market reaction. I also show why the important CDNX index may be about to carry the entire sector higher!
Graceland Updates
Note: We are privacy oriented. We accept cheques, credit card, and if needed, PayPal.
Written between 4am-7am. 5-6 issues per week. Emailed at aprox 9am daily
Email:
Rate Sheet (us funds):
Lifetime: $999
2yr: $299 (over 500 issues)
1yr: $199 (over 250 issues)
6 mths: $129 (over 125 issues)
To pay by credit card/paypal, please click this link:
https://gracelandupdates.com/subscribe-pp/
To pay by cheque, make cheque payable to "Stewart Thomson"
Mail to:
Stewart Thomson / 1276 Lakeview Drive / Oakville, Ontario L6H 2M8 Canada
Stewart Thomson is a retired Merrill Lynch broker. Stewart writes the Graceland Updates daily between 4am-7am. They are sent out around 8am-9am. The newsletter is attractively priced and the format is a unique numbered point form. Giving clarity of each point and saving valuable reading time.
Risks, Disclaimers, Legal
Stewart Thomson is no longer an investment advisor. The information provided by Stewart and Graceland Updates is for general information purposes only. Before taking any action on any investment, it is imperative that you consult with multiple properly licensed, experienced and qualified investment advisors and get numerous opinions before taking any action. Your minimum risk on any investment in the world is: 100% loss of all your money. You may be taking or preparing to take leveraged positions in investments and not know it, exposing yourself to unlimited risks. This is highly concerning if you are an investor in any derivatives products. There is an approx $700 trillion OTC Derivatives Iceberg with a tiny portion written off officially. The bottom line:
Are You Prepared?
********