Fiat On Fire: Key Investor Tactics
Are government, central banks, and fiat money the three biggest bubbles in the history of the world? I would suggest they are.
The rise of private money (bitcoin) combined with the rise of China and India as economic empires is popping these bubbles. Against bitcoin, fiat is now burning like an out of control wildfire.
Within a year or two, it could begin disintegrating against gold in a somewhat similar manner. Whether that happens or not depends on whether a blockchain currency backed with gold gets widely accepted in the blockchain community. I predict that it likely happens.
Simply put, fiat is a barbaric relic and the younger generation isn't interested in relics. There are almost three billion citizens in China and India. Many of them are obsessed with gold, and almost all of them respect it as the ultimate asset.
There are about 600 million Indian citizens under the age of 35. They are now getting a taste of private money with bitcoin, and they like it! Blockchain is newer than fiat. It's technologically superior. Fiat is like a rotary phone, and millennials want to trade up for the newest Iphone. In the currency world, that's blockchain!
Many analysts have noted the strong seasonal tendency for gold to rise from late December or early January until mid-February.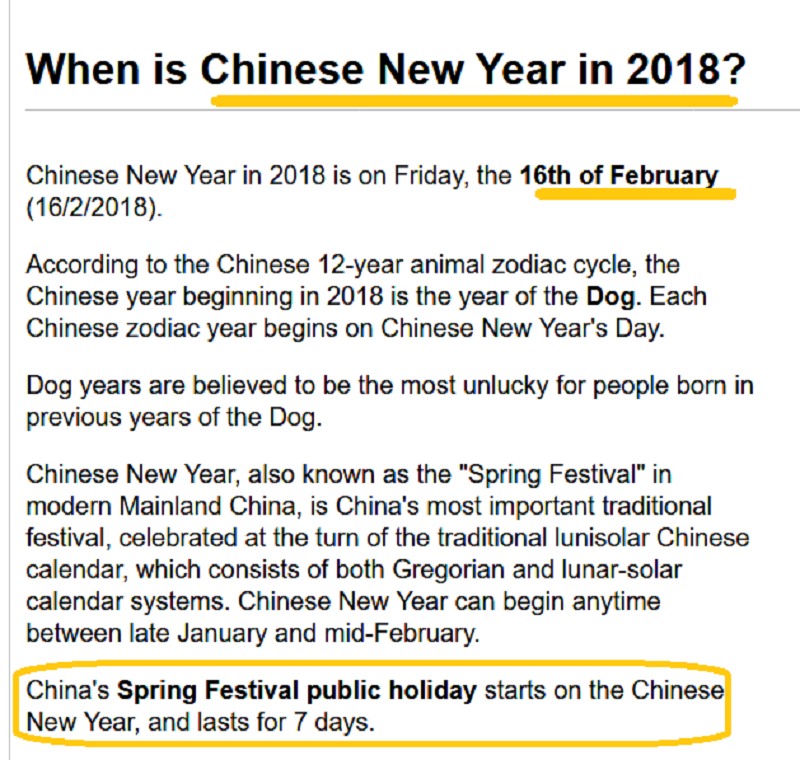 About 65% of all gold demand comes from China and India, and that demand increases exponentially with income growth. Incomes are growing, so Chinese New Year gold price rallies are intensifying.
The rally begins as Chinese New Year buying begins. It ends when that buying ends, which is in mid-February for 2018.
Note that China's businesses (including gold shops) close for a week as the celebrations end. Commercial traders on the COMEX tend to buy long positions in gold ahead of Chinese New Year (now), and then short it as the demand begins to peak.
A huge number of savvy Indian investors will also buy gold ahead of Chinese New Year to get in on the action. The price premium in India tends to rise as that happens.
It's risen to above 12% in the past few weeks.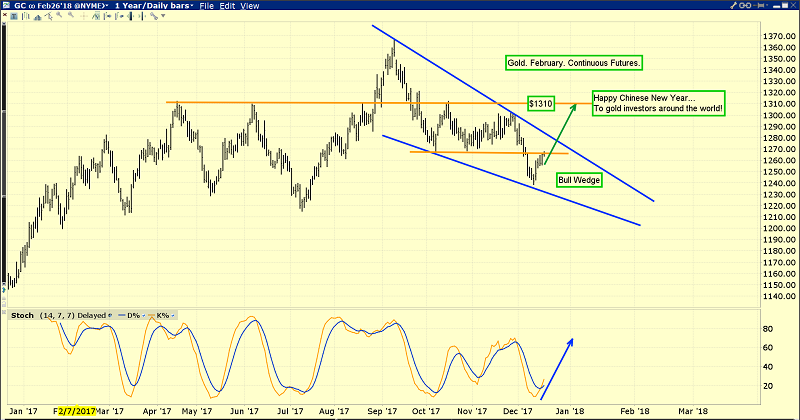 This is the daily gold chart. Chinese New Year celebratory buying should see the price easily reach my $1310 area target.
The bull wedge pattern looks fabulous. The current $1265 area supply zone is likely just a short term pitstop on the way to prices well above $1300 by mid-February.
Top analysts at Goldman Sachs are predicting a rise in Indian GDP growth to 8% for 2018. That should be occurring as the Indian gold market restructuring gets completed. In India, as incomes grow, gold demand increases even more exponentially than it does in China.
I've talked about the importance of getting more global rate hikes to boost inflation and commodity prices in the late stage of the business cycle. Gold stocks can't really perform well relative to bullion if that doesn't happen.
Goldman analysts clearly agree with my take on the situation for 2018, and a lot of powerful institutional money managers rely on Goldman's analysis.
It should be a great year for commodities in 2018. As the commodities rally, I'm predicting that new ICOs (initial blockchain coin offerings) will occur, featuring coins that are linked to various commodities.
If this happens, it could add intensity to the general commodity price rally.
All investor eyes should be on key 200 number for the CRB commodity index. There's a base pattern in play, and a move above 200 would be a major breakout.
This base pattern is in sync with the fundamentals. There was a big move higher during the late stages of the last business cycle in 2008. That was a speculative move and OTC derivative bets were rampant.
This move higher in commodities should be steadier and continue for a long time. Twenty years of deflation have ended, and a long term upcycle for inflation is beginning.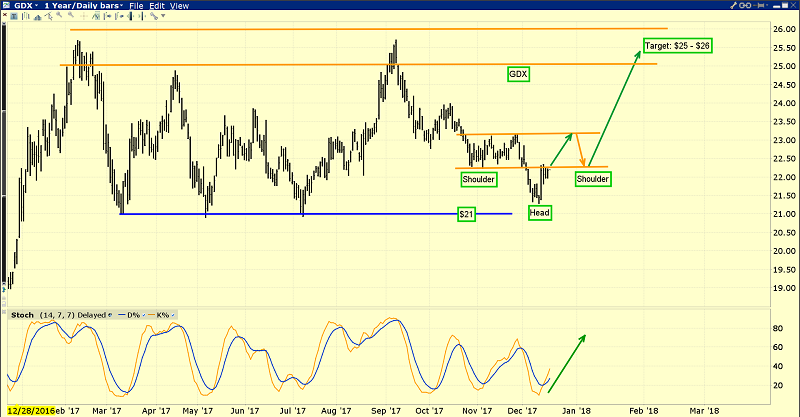 This is the solid looking GDX chart. GDX should be able to reach my $25 - $26 short-term target zone by mid-February.
Note the nice inverse Head & Shoulders bottom pattern in play, with the head forming in a big support area near $21.
More importantly, I expect that as the CRB index moves towards 240 – 280, that should trigger enough inflation-oriented institutional buying of gold stocks to send GDX into my medium term $31 - $37 target area. Are all gold bugs taking their seats on the inflationary train? I hope so, because it's pulling out of the station very soon. All aboard!
*********
Special Offer For Gold-Eagle Readers: Please send me an Email to [email protected] and I'll send you my free "Silver Stock Superstars!" report. Silver could see frenzied buying from Indian citizens as global commodity prices rise in 2018. Fear of inflation is a major factor in Indian gold and silver demand. That should trigger Western institutional buying of these small mining companies, sending prices higher. I highlight ten of these key stocks, with buy and sell points for each one!
Note: We are privacy oriented. We accept cheques, credit card, and if needed, PayPal.
https://www.gracelandupdates.com
Email:
Rate Sheet (us funds):
Lifetime: $999
2yr: $299 (over 500 issues)
1yr: $199 (over 250 issues)
6 mths: $129 (over 125 issues)
To pay by credit card/paypal, please click this link:
https://gracelandupdates.com/subscribe-pp/
To pay by cheque, make cheque payable to "Stewart Thomson"
Mail to:
Stewart Thomson / 1276 Lakeview Drive / Oakville, Ontario L6H 2M8 Canada
Stewart Thomson is a retired Merrill Lynch broker. Stewart writes the Graceland Updates daily between 4am-7am. They are sent out around 8am-9am. The newsletter is attractively priced and the format is a unique numbered point form. Giving clarity of each point and saving valuable reading time.
Risks, Disclaimers, Legal
Stewart Thomson is no longer an investment advisor. The information provided by Stewart and Graceland Updates is for general information purposes only. Before taking any action on any investment, it is imperative that you consult with multiple properly licensed, experienced and qualified investment advisors and get numerous opinions before taking any action. Your minimum risk on any investment in the world is: 100% loss of all your money. You may be taking or preparing to take leveraged positions in investments and not know it, exposing yourself to unlimited risks. This is highly concerning if you are an investor in any derivatives products. There is an approx $700 trillion OTC Derivatives Iceberg with a tiny portion written off officially. The bottom line:
Are You Prepared?