First Swiss Gold Poll Shows Pro-Gold Side In Lead At 45%
The first poll of how the Swiss people will vote in the "Save Our Swiss Gold" initiative on November 30th shows that the Swiss are leaning towards voting for the pro-gold initiative.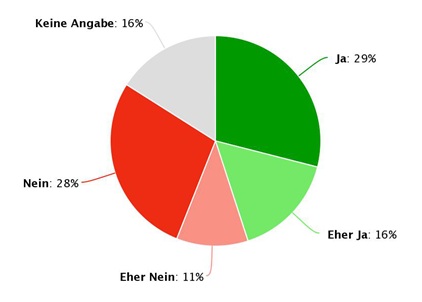 Gold Initiative Poll Results -  20 Minuten
The poll had quite a large sample of 13,397 people from all over Switzerland who participated in the first phase of the 20 Minuten online survey on October 15. 
The poll shows that 45% approve the Swiss gold initiative and 39% are against. There are 29% firm yes voters and 28% firm no voters (see graph). The poll shows 16% are leaning towards a yes or are "more yes" and 11% are leaning towards a no or are "more no." 
20 Minuten or 20 Minutes in English, is a very popular German language free daily newspaper and online paper in Switzerland, published in a tabloid format and online.

Swiss Gold Flag
The political scientist Lucas Leeman and Fabio Wasserfallen organised the survey according to demographic, geographic and political variables and it is weighted so that the sample corresponds as closely as possible the structure of the voting population according to 20 Minuten.
There are a lot of swing voters with 16% undecided and not wanting to commit themselves.
The poll suggests that the Swiss gold initiative remains tightly in the balance and may be much closer than is commonly expected.

Swiss Gold Reserves
Some have suggested that as this was an online poll, caution may be needed as the 13,397 people polled are likely to be more digital savvy and younger. However, it is still believed to give a good barometer of sentiment just five weeks before the poll and before there has been concerted campaigning by either side.
20 Minuten is distributed to commuters at over 150 train stations across the country. Since September 2004, the German language edition has been the most widely read daily newspaper in Switzerland, surpassing Blick. The audited distribution in 2004 was 329,242 (WEMF AG) and it had a readership of an estimated 782,000 according to Wikipedia.
The three key measures of the "Save Our Swiss Gold" initiative are the following:
* an increase in gold holdings of the SNB to reflect an allocation of 20% of total reserves (today gold accounts for 7.7% of total reserves)
* and a moratorium on the sale of Swiss gold reserves
​* the repatriation of Swiss gold reserves - some of which are believed to be in the UK and Canada
GOLDCORE MARKET UPDATE
Today's AM fix was USD 1,251.75, EUR 978.85 and GBP 774.17 per ounce.
Yesterday's AM fix was USD 1,241.00, EUR 972.65 and GBP 769.71 per ounce.
    
Gold climbed $8.30 or 0.67% to $1,246.10 per ounce. Silver rose $0.16 or 0.93% to $17.44 per ounce yesterday.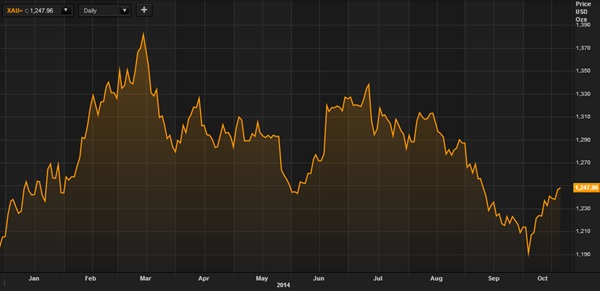 Gold in U.S. Dollars - YTD, 2014 (Thomson Reuters)
Gold in Singapore rose above $1,250/oz, after rising 0.7%  in the previous session, prior to capping once London opened. At the open in London, gold soared to the highest in over five weeks as the greenback pulled back.
Gold for immediate delivery rose 0.4% t to $1,251.63 an ounce by 9:46 a.m. in London, according to Bloomberg generic pricing. It hit $1,253.85, the highest since September 10. Gold for December delivery gained 0.6% to $1,251.60 on the COMEX in New York.
The dollar dropped for a second day, reaching the lowest level in nearly a week. 
Markets are adjusting estimates back for when the U.S. Federal Reserve may raise interest rates. 
Futures traders put the odds of a U.S. rate increase at 46% by October 2015, down from 50% at the end of last week. 
Despite very robust global demand, particularly from China and India, gold ETF holdings fell to a five-year low yesterday.
There are a number of gold friendly factors supporting prices including geopolitical and economic uncertainty and still dovish Fed and other central bank policies.
******** 
Courtesy of http://www.goldcore.com/