FOMC Week and USD
FOMC week and USD are intimately tied together
An answer should come this week about the near-term fate of the US dollar index (DXY). And from that answer will come investment/trading direction across the macro markets, from the anti-USD trades lurking in the shadows to stock markets, featuring an over-loved US market at significant sentiment risk that is internally rotating in latter stage behavior.
As for Uncle Buck, we reviewed daily, weekly and monthly (big picture) charts in NFTRH 767 and they have their discrete messages and future implications. But this daily chart simply shows a breakdown that is being tested as expected, conveniently right into FOMC. The bounce began from just above the 62% Fib retrace level of the entire bull move out of June, 2021. That Fib is at the support area at 99, and is clearer on a weekly chart.
So here is the still-bearish DXY daily chart, having bounced to the normal retest point at clear resistance and the EMA 20. All as expected (and illustrated ahead of time in an NFTRH+ video update). The questions are does USD stay within nice, neat normal bounds prior to failure, test some of our other bounce options prior to failure or does it flip the macro with a bear trap?
We covered it all in NFTRH, but you will want to keep an eye on the outcome because contrary to the de-dollarization hype out there, Uncle Buck remains the undisputed anti-market to the world (on balance), including many US sectors. That will remain the case even if the buck does as the current daily setup suggests and fails its bounce attempt in favor of lower levels.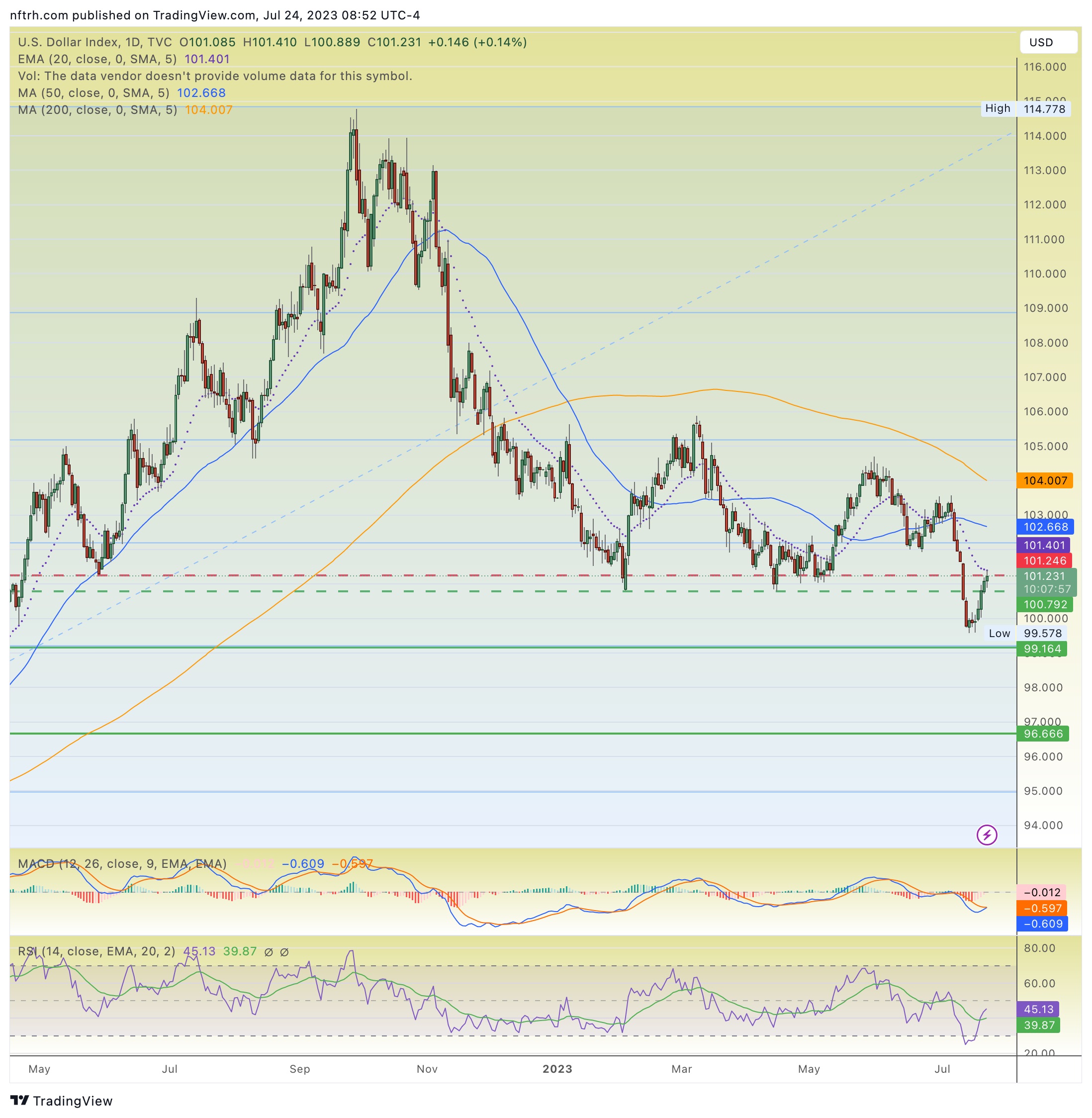 For "best of breed" top down analysis of all major markets, subscribe to NFTRH Premium, which includes an in-depth weekly market report, detailed market updates and NFTRH+ dynamic updates and chart/trade setup ideas. Subscribe by Credit Card or PayPal using a link on the right sidebar (if using a mobile device you may need to scroll down) or see all options and more info. Keep up to date with actionable public content at NFTRH.com by using the email form on the right sidebar. Follow via Twitter@NFTRHgt.
*********