Forecast: Gold Prices Bracing for First Correction of 2023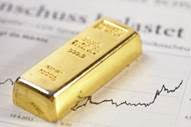 From the comments made in past month, the last mid-term low for Gold came from our 72 and 310-day cycles - which were forecast to bottom around mid-to-late October of 2022, with the actual low coming in early-November. From there, the cycles were forecast to push higher into mid-January of this year, which we are obviously now into - and with that are looking for the next smaller-degree peak to form.
Gold's 2-6 Week View
The next peak of significance for Gold is due to come from our 72-day wave, with the upward phase of this cycle having been projected higher into January:
From my 12/18/22 article: "While Gold could see some additional weakness in the short-term - as the downward phase of these 10 and 20-day cycles plays itself out - the ideal path is looking for the decline to remain above the 1733.80 prior swing low from back in November. If correct, a push back to higher highs would be expected to play out into early-January, 2023 - before peaking our larger 72-day cycle."
Back in mid-December, 2022, Gold was in a sideways-to-down correction with the short-term (10 and 20-day) cycles, a move which was favored to end up as countertrend - due to the configuration of our larger 72-day cycle, which is shown below: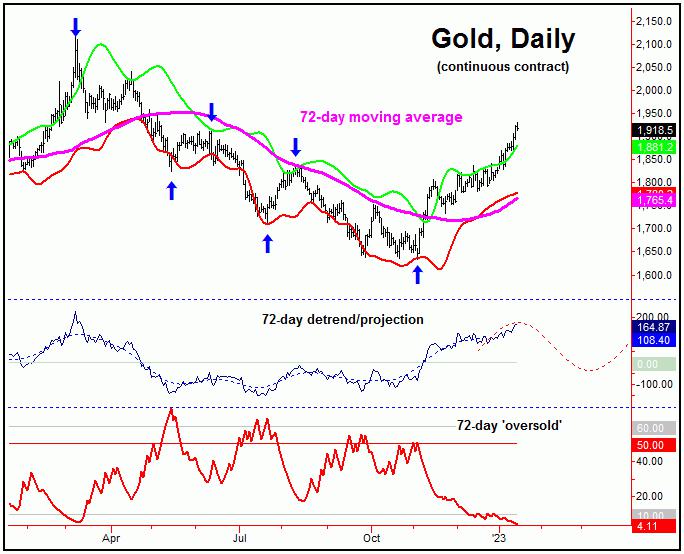 As mentioned, our 72-day cycle is into topping range, and with that could peak at anytime. Having said that, you can't pick tops - unless there is a preponderance of supporting evidence from technicals. We don't have that right now, though our 72-day 'oversold' indicator (which moves inversely to price) is well below its lower reference line - and is something we would expect to see as this wave is peaking.
Adding to the notes above, we use price 'reversal points' to confirm peaks and troughs for our cycles. For example, the last upside reversal point for our 72-day wave was the 1680's - which was taken out to the upside back in November, thus triggering the current upward phase of the 72-day cycle to be in force. In terms of price, that action has seen an additional 250 points of additional upside for Gold.
With the above said and noted, Gold would currently need to see a reversal back below the 1824.00 figure (February, 2023 contract), a number which is expected to rise sharply in the days ahead, with the latest figures always posted in our thrice-weekly Gold Wave Trader market report.
Mid-Term View for Gold
Once the current 72-day cycle tops, the probabilities should favor a drop on down to our 72-day moving average, which may also act as support to the next correction phase with this wave. Due to the configuration of the larger 310-day wave, the probabilities will favor the next drop into the 72-day low to end up as a countertrend affair. Here again is our 310-day cycle: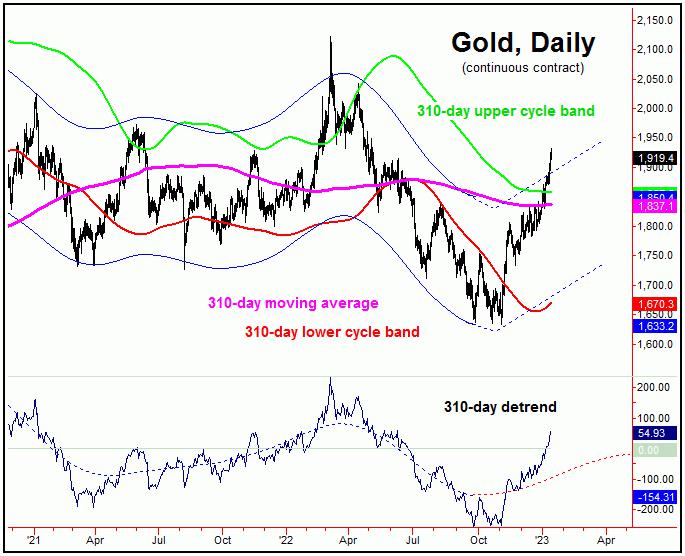 As noted in past months, the normal upward phases with this 310-day wave had seen price rallies of 20% or more off the bottom. This action suggested the potential for an eventual move up to the 1950's or better before this 310-day cycle topped out - an action which has now been satisfied with the most recent price strength.
As mentioned above, the 72-day moving average (plus or minus) could provide support to the coming downward phase of our 72-day wave. If that decline does end up as the favored countertrend affair, then the probabilities will favor another rally of 14-17% playing out, one lasting around 35-40 trading days off that bottom - before topping our bigger 310-day component later this Spring. Stay tuned.
Jim Curry
The Gold Wave Trader
http://goldwavetrader.com/
http://cyclewave.homestead.com/
********