Global Gold Price Markets Broken Amid Record US Mint Gold And Silver Eagle Sales
Today, the global gold spot markets broke down as prices varied considerably from the different exchanges.  Moreover, U.S. Mint sales of Gold and Silver Eagles surged again this week. Gold Eagle sales are so strong in March; they jumped 1,700% compared to February!! At one point, the gold price was up more than $100 during early trading.
I was busy earlier today on Twitter when I noticed the breakdown in the spot gold prices.  I checked three different sources and found that Kitco.com's gold price was much lower than the quotes on Investing.com and the CMEGroup.  I then had a Twitter exchange with Peter Spina at Goldseek.  Peter Spina published this article on GoldReview:
Peter and I both posted the same Tweet about the breakdown in the global gold spot prices that were taking place today.  Here was my tweet: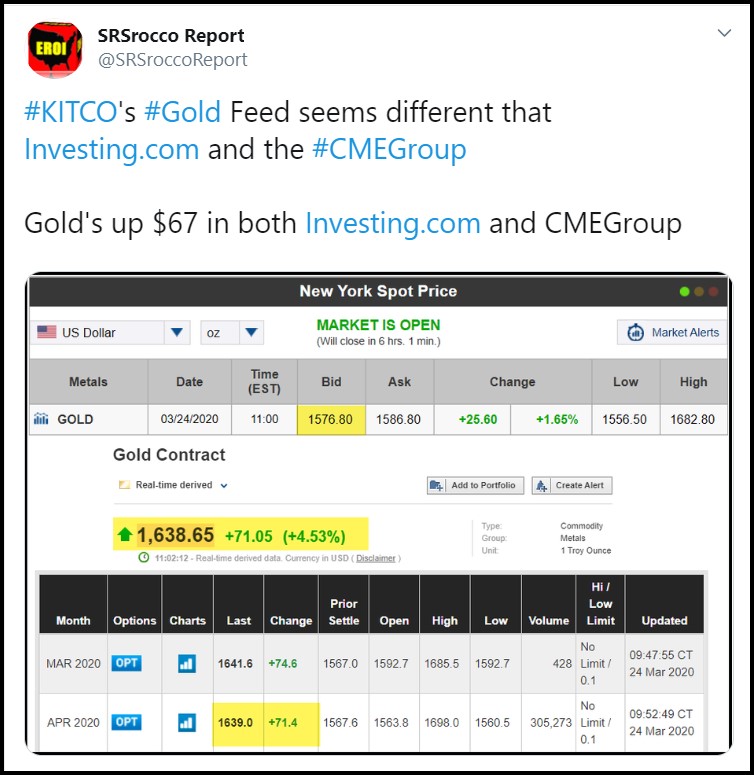 While Kitco posted gold trading at $1,576, Investing.com and the CMEGroup's April contract was trading about the same at $1,639… $63 higher.  So, as we can see, the global gold spot market is in disarray. I imagine this is partly due to Switzerland announcing the closing of three large gold refineries in the country yesterday, UPDATE 1-Three Swiss gold refineries suspend production due to virus threat:
LONDON, March 23 (Reuters) – Three of the world's largest gold refineries said on Monday they had suspended production in Switzerland for at least a week after local authorities ordered the closure of non-essential industry to curtail the spread of the coronavirus.
The refineries – Valcambi, Argor-Heraeus and PAMP – are in the Swiss canton of Ticino bordering Italy, where the virus has killed more than 5,000 people in Europe's worst outbreak.
Switzerland is a global hub for precious metals refining. The three refineries between them process around 1,500 tonnes of gold a year in Ticino – a third of total global annual supply – as well as other precious metals such as silver.
These three Swiss refineries process about 1,500 metric tons of gold, or a third of the global annual supply. This is a BIG DEAL.  These refineries stated that they would be reopening at the end of March and the first week of April.  However, let's see if that takes place as this global contagion continues to spread.
Even though the markets have recovered today, it was mostly due to an overdue TECHNICAL CORRECTION at a critical level and the massive U.S. Government stimulus package.  However, I wouldn't count on the stock markets heading back up much higher.  This is just a mere Bear-Market Rally.  Once the fundamentals of the supply chain and massive retail-wholesale store closures kick in over the next 2-4 weeks… the Markets are heading MUCH LOWER.
The U.S. Mint Gold & Silver Eagle Sales HIT RECORDS in March
While I have been providing updates on the massive increase in U.S. Mint Silver Eagle sales, Gold Eagle sales have also hit record numbers.  First, let's look at an update of Silver Eagle sales since my last article on March 17th: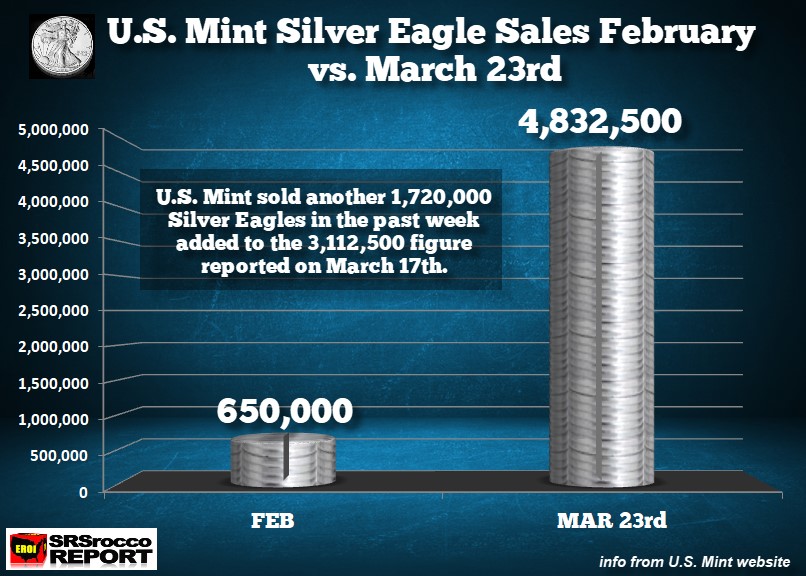 Silver Eagle sales this past week jumped by another 1.7 million to 4,832,500 as of March 23rd.  So, it looks like the U.S. Mint has been able to access enough silver blanks to ramp up production considerably.  It will be interesting to see if the U.S. Mint will be able to continue with these elevated monthly production levels, not seen since 2015-2016.
As I mentioned, Gold Eagle sales in March exploded compared to February: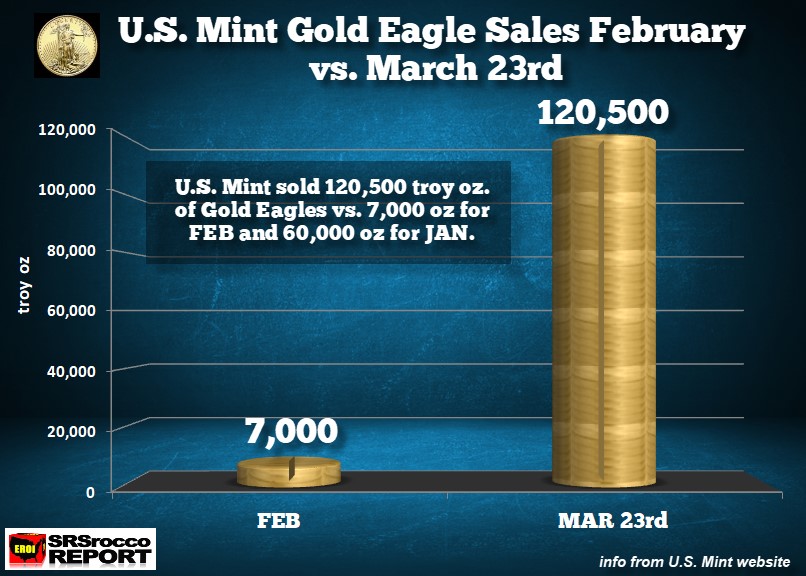 U.S. Mint Gold Eagle sales exploded to 102,500 oz so far in March compared to only 7,000 oz in February.  To give you an idea just how much Gold Eagle sales jumped in March, let's compare it to total sales last year: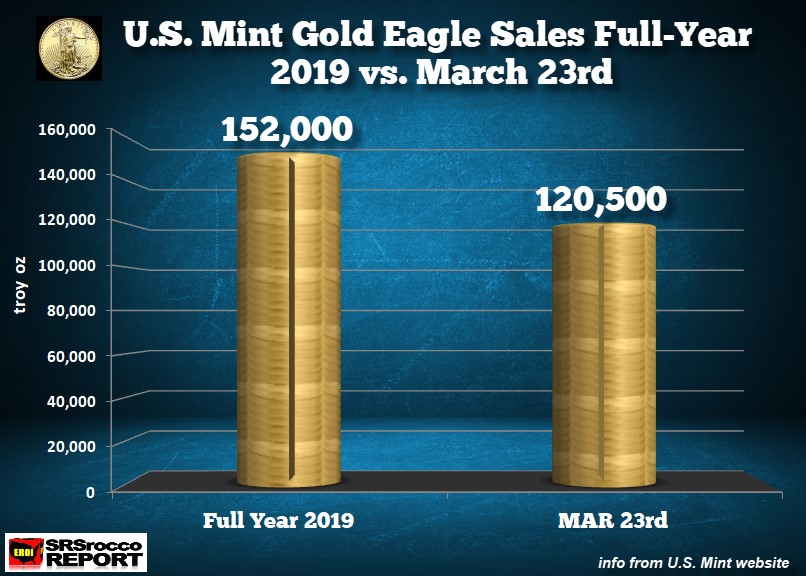 In a little more than three weeks, the U.S. Mint sold 120,500 oz of Gold Eagles compared to 152,000 oz sold for the ENTIRE YEAR in 2019!!  There are so much fear and panic in the markets, and rightly so, that investors are buying a record amount of Gold Eagles in March.  Again, it will be interesting to see if the U.S. Mint will be able to keep up with the elevated Gold and Silver Eagle mintages.
I believe demand for physical gold and silver bullion is just beginning to RAMP UP… we haven't seen anything yet.  Why?  The global economic and financial system will only continue to deteriorate as the weeks go by. With the Indian government announcing 1.3 billion of its citizens to remain home for the next three weeks will only exacerbate the COLLAPSE of the global supply chain meltdown.
Also, if you haven't seen my most recent video update on the Silver Market Dynamics, I highly recommend that you do:
THANK YOU ALL FOR THE SUPPORT: I just wanted to thank all the individuals who continue to support the SRSrocco Report website and youtube channel.  I know some of you have canceled memberships as times are tough.  I totally understand.  If you are new to the site and find the information valuable, please consider supporting the website, if you have the means to do so, at Paypal or Patreon below. 
UPDATE:  4:00 MST:  U.S. Mint Sells Another 10,000 oz of Gold Eagles In One Day
It looks like the U.S. Mint just updated its website to show another 10,000 oz of Gold Eagles sold today: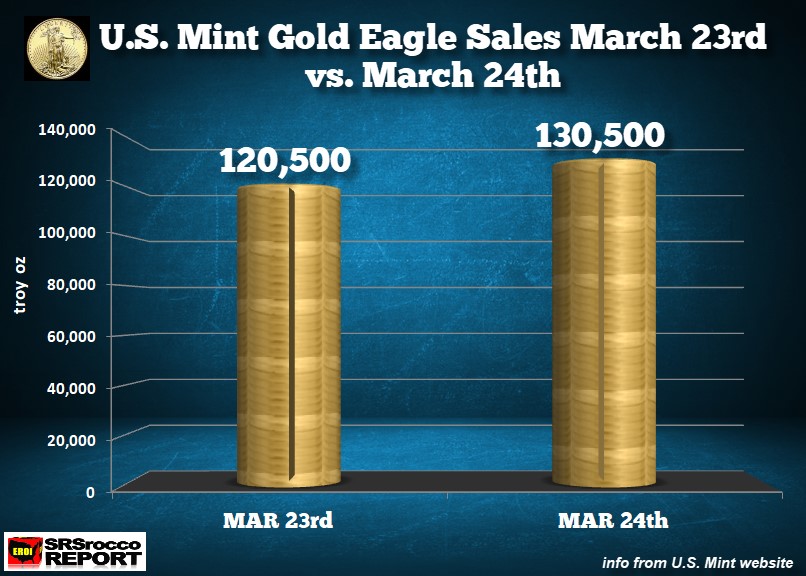 If you are new to the SRSrocco Report, please consider subscribing to my:  SRSrocco Report Youtube Channel.
HOW TO SUPPORT THE SRSROCCO REPORT SITE:
I would also like to thank those foundation supporters, who have chosen to become a member by making donations through PayPal to further the research and publishing work at the SRSrocco Report.
So please consider supporting my work on Patron
Steve St. Angelo, SRSrocco Report
********