Gold $1788: A Price Of Importance
The US election is still being disputed by republican fiat bugs, but it looks more and more likely that democrat fiat bugs have won.
In the world of private money (gold and crypto), elections also take place… at major support and resistance.
These are the most important action zones for gold and crypto enthusiasts.
If investors act professionally at these zones, substantial wealth can be created and retained.
The important weekly gold chart.
The price of gold has arrived at the major support zone of $1788, an event that I suggested investors prepare for when the price was near $2000.
Investors must now "elect" to buy, sell, or do nothing. I'm buying modestly, and that's my recommendation for all gold bugs of the world.
It's unknown whether gold now rises to significant resistance at $2000-$2089, or it eases down to significant support at $1666.
Higher price enthusiasts do have the appearance of some green shoots on their side:
Technically, my important 15,5,5 Stochastics lead line is oversold and beginning to turn higher. The $1788 price zone may not be the exact low of this reaction, but it's highly likely to go down in history as a spectacular buy zone for serious gold bugs!
Seasonally, the December time frame is often a launch pad for significant rallies. Chinese citizens buy to celebrate the New Year and Western hedge funds often get caught in a short covering rally.
They then rush to buy, and that can create some very intense upside price action.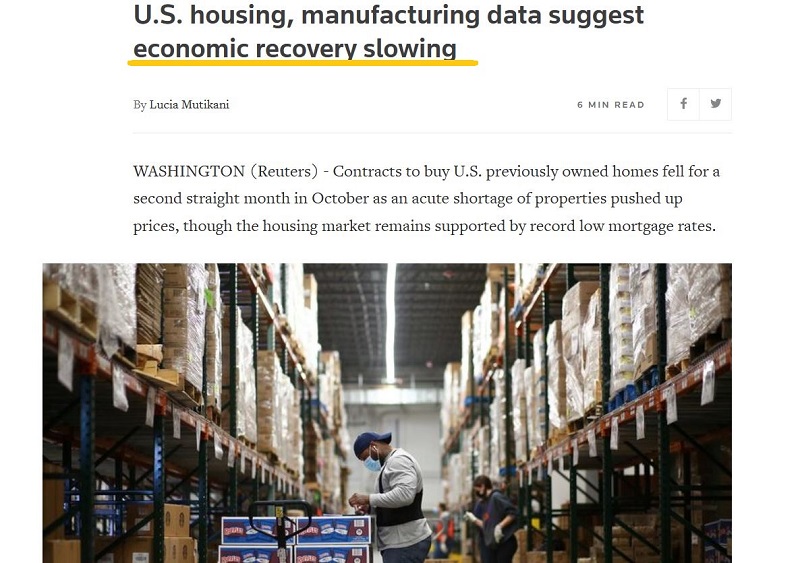 Fundamentally, the vaccine news is probably fully priced into the gold price. Money printing, debt, and the slowing U.S. economy are coming back into focus as key gold market themes.
"Storm clouds are gathering. This winter could pose an unusual challenge for many people across the country, unless Congress takes significant actions." - George Ratiu, senior economist at realtor.com, Nov 30, 2020.
Unfortunately, the actions being recommended by economists like Ratiu are mostly debt oriented.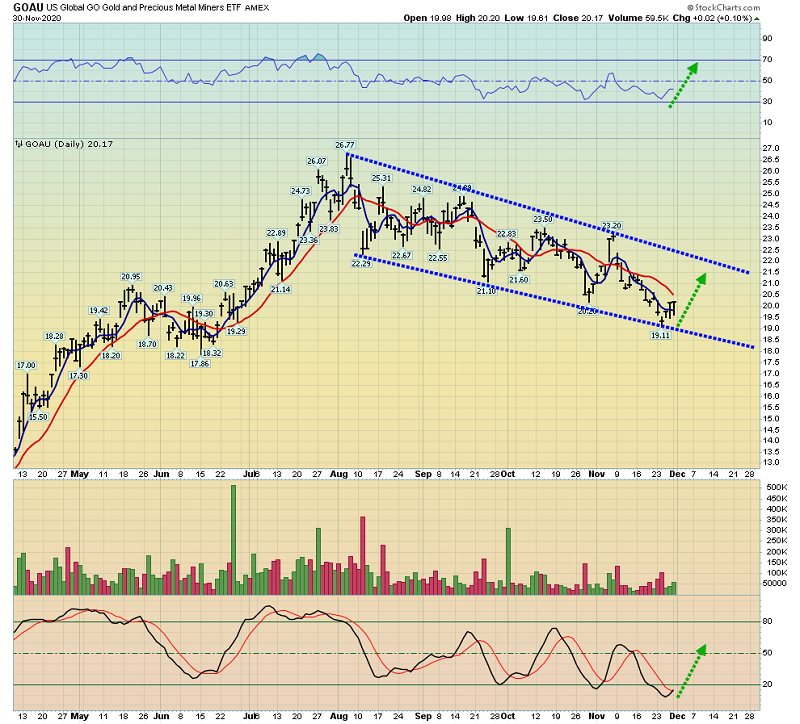 GOAU is one of my preferred mining and stock ETFs that I'm using for accumulation in the gold $1788 buy zone.
Note the bullish action of the RSI oscillator versus price, and the oversold position for Stochastics.
In addition to being oversold, there's now a crossover buy signal in play for the Stochastics oscillator, and this morning's rally in gold adds weight to that signal.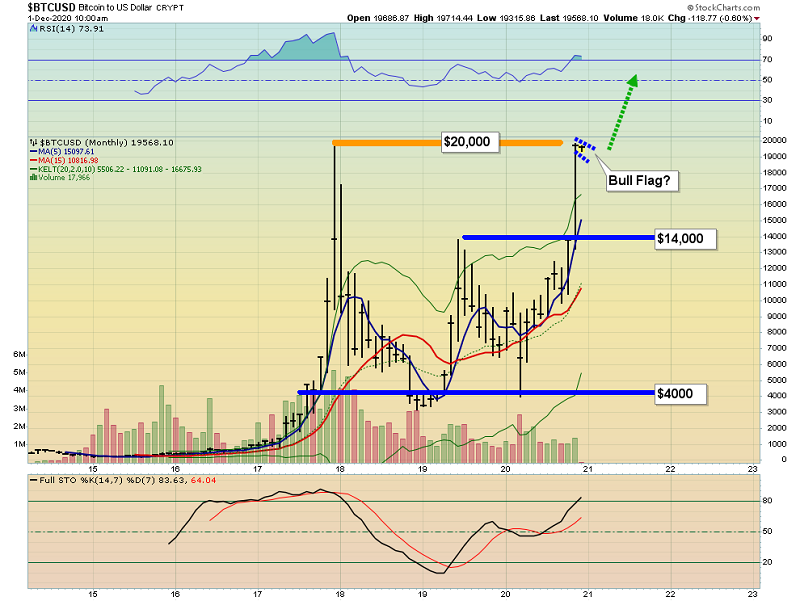 The monthly Bitcoin chart.
Will the $20,000 resistance zone "election" be won by crypto bulls… or by the bears? That's unknown, but the good news is that a bull flag may be in play.
Private money (both crypto and gold) has outperformed most public assets (stocks and bonds) in 2020, despite receiving no help from governments or central banks. That's a fact that deserves significant investor attention!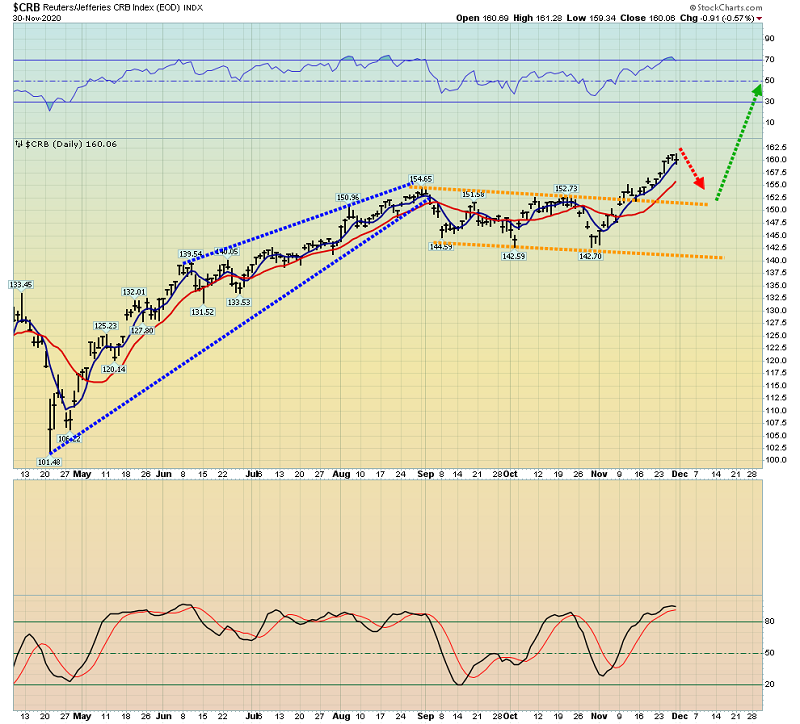 The CRB general commodities index looks to have made a multi-decade low, and a major bull run is getting underway.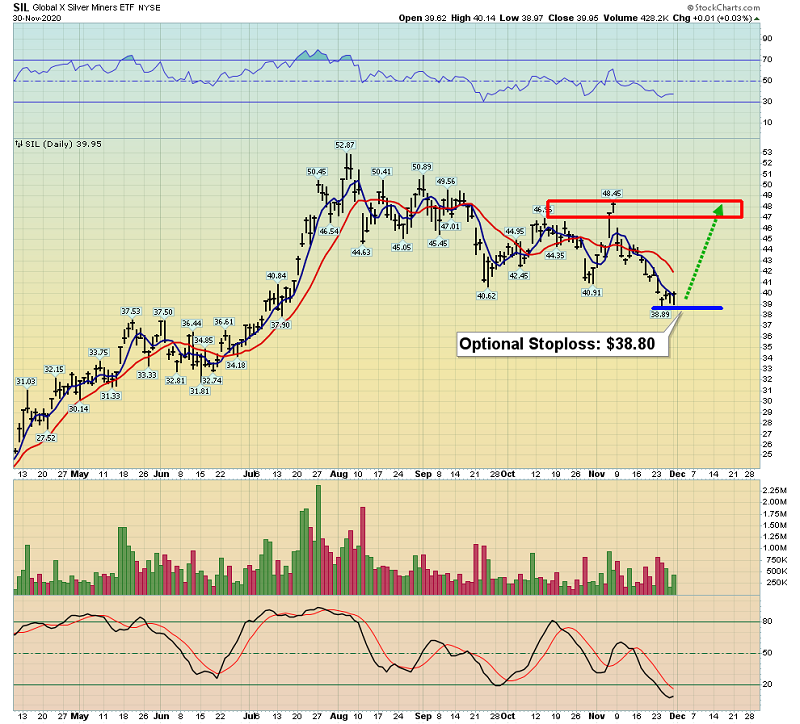 Please click here now. Double-click to enlarge this important SIL silver stocks chart.
Eager accumulators can buy now. Stoploss enthusiasts can put a stop just under the recent lows at about $38.80. A surge to the highs at about $46-$48 is likely. With the CRB index already moving steadily higher, silver is likely to be holding the "lead baton" when the inflation alarm rings!
Special Offer For Gold-Eagle Readers: please send me an Email to [email protected] and I'll send you my free "Gold Stocks Now!" report. I highlight key miners trading under $10/share to buy here in the gold $1788 zone, with key risk and reward management tactics for each stock!
Note: We are privacy oriented. We accept cheques, credit card, and if needed, PayPal.
Written between 4am-7am. 5-6 issues per week. Emailed at aprox 9am daily
Email:
Rate Sheet (us funds):
Lifetime: $1299
2yr: $299 (over 500 issues)
1yr: $199 (over 250 issues)
6 mths: $129 (over 125 issues)
To pay by credit card/paypal, please click this link:
https://gracelandupdates.com/subscribe-pp/
To pay by cheque, make cheque payable to "Stewart Thomson"
Mail to:
Stewart Thomson / 1276 Lakeview Drive / Oakville, Ontario L6H 2M8 Canada
Stewart Thomson is a retired Merrill Lynch broker. Stewart writes the Graceland Updates daily between 4am-7am. They are sent out around 8am-9am. The newsletter is attractively priced and the format is a unique numbered point form. Giving clarity of each point and saving valuable reading time.
Risks, Disclaimers, Legal
Stewart Thomson is no longer an investment advisor. The information provided by Stewart and Graceland Updates is for general information purposes only. Before taking any action on any investment, it is imperative that you consult with multiple properly licensed, experienced and qualified investment advisors and get numerous opinions before taking any action. Your minimum risk on any investment in the world is: 100% loss of all your money. You may be taking or preparing to take leveraged positions in investments and not know it, exposing yourself to unlimited risks. This is highly concerning if you are an investor in any derivatives products. There is an approx $700 trillion OTC Derivatives Iceberg with a tiny portion written off officially. The bottom line:
Are You Prepared?
********