Gold: $2000 Recaptured!
The "recapture the good times" gold chart.
Gold has recaptured the $2000 price marker, and there's already a noticeable pattern of higher highs and higher lows from the low of the reaction. That's bullish action!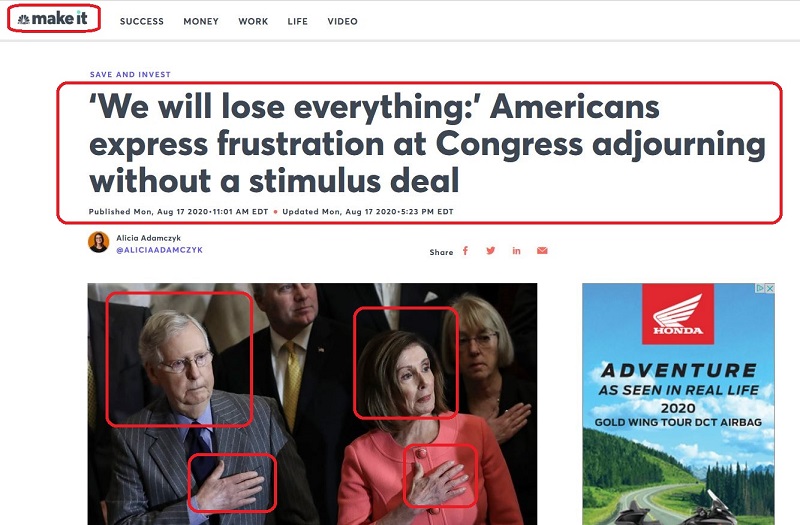 Here, US politicians appear to be pledging their allegiance to Fed photocopier machines and more debt…
While leaving the citizens to rot.
Most leading US politicians are extremely wealthy. Many grew up with a big fiat spoon in their mouth. They don't really care if the average citizen lives or dies. All they mainly do is brag about themselves while spending, printing, and borrowing obscene amounts of money.
That's great news for gold and silver!
Silver also now sports a nice staircase pattern of higher highs and lows.
What about the miners? The GDX chart.
With the news out that perennial gold basher Warren Buffett has finally bought a gold stock (Barrick), an institutional buying frenzy is quite possible…
If gold can prove itself here at the $2000 price level.
GDX looks ready to test the recent high, and many individual miners have already done so successfully.
The GDXJ chart.
While gold's quick rally back over $2000 is good news, investors need to be prepared for an array of scenarios, some good, and some… not so good. GDXJ could go into a trading range that tests investor nerve, before moving higher again.
The US stock market chart.
My epic buy signal points were outlined years before the Corona crisis crashed the market into them.
The bottom line: The FATCA-themed American empire is finally fading away, but as democrats and republicans attack each other on the streets, the government could look to "solve" that problem… with a major war.
I've outlined the 2021-2025 period as a potential war cycle. Previous war cycles in America include 1941-1945 and 1861-1865.
Broadening action in a market (higher highs and lower lows) suggests a market that is… out of control. That broadening action has been occurring in the US stock market since 2018.
Simply put, cyclical, technical, and fundamental action in markets, government, and on the streets of America is truly ominous.
Unless the US government adopts a policy of promoting modesty, savings, and gold, it's unlikely that the war cycle of 2021-2025 can be averted.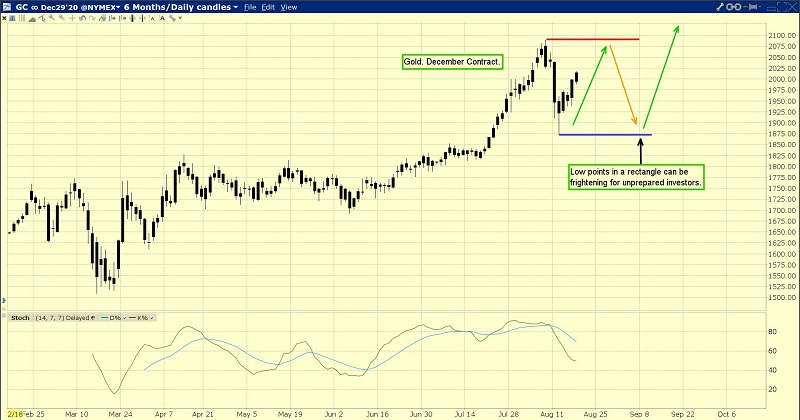 The gold chart.
Double bottoms and rectangle patterns can frighten unprepared investors. Media commentators will talk of a "test of the lows", and that doesn't help uncomfortable investors at all.
Until gold makes a new high, investors really need to be prepared for a trading range between $2100-$1900, and for the inevitable "It could fall to $1700" fear mongering from the gold bears.
Interestingly, the technical target of an upside breakout above $2100 would be $2300, which is also the target price of key gold market fundamentalists at the big banks. A move above $2100 likely ushers in a real institutional buying frenzy. Let's hope gold and silver investors are prepared… for the party!
Special Offer For Gold-Eagle Readers: Please send me an Email to [email protected] and I'll send you my free "Golden Champions!" report. I highlight eight miners already blasting to fresh highs, with key buy and sell tactics for each mighty stock!
Stewart Thomson
Graceland Updates
Note: We are privacy oriented. We accept cheques, credit card, and if needed, PayPal.
Written between 4am-7am. 5-6 issues per week. Emailed at aprox 9am daily
Email:
Rate Sheet (us funds):
Lifetime: $999
2yr: $299 (over 500 issues)
1yr: $199 (over 250 issues)
6 mths: $129 (over 125 issues)
To pay by credit card/paypal, please click this link:
https://gracelandupdates.com/subscribe-pp/
To pay by cheque, make cheque payable to "Stewart Thomson"
Mail to:
Stewart Thomson / 1276 Lakeview Drive / Oakville, Ontario L6H 2M8 Canada
Stewart Thomson is a retired Merrill Lynch broker. Stewart writes the Graceland Updates daily between 4am-7am. They are sent out around 8am-9am. The newsletter is attractively priced and the format is a unique numbered point form. Giving clarity of each point and saving valuable reading time.
Risks, Disclaimers, Legal
Stewart Thomson is no longer an investment advisor. The information provided by Stewart and Graceland Updates is for general information purposes only. Before taking any action on any investment, it is imperative that you consult with multiple properly licensed, experienced and qualified investment advisors and get numerous opinions before taking any action. Your minimum risk on any investment in the world is: 100% loss of all your money. You may be taking or preparing to take leveraged positions in investments and not know it, exposing yourself to unlimited risks. This is highly concerning if you are an investor in any derivatives products. There is an approx $700 trillion OTC Derivatives Iceberg with a tiny portion written off officially. The bottom line:
Are You Prepared?
********