Gold: 43 Months Into A Bear Market…But It Continues To Tease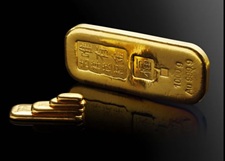 Gold, now well into year four of a bear market, continued its familiar pattern on Monday: one step up, two steps back. My long-term correction target remains $810, although I'll always keep an open mind about trading from the long side, or even initiating a long-term bet, whenever gold is merely creating bullish impulse legs on the hourly chart. For perspective, however, it would take a run-up to 1347, nearly 13% above these levels, to turn the weekly chart unambiguously bullish. More immediately, the June contract has come down to within inches of an 1188.50 midpoint support associated with a D target at 1168.00. If gold's behavior in the days ahead is typical, however, bears will struggle to push it lower almost as hard as bulls struggle to keep it buoyant. Then, when it appears they've succeeded and are pushing for extra yards, the futures will turn higher, encouraging false hopes as they rise toward yet another middling rally target that will remain just out of reach.
*********
Take a free trial subscriptionthat will allow you to access not only the touts, bulletins, updates and impromptu trading webinars during market hours, but a 24/7 chat room that draws veteran traders from around the world.