Gold And The Investor's Buy Point
After gold's incredible surge last week, it is now facing a critical test that will either prove or negate a new bull market in the yellow metal.  The gold ETF GLD crashed through the 30-week moving average two weeks ago on 2-times average  weekly volume, then followed up that move with a surge last week on 4-times average weekly volume.  This explosive increase in buying pressure accompanied with a move above the 30-week moving average is the first ingredient to a new Stage 2 bull market.
The second and more important test for the transition from a bear market to bull market is a retest of the 30-week moving average that holds as support.  This confirms that prices are now trending higher and that the rally was not merely another bear market rally that failed at resistance.  The chart below marks this second ideal buy point B and notice that it occurs above the 30-week moving average.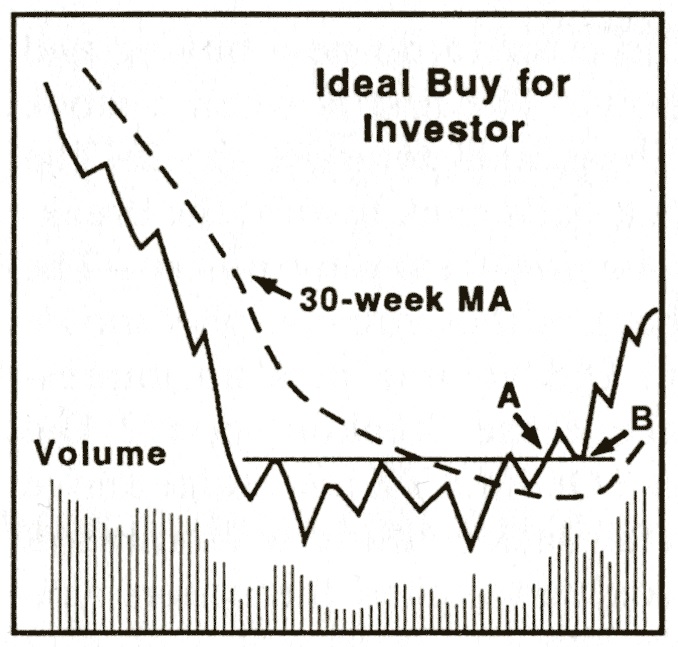 Source:  Secrets For Profiting In Bull And Bear Markets
The best thing about buy point B is that it offers a lower risk, higher reward opportunity in establishing a position in a potential new uptrend.  By waiting for the pullback to the 30-week moving average, risk is reduced because the the moving average can be used as the line in the sand for taking a loss if the pullback fails to hold.
Contributing factors to a possible new bull market in gold include the fact that GDX also had a massive increase in volume over the previous two weeks.  This confirms broader based participation in the gold miners which will outperform gold when it moves back into a bull market.
The U.S. dollar is also threatening to break down into a Stage 4 decline from its current Stage 3 topping pattern.  Simultaneously the Euro is still holding in a Stage 1 basing formation and the Japanese Yen is in a new Stage 2 advance.
Despite this evidence the most important factor is the ability of gold to hold above the key long term moving average to confirm change in trend.
******** 
Checkout my new Stage Analysis Screening Tool at: http://screener.nextbigtrade.com
Twitter: @nextbigtrade
The original article and much more can be found at: http://www.nextbigtrade.com