Gold and Silver Forecast: A Quick Bottom and Then a Failed Rally
Gold prices should form a temporary bottom within the next day or two and then proceed to rally for a short bit. Sadly, this will be just a relief rally, and prices are expected to rollover, continuing lower into a December low.
Just how low will prices go by December? Good question, I will have to see the strength and duration of the coming rally. We should at a minimum challenge the $1,072 low made back in July. If selling and fear take over, we could see prices drop to $1,040 and possibly even test $1,000 before bottoming.
The remainder of this article will be an example of our Thursday (11/05/2015) report sent via e-mail to Premium subscribers. Our Premium reports are released 3-days a week and include updates between reports at critical turning points. The newsletter regularly covers gold, silver, US dollar, HUI, GDX, GDXJ and the S&P 500.
Thursday 11/05/2015
Gold and silver are 24-days into their common cycles, they should form temporary bottoms soon (today, tomorrow or early next week). The market is waiting for the release of the October non-farm payroll numbers, due Friday morning. These numbers will fuel the speculation of a potential FED rate hike in December. We believe the FED will raise interest rates .25 points just to say they did and in an attempt to restore creditability. If however they raise rates greater than .25 points metals prices could get hit hard and conversely if they don't raise rates, metal prices should rally.
US Dollar
The Dollar is 15-days into a strong right translated cycle, the price has broken above the trendline and the consolidation that started in March is likely over. Prices could head a little higher, but we should start down into a cycle low soon.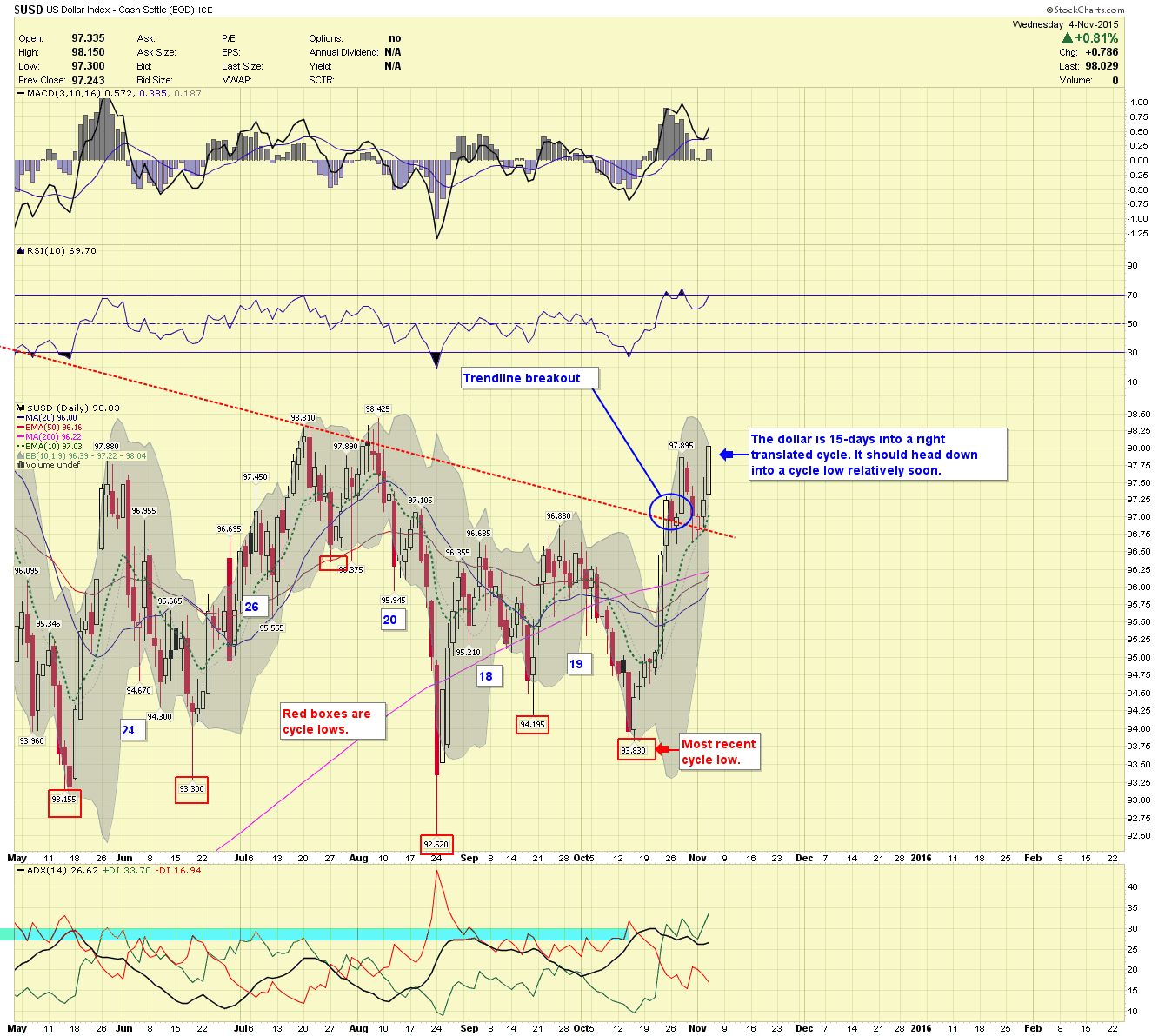 Gold Price
Price is 24-days into a common cycle, and we should get that temporary bottom soon. The strength of the gold rally will depend on the unemployment numbers tomorrow, I drew a potential target area but may have to adjust it if the Friday numbers aren't with consensus.
Silver Price
Prices formed the biannual cycle high last week at $16.37, we should bounce higher with gold for a little while, but ultimately prices should drop into December low.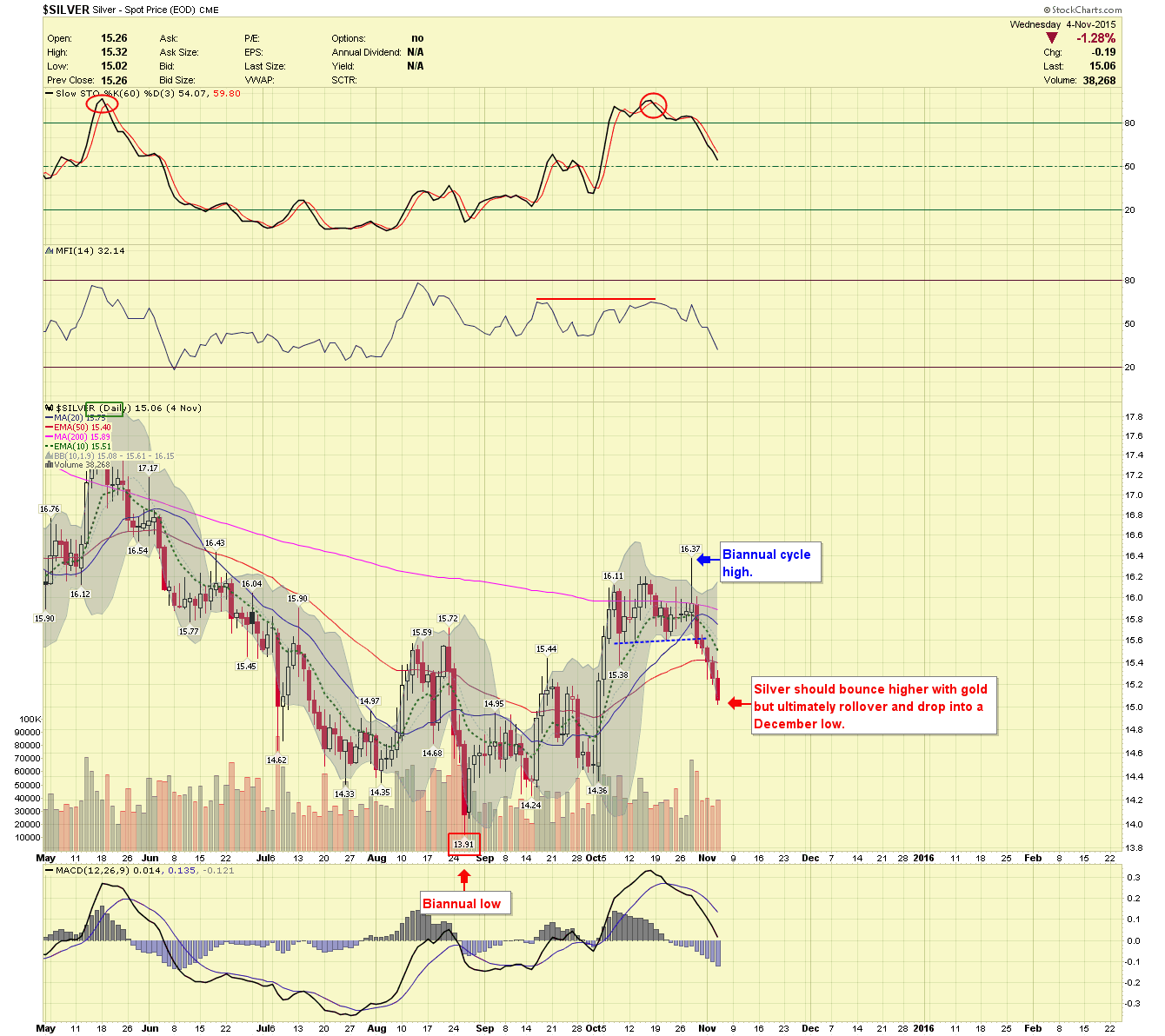 GDX
We are overdue for a relief rally, and prices could bounce to the $16.00-$16.50 area before rolling back over. We expect prices to drop into December challenging the $12.62 low and possibly even lower, depending on the FED decision.
GDXJ
The junior mining ETF is also due to bounce, prices should remain below the $21.50-$22.00 level. Like GDX, prices may challenge or even break the previous biannual cycle low of $17.92.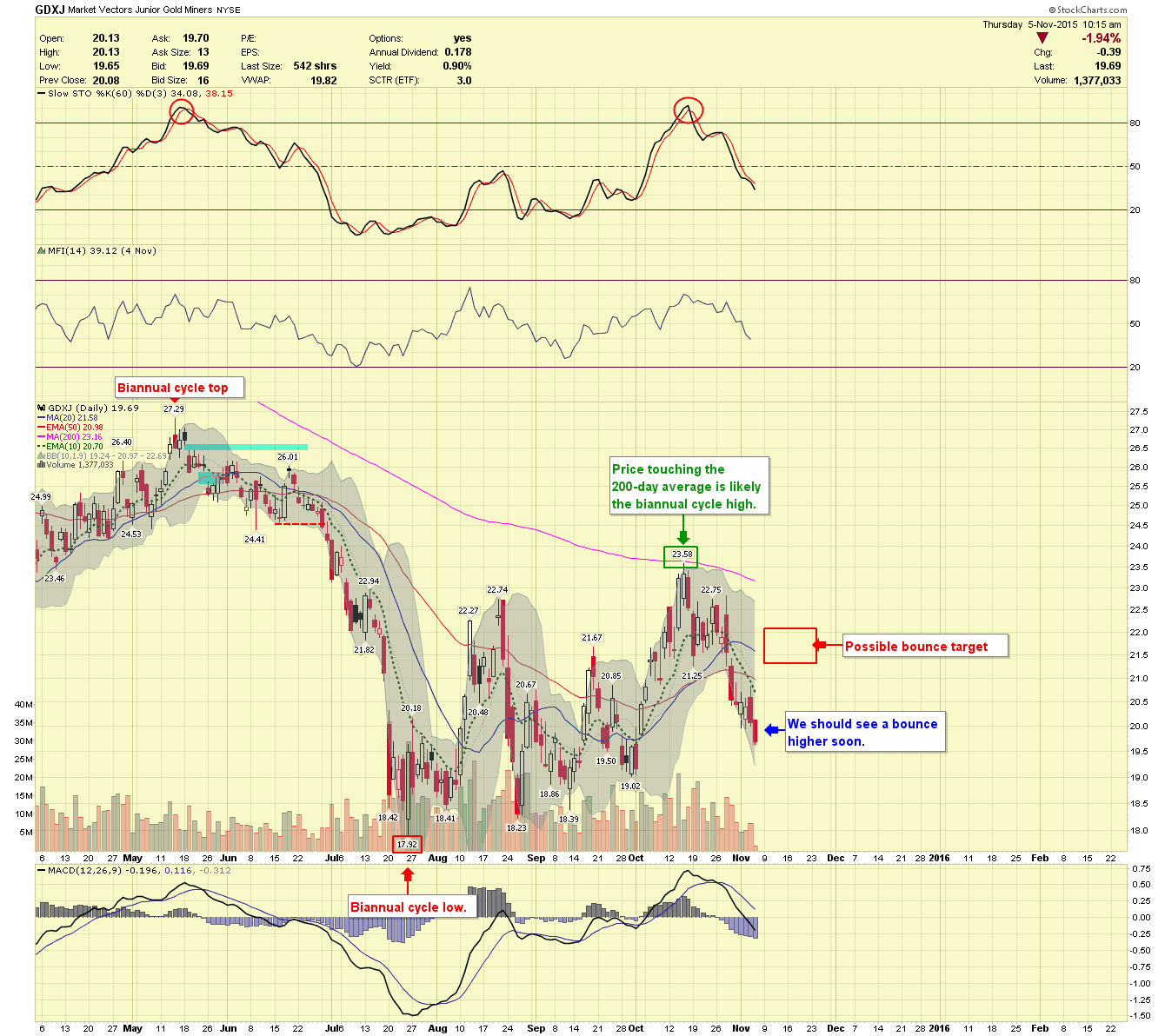 SPY
I expected the August/September lows to become buying opportunities, but it has surprised me how fast prices returned to their previous highs. We are up 13% from the late September secondary low, and a pullback is in order. The strength is coming from institutions and investors chasing yield.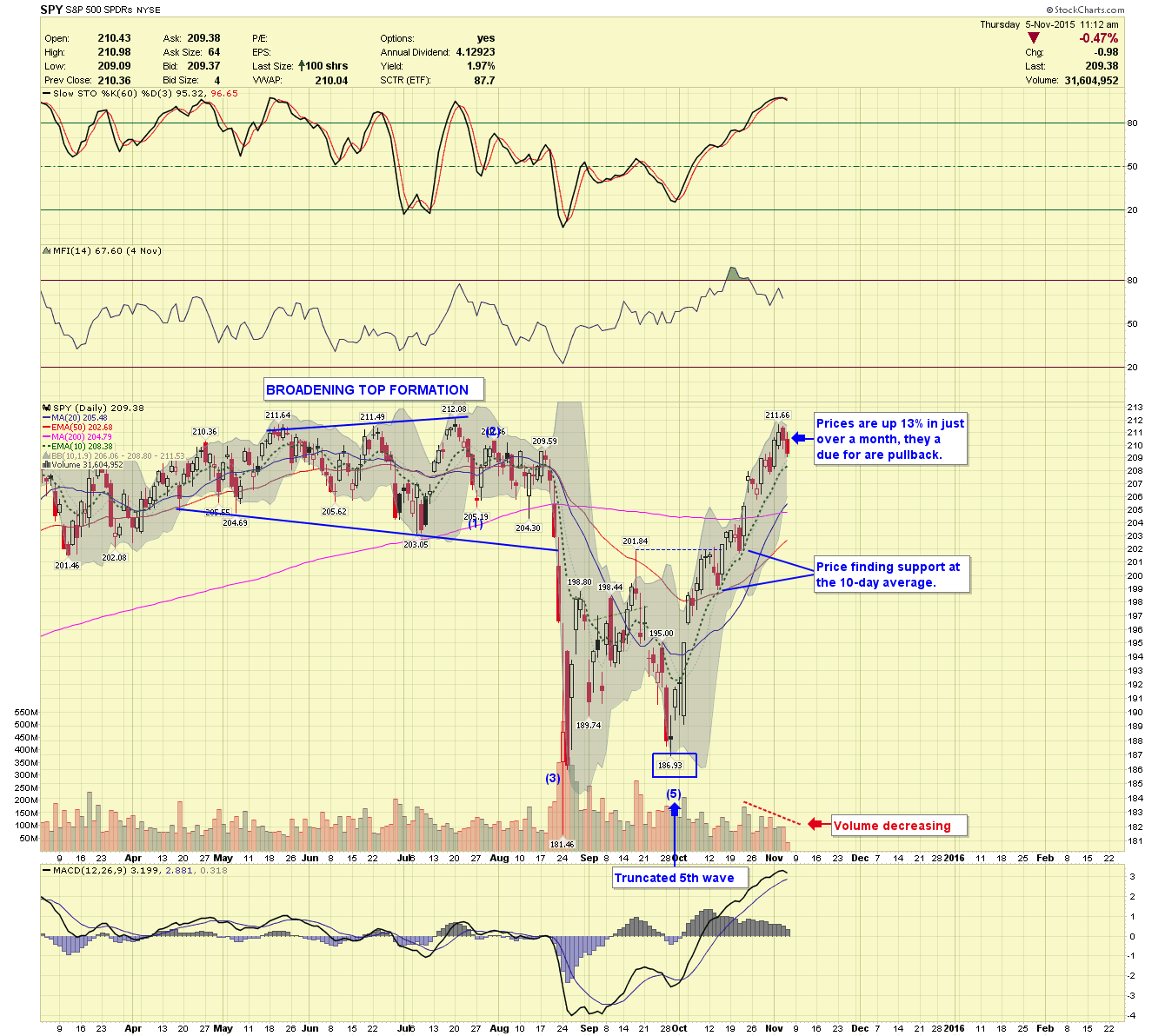 Gold prices should bottom soon and if they don't gold could drop to the $1,000 level by December. I'm leaving for a business trip tonight; the weekend report will be out Sunday as usual.
Have an excellent weekend,
-Pierce