Gold and Silver Majors & Mid-Tiers: Take Your Pick

Intended Audience
This article is for investors who already own a gold/silver mining stock and are considering adding more. Or, perhaps a savvy investor who is comfortable with risk tolerance and has a general understanding of the gold/silver mining sector.
I normally focus on high return stocks, but this article is for lower risk, lower return stocks. It is aimed at investors who want more exposure to gold/silver miners, but don't want the high-risk stocks, such as explorers and developers.
Gold is Trending
I don't know about you, but gold seems to be trending. Moreover, the fundamentals for gold going higher this year have never been better. We have fear levels for investing way above average. We have debt levels exploding. We have stagnant economic growth throughout the world. Plus, we have negative real interest rates, which always support gold.
This backdrop is ideal for gold. Many of you are probably thinking that you should buy some gold mining stocks. That's not a bad idea, but remember, gold mining stocks are extremely volatile. If you buy tomorrow, you could be underwater 25% a few days later. Gold mining stocks require a high degree of risk tolerance.
By accepting that risk, you could reap big returns. The HUI is around 300, but will likely double if gold goes from its current level around $1750 to $1950. The HUI was at 635 the last time gold was at an all-time high of $1935.
And, in my opinion, the really big returns will come from $2,000 to $3,000. Now, there is no guarantee that gold will even make it to $2,000, and $3,000 may be a stretch. But if we get a 2-3 year bull market in gold, then the stocks below are going to do extremely well.
Stock Lists for You
I've been doing this for a long time and my database includes 800 gold & silver mining stocks. I analyze all of them and know which ones are the quality stocks (listed below). If you want even higher risk, my specialty is identifying 5+ baggers. My Top 25 list only includes 5+ baggers. Send me an email for a free trial at goldsilverdata.com, and you can see all of my stock lists.
Below is a list of Majors and a list of Mid-Tier Producers. If you are thinking about buying gold or silver mining stocks, these are the lowest risk you are going to find. They include columns for risk level, so you can choose the Majors with moderate risk to limit your risk. Or, you can select stocks with a bit more risk and bit more upside.
At the bottom of the article, I will include descriptions for the Upside, Downside, ad Category columns.
Majors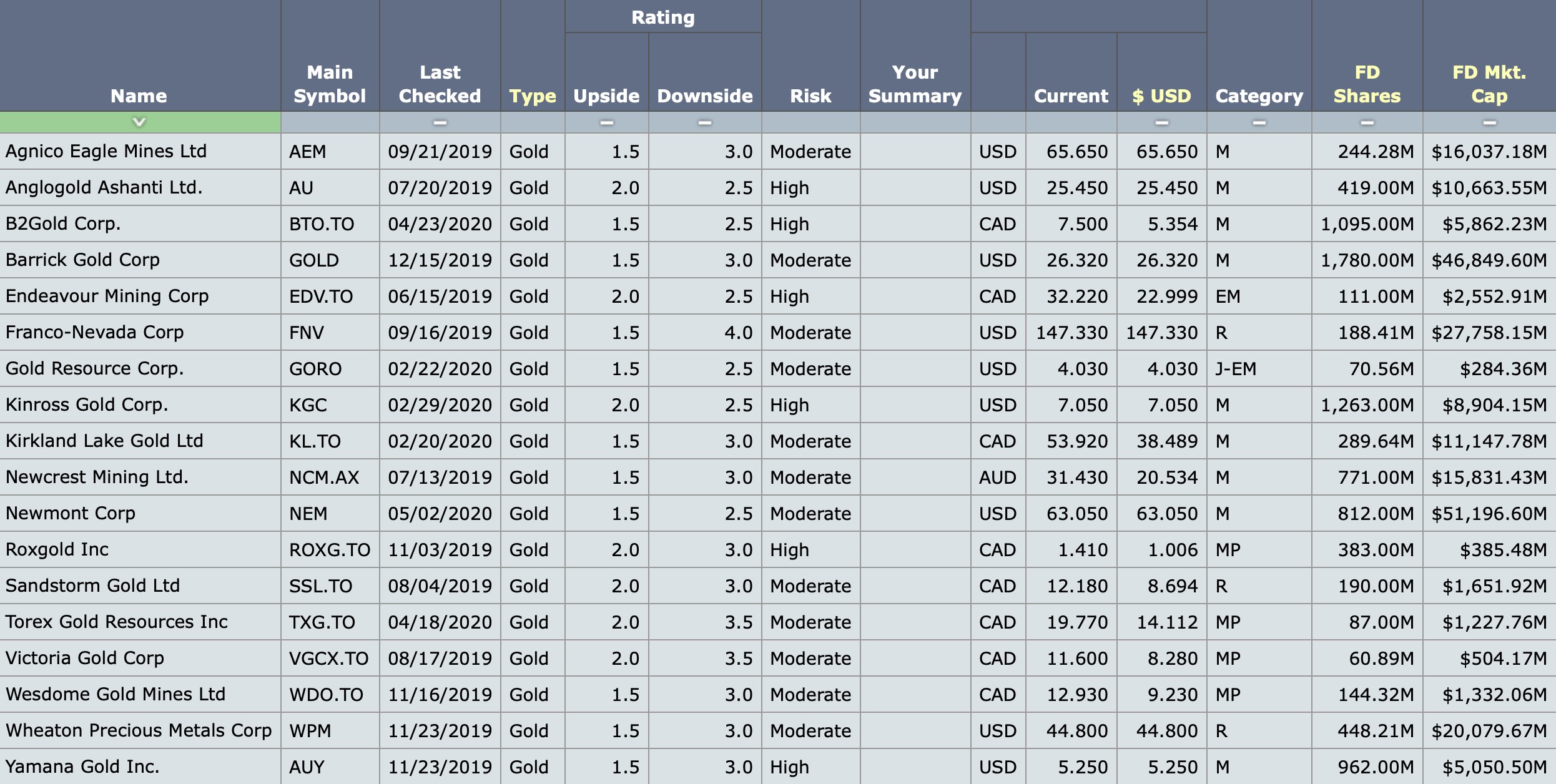 My favorite five from this list are Kinross Gold, Kirkland Lake Gold, Victoria Gold, Yamana Gold, and Endeavour Mining. I own these five.
Mid-Tier Producers

My favorite five from this list are MAG Silver, First Majestic Silver, IAMGold, Equinox Gold, and Hochschild Mining. Although, I like all of them and own all of them.
Correction Overdue
Since late March, gold and the miners have been trending. In fact, the GDX has been up for 8 consecutive weeks. For this reason, it is probably prudent to wait for the next correction before your next purchase. The odds are high that we will get some type of correction in the next few weeks because markets never go straight up. I would expect a 5 to 10% correction, but it could be even deeper.
Again, this is a very volatile sector. Expect to get whipped around, and perhaps lose a significant amount of money. But if we are right that gold is going to $2,000, $2,500, or $3,000, then the gains will be phenomenal.
A Few Tips
There is really no reason to invest in high-risk exploration and development stocks. If gold trends to $2,500 or $3,000 the producers are going to fly. Especially the quality producers. I only have one small producer as a top pick in my database. Go with quality producers with quality properties. Don't mess with the small producers unless you want to chase extremely high returns.
There is no reason to use call options or leverage ETFs when gold is trending. Those are really for short-term traders. The best risk/reward is to be positioned with quality producers and then sit back and see if gold is going to trend to a new high. If it doesn't, then you can get out with a small loss. Or, you can let the paper loss ride and hope the bull market resumes.
Ideally, you will have a position if gold trends and you can ride it for high returns. There are very few investments that can return 100% or more in a single year, but gold/silver miners can.
Column Definitions
Categories