Gold Bull Janet & The Dow
Global stock markets are tumbling.  While mainstream media personnel discuss a "short and healthy correction", many value-oriented investors believe that most stock markets are entering a significant bear market.
I've highlighted the 14,5,5 Stochastics series, which I use exclusively on this key quarterly bars chart of the Dow.  It's flashing a gigantic sell signal.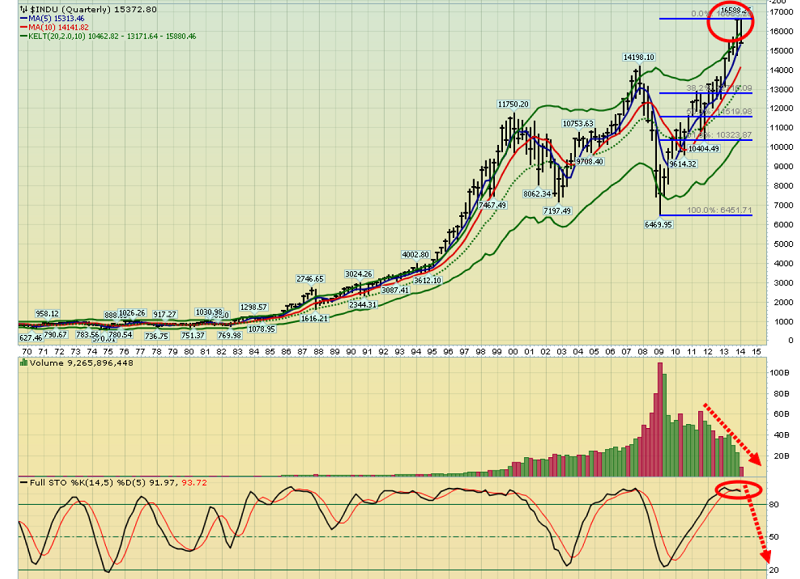 Note the declining volume that has occurred since 2011. This monthly chart shows that since the fall of 2011, the growth of the money supply has not attracted sizable investment into the stock market.
There have been more buyers than sellers, which has pushed the Dow higher, but the total amount of trading volume has declined significantly and consistently.
While the Dow has gotten fundamentally weaker from a liquidity flows standpoint, gold has become fundamentally stronger.  Weak-handed ETF investors have left the gold market. 
They've been replaced with very strong hands, in the Chinese gold jewellery market. 
While increasing Western mint coin sales make headlines in the gold community, investors should understand that the total tonnage involved in those sales is tiny, compared to Indian demand that has been stifled by their government.
Unfortunately, many players in the enormous Indian gold market believe their government is quickly turning the gold import business into a dirty protection racket, controlled by the Indian mafia.
Regardless of who wins the upcoming Indian election, it is likely to be followed by new growth in Indian demand.
Late in the fall of 2013, I predicted that the Fed would begin to taper QE, and keep tapering until it was gone.  I stunned a lot of investors, by suggesting that this "taper caper" would be bearish for the Dow, and bullish for gold and gold stocks.
During 2014, I expect Dr. Janet Yellen to continue (and possibly accelerate) the tapering process that Dr. Bernanke started, creating more selling in the Dow, and more buying in gold stocks.
Institutional money managers are under tremendous pressure to perform, and they are not performing now. 
Gold stocks were the best performing asset during the month of January.  Even if the rout of global stock markets subsides, institutions are likely to move some liquidity into the precious metals sector.
Most investors believe Dr. Yellen is a "dove".  I call her a "gold bull shark".  I think her main focus is going to be increasing the low official inflation rate, by increasing the velocity of the money supply. 
I don't think she has much interest in QE or the stock market.  I think she's more of an "old school" central banker who is primarily focused on the inflation rate, gold, and commodity prices…. and rightly so.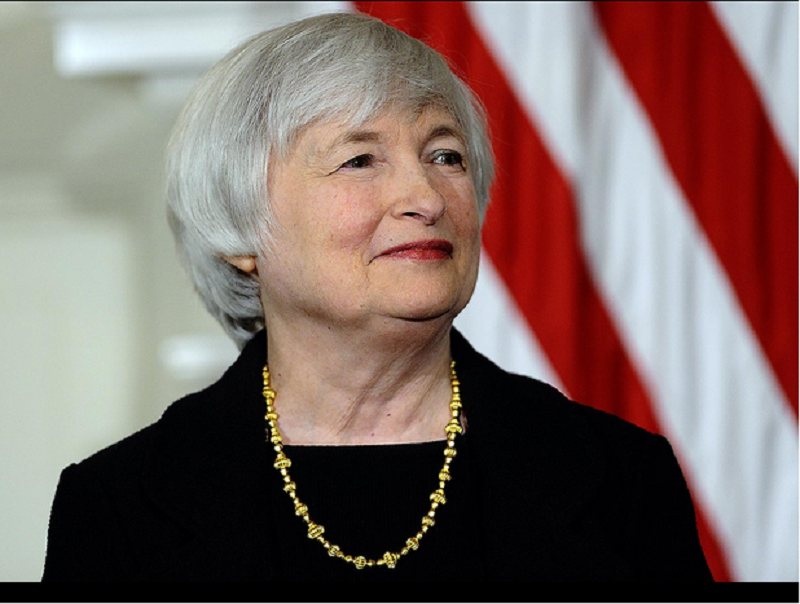 I think this picture sums up all you need to know about which market the gold bull shark is focused on. 
I'm forecasting global cuts in interest rates this year, with Dr. Yellen spearheading the process.  I think she will be remembered as the Fed chief that orchestrated "significant revaluation of the gold price, in the free market".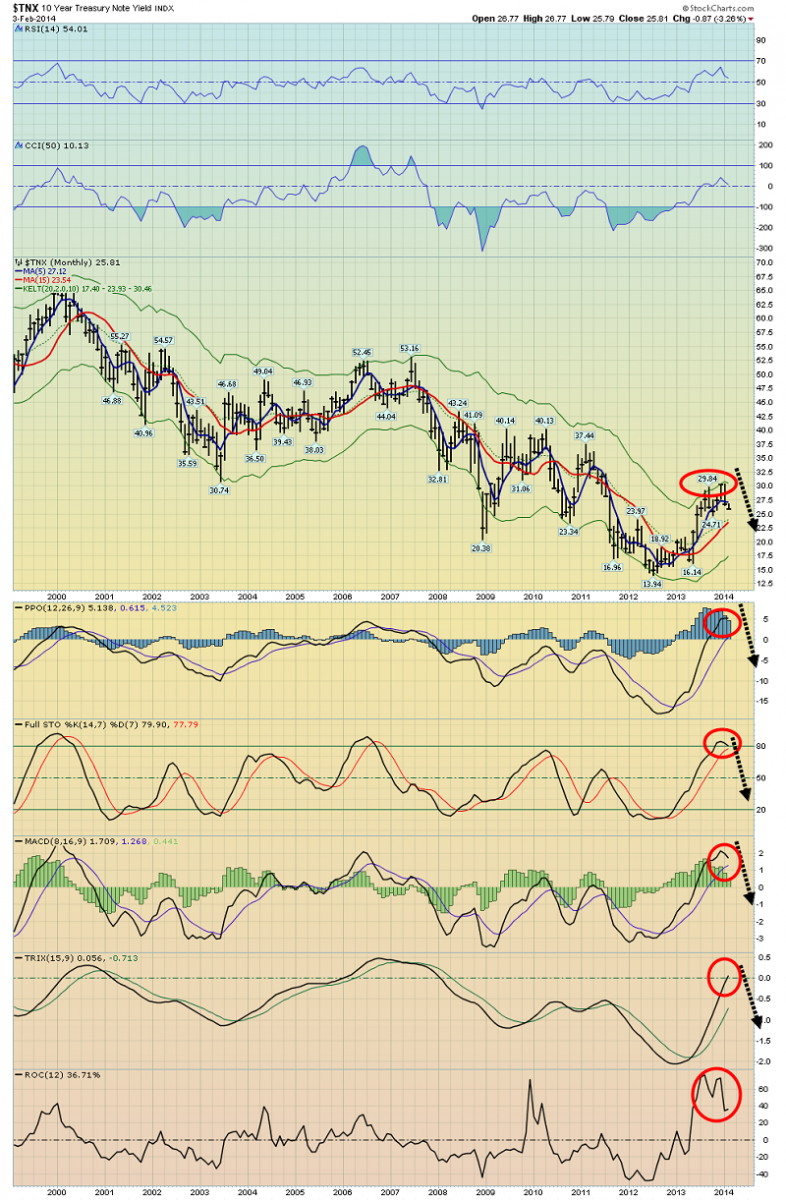 From the standpoint of technical analysis, this monthly chart of US ten year bond yields supports my fundamental view that Dr. Yellen is going to oversee significantly lower long term interest rates.  That should fuel a rise in inflation, and a significant rise in the "POYG", the price of your gold!
Note the position of the key indicators and oscillators that I've highlighted with red circles on that chart.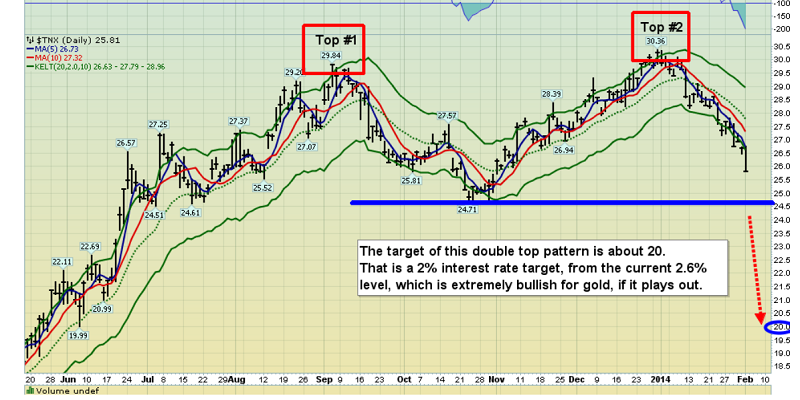 For a shorter term look at ten year yields, please see above chart.  This daily chart suggests that Dr. Yellen will oversee a drop in the ten year bond yield, to the 2% area.  That would likely would push gold towards the August highs, in the $1432 area.
For the past couple of weeks, I've asked investors to show a bit of patience with the gold markets.  Gold is working off a technically overbought situation on the daily chart, and it tends to decline in front of most jobs reports.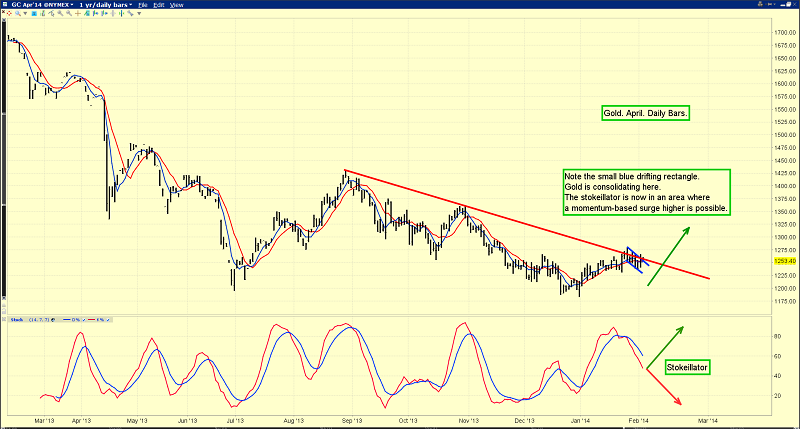 This daily gold chart shows gold working to rise above a key downtrend line, with my stokeillator positioned in the 50 area, where strong momentum-based moves can occur.
The next jobs report is scheduled for release this Friday.   There's a good chance that the entire precious metals sector begins a fresh leg higher, once the drama surrounding that report subsides.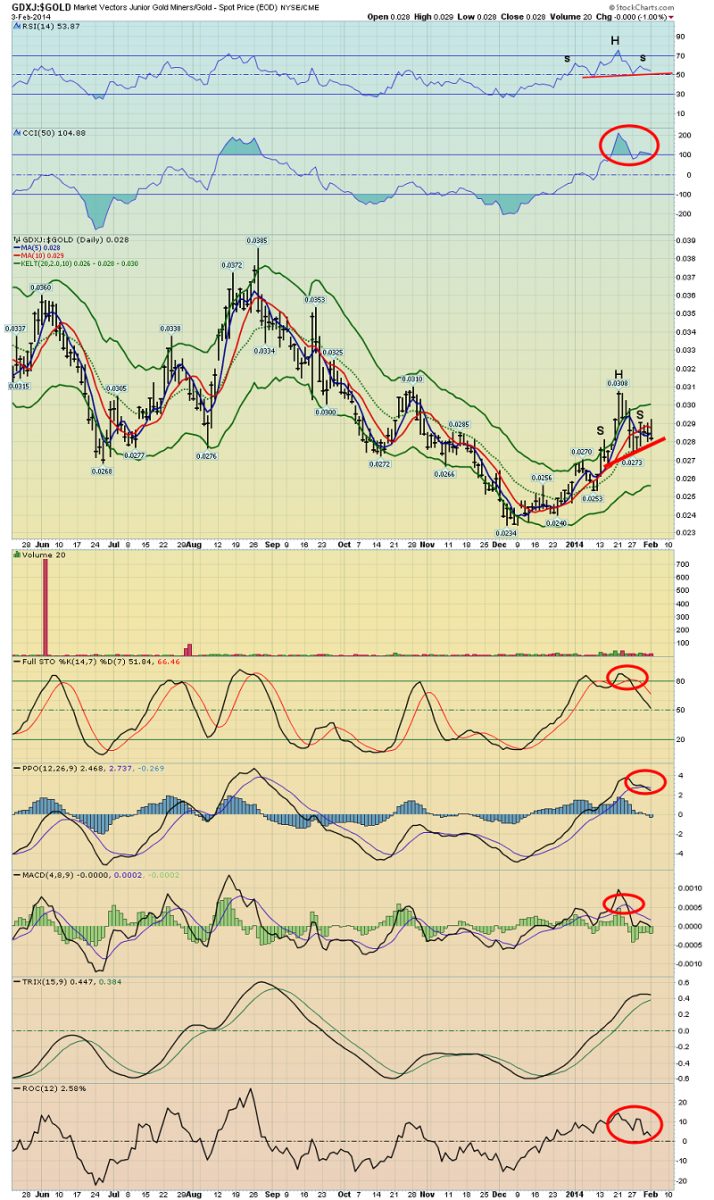 Considering that gold stocks are technically overbought, they are holding up remarkably well while global stock markets are crashing, and the Fed is tapering.  My suggestion is to put the proceeds of all gold stock sales into gold (via ETF, futures or bullion), rather than into fiat currency.  If the stock market rout accelerates and Dr. Yellen cuts rates just once, gold could begin a powerful surge to the upside, while global stock markets keep falling!
********  
Special Offer For Gold-Eagle Readers:  Please send me an email to [email protected] and I'll send you my free "Natural Gas Blast Off!" report.  I'll show you why I bought natural gas into one of the most horrific declines in the history of major markets, and why I think it's made a key base and ready to move higher!   
Note: We are privacy oriented.  We accept cheques.  And credit cards thru PayPal only on our website.  For your protection.  We don't see your credit card information.  Only PayPal does.  They pay us.  Minus their fee.  PayPal is a highly reputable company.  Owned by Ebay.  With about 160 million accounts worldwide.  
Email: [email protected]
Rate Sheet (us funds):
Lifetime: $799
2yr:  $269  (over 500 issues)
1yr:  $169  (over 250 issues)
6 mths: $99 (over 125 issues)
To pay by cheque, make cheque payable to "Stewart Thomson"  
Mail to:
Stewart Thomson / 1276 Lakeview Drive / Oakville, Ontario L6H 2M8 Canada
Stewart Thomson is a retired Merrill Lynch broker. Stewart writes the Graceland Updates daily between 4am-7am. They are sent out around 8am-9am. The newsletter is attractively priced and the format is a unique numbered point form.  Giving clarity of each point and saving valuable reading time.
Risks, Disclaimers, Legal
Stewart Thomson is no longer an investment advisor. The information provided by Stewart and Graceland Updates is for general information purposes only. Before taking any action on any investment, it is imperative that you consult with multiple properly licensed, experienced and qualifed investment advisors and get numerous opinions before taking any action. Your minimum risk on any investment in the world is: 100% loss of all your money. You may be taking or preparing to take leveraged positions in investments and not know it, exposing yourself to unlimited risks. This is highly concerning if you are an investor in any derivatives products. There is an approx $700 trillion OTC Derivatives Iceberg with a tiny portion written off officially. The bottom line:  
Are You Prepared?