Gold Could Reach Its Biggest Annual Increase In 10 Years
Strengths
The best performing precious metal for the week was silver, up 7.77 percent as hedge funds raise their bullish positioning to 21-week high. Gold gained after the Federal Reserve strengthened its commitment to supporting the economic recovery and as U.S. lawmakers make progress to pass a stimulus package. Bloomberg notes gold had its third weekly gain and is on track for its biggest annual increase in 10 years.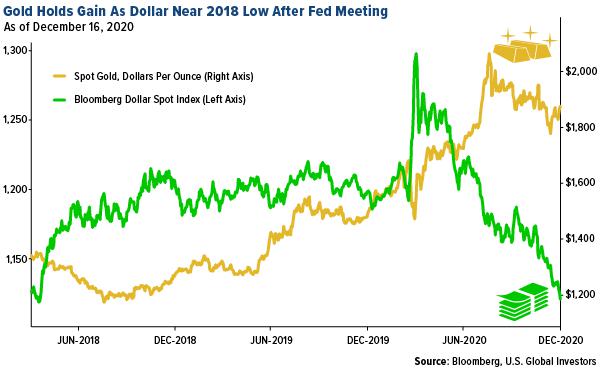 Goldman Sachs Asset Management (GSAM) completed its previously announced acquisition of the sponsorship of the Perth Mint Physical Gold ETF, which has been renamed the Goldman Sachs Physical Gold ETF (AAAU) and will continue to trade on the NYSE Arca. "We are pleased to complete this transaction and enter into this market, where we believe our size, scale and expertise can provide considerable value to investors," said Michael Crinieri, GSAM's Global Head of ETFs.

Silver has outperformed gold so far this year. The white metal has advanced nearly 40% so far this year and is on track for its biggest annual gain in 10 years.
Weaknesses
The worst performing precious metal for the week was palladium, but still up 1.80 percent. Swiss exports of palladium rose fourfold in November while platinum exports fell 50 percent.

Japan sold 80 tons of bullion used for minting coins to fund part of its massive stimulus package to combat the virus crisis. Reuters reports the country had public debt twice the size of its economy and is seeking a non-tax revenue to cover rising spending as tax revenues have been hit by a recession. The government gained $4.84 billion from the sale of gold.

According to the Union of Gold Producers of Russia, nine-month gold output fell by 1% to 269.9 tons. Although gold mining output increased, production from gold scrap fell 20%.
Opportunities
Jeff Currie, global head of commodities research at Goldman Sachs Group, said in a Bloomberg Television interview that commodities have "all the telltale signs" of a super cycle and are entering a structural bull market. Currie says the lower U.S. dollar will help drive prices higher.

According to Andrew Garthwaite, global strategist at Credit Suisse, gold miners are about as cheap in relative terms as they have been in 20 years. Garthwaite said in a report this week that based on projected earnings, he predicts a "strong bull market" for precious metals. Data compiled by Bloomberg shows the forward price-earnings ratio for an MSCI global gold mining index was 36% lower as of Wednesday than the ratio for the MSCI All-Country World Index.

Equinox Gold will acquire all outstanding shares of Premiere Gold Mines in what is reported as a "friendly acquisition." Aya Gold & Silver reported an "all-time best" drill result from its exploration program at the Zgounder Silver Mining in Morocco. Alamos Gold announced it completed an agreement to acquire Trillium Mining Corp for cash consideration of C$25 million.
Threats
Bitcoin continues its meteoric rise, rising above $20,000 for the first time this week. The debate continues over whether the growing mainstream adoption of bitcoin and cryptocurrencies will sway investors away from gold.

An index of South African gold stocks slipped on Tuesday as a new wave of virus restrictions could hit the nation and as demand for haven assets waned. Bloomberg reports DRDGold dropped 3% for the day, Gold Fields was down 1.2% and AngloGold Ashanti lost 0.9%.

Caterpillar, a leading manufacturer of construction and mining equipment, said November total machine sales were down 11% globally. Worldwide sales in the resource industries segment fell 13%, with North America seeking the sharpest drop of 25%. Sales in Latin America were up 2%.
*********